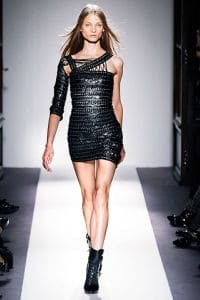 Balmain's Spring 2010 RTW collection has been getting a lot of attention, both for the unique looks and the fabulous Daria Werbowy modeling them, and even a few of you CF readers have requested to see the designer featured in this column. Balmain's spring collection is all about shimmering golds, military jackets and camouflage print, studded accents and the ultimate tough-girl fashion statement: leather.
Patching together seventies M*A*S*H and early Versace chain-mailed goddess-dressing, the show moved from camouflage to sequined camouflage to patchworked gold-sequined camouflage without a flicker of irony or the slightest fear of treading on politically sensitive ground. – Style.com
I broke down the collection to find the main trends and budget-friendly options that will fit every girl's style. The great thing about this collection is that the accents are bold – you can invest in one standout piece to wear with a t-shirt and jeans or use multiple aspects to create a look that really makes an impact.
Attention-Grabbing Gold
Balmain's spring collection included tons of gold pieces, which you might need to shop for if you want to get the look. It's safe to say that all of us have a few pieces of gold jewelry and maybe even a few metallic accessories in our closets, but a shimmery gold high-waisted skirt? That's probably not something you have sitting around.
If you're not into going all-out with gold clothing, don't worry – what I love about gold is that a little goes a long way and one accent piece can really change an outfit.
Some tips to keep in mind when shopping for gold:
Stay away from brassy colors or fabrics that are overly shiny – especially if there will be cameras flashing!
Experiment before purchasing. A lot of people write gold off as only being for formal occasions but it's easier than you think to dress it down! Find a great gold piece at a store? On your way to the dressing room, grab a denim jacket or a white t-shirt and play with the look. You'll find some surprising combinations and will have extra confidence making your purchase.
Is a clingy gold dress too over-the-top? Try something more subtle. A clutch – especially one with a great texture – can really make an outfit!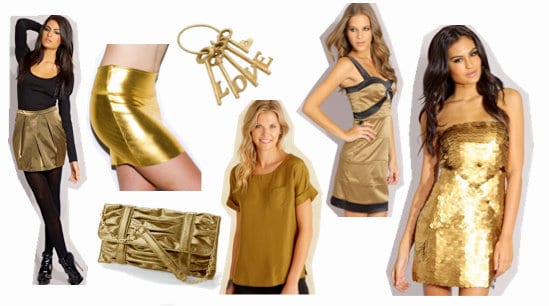 Product Information: Tulip Skirt – ASOS, Mini Skirt – American Apparel, Clutch – Daisy Fuentes for Kohls, Love Keys – MollaSpace, Pocket Tee – Martin + Osa, Paneled Dress – ASOS, Disc Sequin Dress – ASOS
Classic Military
It seems that every year runway shows are influenced by military uniforms. This year, Balmain designer Christophe Decarnin was definitely drawing inspiration from men in uniform – sending cargo jackets, camouflage and "army green" pieces down the runway. Although camo print may bring to mind some middle-school fashion choices we'd all like to forget, lightweight cargo jackets are perfect transition pieces for Spring.
When shopping for a cargo jacket, keep in mind:
Fit, fit, fit! Even if you have to try on four or five jackets, find one that fits and flatters your body shape. It's easy for this type of jacket to look ill-fitting, too loose or too messy, so make sure you keep searching 'til you find the right one.
That extra $20 may be worth it. Found a perfect jacket but it's a little bit more than you had intended to spend? Remember that a lightweight jacket in a neutral color is the perfect piece to wear all year round. It will keep you warm with a sweatshirt underneath and will be the perfect addition to your summer dresses on the colder nights.
Product Information (left to right): Gap, Gap, Banana Republic, Delia's
Structured Leather
I'll admit, even I was hesitant about translating Balmain's tough leather looks into real-life-wearable ideas for college girls. After looking through the collection, though, I've realized that leather (or faux leather if you're an animal lover) has the same benefits (if not more) as gold does. The fabric can be used in small doses to make a big statement – and the color is definitely more figure-flattering than gold is!
Tips for finding modern and flattering leather:
Not many of us can pull off the Halle Berry Catwoman look (head-to-toe leather), so avoid wearing an entire outfit of the fun fabric. Instead, pair a leather jacket with jeans or leather leggings with a cotton or jersey dress.
Stay away from the overly shiny pieces – they'll end up looking tacky in different lighting and photos.
Don't underestimate the impact of a leather purse, thick belt or clutch. These small additions to your outfit can complete change your style vibe.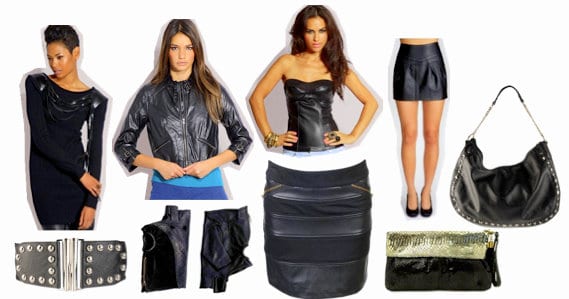 Product Information: Shoulder Tunic – ASOS, Faux Leather Biker Jacket – ASOS, Bustier – ASOS, Leather Mini – Charlotte Russe, Hobo Purse – Forever 21, Fold-over Clutch – ASOS, Banded Zipper Skirt – Forever 21, Fingerless Glove – ASOS, Studded Belt – Forever 21
Fun Studded Accents
Studs seemed to be the unifying accent woven throughout Balmain's Spring collection, adding both an unexpected touch as well as a tough-girl vibe to each look. Like leather, studded clothing has never been something found in my closet. Writing for CF has definitely made me rethink a lot of different trends and I hope that these posts do the same for you. After searching through studded clothing, accessories and bags, I've re-evaluated how I regard the accent and am even looking forward to my next shopping excursion.
Some things to keep in mind while stud-shopping:
Every trend in the Balmain RTW collection exudes an ultra-luxe and hip vibe, but these garments don't always translate well to budget-friendly versions. Some studded pieces can definitely look cheap, so start off slowly and figure out how to work the trend into your own unique style.
Focus on fabrics. Studding always looks the same (obviously), so what makes the difference is the rest of the garment's look. Flat suede boots will still feel casual, while 5-inch leather heels will always only be night-time appropriate – studding just adds a unique and unexpected touch.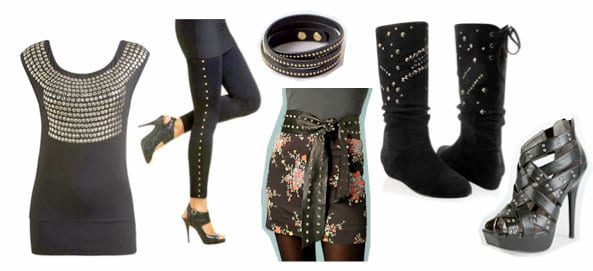 Product Information: Stud Front Top – Arden B, Stud Legging – Arden B, Leather Wrap Bracelet – Lorris Shoes, Studded Leather Sash – Free People, Studded Suede Boot – Forever 21, Strappy Platforms – Charlotte Russe
Balmain Trends – Day to Night
Throughout my previous posts, you may have noticed my love of the classic white-tee-and-jeans look. I promise I'm not that boring; these two pieces are just the perfect backdrop to experiment with any trend you can think of.
When channeling this collection especially, it's important not to go overboard (and end up in class looking like you just hopped off your motorcycle). Leather bracelets with stud details are easy pieces that capture two main aspects of this collection and will change your look with little effort. Black boots with tough-girl details will do the same.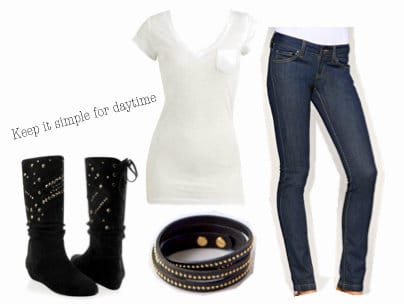 Product Information: Studded Suede Boot – Forever 21, V-neck Tee – Wet Seal, Mango Super Skinny Jean – ASOS, Leather Wrap Bracelet – Lorris Shoes
Weekends are when you can really have fun and experiment with all of the trends I highlighted from Christophe Decarnin's runway looks. These trends can be interchanged, mixed, matched and combined to create looks fitting for confident and fabulous college girls like ourselves. Although I've used jeans as a anchor for this night-time look, you can always flip the look – pair a plain tee with a leather mini or a gold lame' skirt. With these fabrics and accents, the combinations are endless.
Product Information: Bangle – Couture Candy, Bustier – ASOS, Strappy Platforms – Charlotte Russe, Fold-over Clutch – ASOS, Mango Super Skinny Jean – ASOS
Tying it Together
Balmain's Spring 2010 RTW collection is definitely a lot of fun. The trends that designer Christophe Decarnin used together exude many different vibes, but they all show confidence and youth. As girls in our teens and 20's, this is the time to experiment with different trends and fabrics – the only way to truly find your style is to try everything once.
What are your thoughts on the collection? What about the pieces I've highlighted to help you recreate it on a budget? I love hearing from you all! As always, let me know what designers or trends you'd like to see next week – each of my posts has been requested by one of you! Be sure to leave a comment.