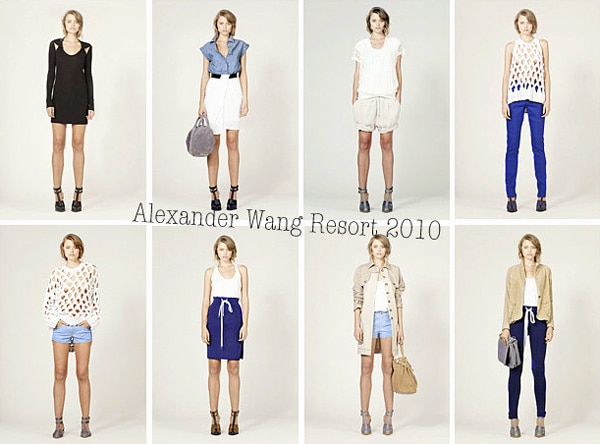 A few looks from Alexander Wang's Resort Collection
This week I've decided to focus on the 2010 Resort Collection from Alexander Wang. The designer's collection is all-American – a mix of khaki, t-shirts, denim and nautical accessories. Posts inspired by high-end denim and nautical pieces have been popping up on every fashion blog over the past few weeks, so it seems only fitting to find a few budget friendly options to recreate the look without the guilt!
Naturally, Wang put his own downtown-cool spin on his Resort classics, pairing an almost-preppy nautical stripe sweater with a wrap skirt in midnight blue sequins or tweaking a traditional fisherman's vest into a satin and mesh romper. – Style.com
Wang's Resort collection demonstrates the importance of basic closet staples. A classic chambray shirt can be paired with skinny jeans, linen shorts or a sequined skirt – each creating a different and unique vibe. Each one of us has our own unique style and taste – take Wang's collection as inspiration and make it your own!
Chambray and Denim
Denim and chambray (a thin, denim-looking fabric) are hot for spring. While jeans are the ultimate all-American look (no surprise that's a trend), a chambray skirt or romper adds a fresh spin on the old classic. Wang's collection utilized denim button-ups, distressed jean shorts and skinny jeans in both dark and light washes. Depending on the specific piece, denim can be the perfect backdrop to a great jacket or the main focal point of a look (a la a crisp denim shirt paired with a white skirt) – the combinations are endless.
Things to keep in mind while shopping for denim:
A denim shirt is at the top of my spring shopping list, but it's not something to impulse buy – you've got to find the perfect fit and fabric first.
Chambray is great because it's not as heavy or bulky as actual denim – it will also breathe easier when the weather begins to get warmer.
In terms of fit, be weary of shirt with a 'boyfriend' fit. Although an oversized shirt is right on trend this season, you don't want to look like you're swimming in it!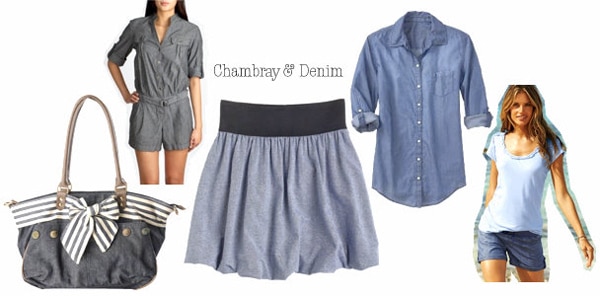 Product Information: Canvas Handbag – Forever 21, Romper – Charlotte Russe, Bubble Skirt – Delias, Boyfriend Shirt – Old Navy, Denim Short – Victorias Secret
Pretty Lace
Lace can be a tricky embellishment to work with – too much and you'll resemble a doily, too little and there's really no point to it. The trick is to find a piece that has the perfect balance of whimsy and sophistication. Alexander Wang utilized lace details to add a spin to the classic khaki and white-tee combo and it really did make a difference!
When shopping for lace accents:
Always keep in mind the sheerness of different fabrics! Some tops may look opaque but when tried on are completely see-through.
Start out slowly. This is always one of my tips, because it's so important. Don't jump right into a trend and purchase a head-to-toe lace outfit. Dresses are easier to get away with (see the ASOS dress below), but with separates, try to pair one lace fabric with a neutral.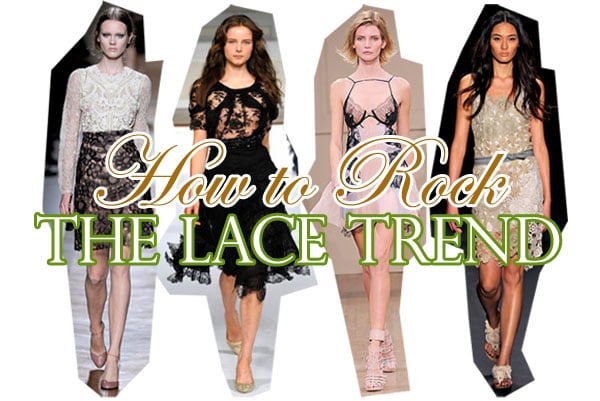 Product Information: Urban Outfitters, ASOS, ASOS, Roxy
The New LBD
One of the things I loved most about Alexander Wang's Resort collection was the twist on the LBD (Little Black Dress). Although a fitted dress with long sleeves isn't anything new, the shoulder cut-outs from his collection added an unexpected and edgy touch.
A long sleeved black dress in a comfortable fabric (think jersey or cotton) is also a perfect piece for any occasion. Pair it with tights, pearls and flats for a classic sophistication or gold jewelry and great heels for a night out.
A few things to keep in mind:
If you're planning on wearing your LBD to work, keep length in mind – even the perfect dress can be inappropriate in the wrong setting.
Just because it's a black dress, it doesn't mean that every style will flatter everyone. If you're self-conscious of your hips, don't go for a dress with pockets. In contrast – if you're athletic and want to add some curves then a dress with loose pockets at the hips will create shape!
Keep your existing wardrobe in mind. Do you have a go-to pair of silver heels? Don't buy a LBD with gold accents that you'll want to get new shoes to match with! If you own a ton of necklaces that you love to wear out, stay away from dresses with detail around the neck – those gorgeous necklaces won't get worn.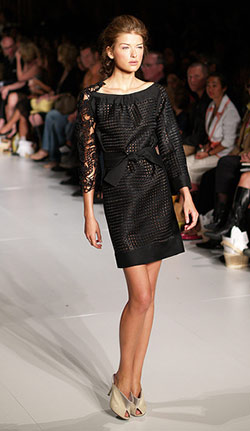 Product Information: ASOS, ASOS, Macys, ASOS, ASOS
Nautical Accessories
Nautical pieces are by far my favorite trend for this year. Nautical stripes are classic and jewelry with anchor or rope motifs allows you to have a little bit of the beach with you no matter where you are. Another bonus is that the trend is based on neutral colors such as navy blue, white and khaki – all easily mixed and matched with other pieces in your closet. What are your thoughts on the nautical trend?
Make the nautical trend your own:
For a classic look – keep it simple. A fitted white tee with thin navy stripes paired with jeans is a comfortable and chic look (with a nautical touch).
Have fun with these pieces! As evidenced below, there is nautical jewelry for both high and low impact. The best way to get inspiration to fit your style is to find looks online. It may be hard to picture a striped cardigan being young and fresh, but check out Forever 21's lookbook and you may just change your mind. It's all about research – which hopefully this column helps you with!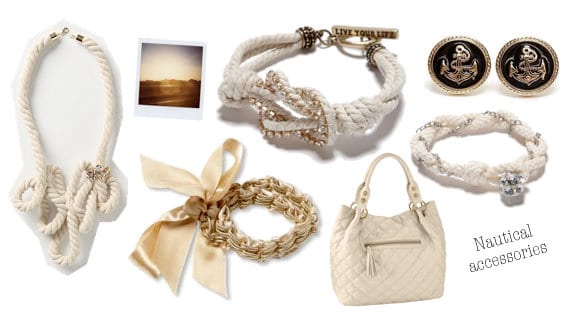 Product Information: Rope Necklace – Anthropologie, Chain Bracelet – Banana Republic, Sailor Knot Bracelet – American Eagle, Faux Leather Satchel – Nordstrom, Rope Bracelet – American Eagle, Nautical Buttons – Urban Outfitters
Canvas and Linen
Wang's Resort looks featured both linen shorts and skirts paired with white t-shirts, tank tops and lightweight jackets. Linen and canvas are the perfect fabrics for warmer weather and exemplify comfortable elegance. Although for a lot of us the warm weather is still a couple months away, stores are beginning to stock their spring lines and it's never too early to start scoping out the selection!
Some tricks of the trade for finding your perfect shorts:
Although I prefer in-store shopping to shopping online (I just love the experience of digging through the racks), sometimes that perfect pair of shorts may only be available on the web. Check out the looks below – it's clear that Victoria's Secret is a go-to stop for affordable linen shorts. So don't shy away from buying online – just take your time to make sure you're getting the right size!
Find the right balance of comfort and style for your lifestyle. If you want to be able to dress up your shorts for the office, you'll want to look for a different fit and fabric then if you were looking for a beach cover-up.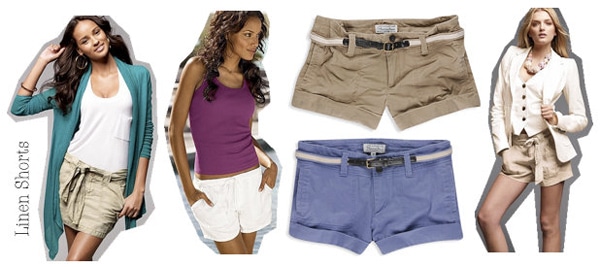 Product Information: Victoria's Secret, Victoria's Secret, Forever 21, Victoria' s Secret
Chunky Cable Knit
I took a few liberties when interpreting Wang's sweaters – I'm not sure the white sweaters in his collection (which show more skin than fabric) would really work in the average college student's wardrobe. However, chunky cable knit sweaters do – and fit in well with the all-American and nautical inspiration throughout the collection.
Like most of the trends I highlighted in this column, this too can be translated to any style. A crew-neck sweater with a button-up underneath is perfectly prep. Need something edgier? Look for an oversized, off-the-shoulder sweater and pair it with skinny jeans and heels as fashionista Lauren Conrad did.
Things to keep in mind while sweater shopping:
As with lace, always try things on to check for the sheerness of the fabric (obviously the thicker the knit, the less you'll have to worry).
Keep in mind what you'll wear the sweater with. Pairing an oversized knit with a loose skirt won't be flattering on anyone. On the flip side, if you live in your jean-leggings, don't purchase a tight sweater to pair with them – try to keep your separates balanced.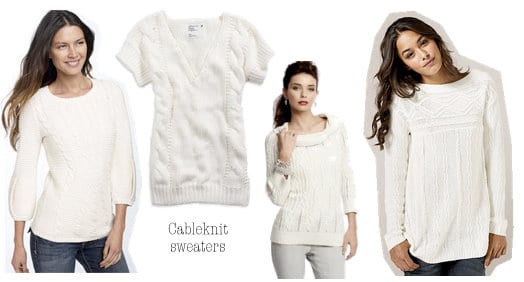 Product Information: Nordstrom, American Eagle, White House Black Market, Alloy
Tying it All Together
Go back and take a look at the entire collection, keeping in mind the six trends outlined above. Recreating it on a budget seems less overwhelming doesn't it? The trick is to first break it down to the basics, then figure out how to incorporate it into your own personal style. What are your thoughts about the collection? Which pieces do you like and which are you not a fan of?
As always – I love your input. Each week I research and write my posts with you readers in mind – whether it be a trend, a designer or a style of posting. Be sure to leave a comment!