A few looks from Vera's newest collection
As an avid magazine reader I know that although runway styles are fun to look at, they never seen too relevant to those of us on a budget. Really, how many of us can afford to buy a runway look from head to toe? Well, I'm here to change that! It's easier than you think to get a runway look without spending a lot.
The most important strategy for replicating any collection is to simplify it. What are the key pieces? Which trends do you see throughout the collection that stick out? Once you have that, it's simple to get the look for yourself, and I'll show you how.
Vera Wang's Pre-Fall 2010 Collection is full of tailored, structured pieces with fun embellishments like ribbons, tinsel, sequins and jewelry. Vera's mix of whimsy and structure is easily translated into anyone's wardrobe (without spending all of your Christmas money).
Slinky Sequins
Not many of us can pull off skin-tight sequined diva pieces, but don't let that scare you away from the fun fabric! If Vera's new collection is any indication, sequins can easily go from day to night. Already own a sequined mini dress? Wear it to class with tights, boots and a chunky cardigan to dress it down. Date night? Go bare-legged with peep-toe ankle boots and dramatic bracelets. Still too flashy for your taste? Sequined flats or a clutch can add the perfect pop of shimmer to your outfit without going overboard. The combinations are endless!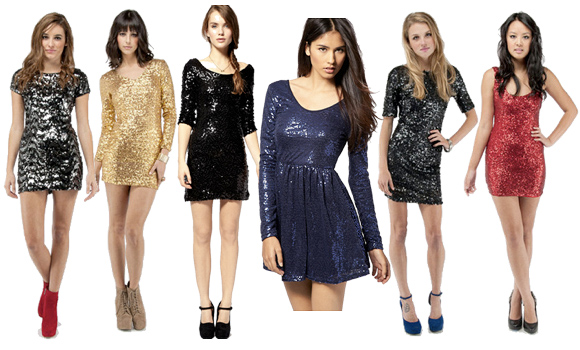 Product Information: Tee – Forever 21, Tank Dress – Charlotte Russe, Striped Skirt – ASOS, Bib Dress – Forever 21, Bib Tunic – Forever 21, Clutch – Forever 21, Flats – Endless.com
Structured Gray
Gray, like black, is a perfect neutral to mix and match with other fabrics and colors. Vera Wang's Pre-Fall Collection definitely utilizes grays in each outfit, whether on a cardigan, a blouse or just a thin tee perfect for layering. If you're going to class, look for cozy gray tops and sweaters to pair with your favorite jeans. Interning? Thick, gray wool pants are sophisticated and classic – especially with a crisp white button-up.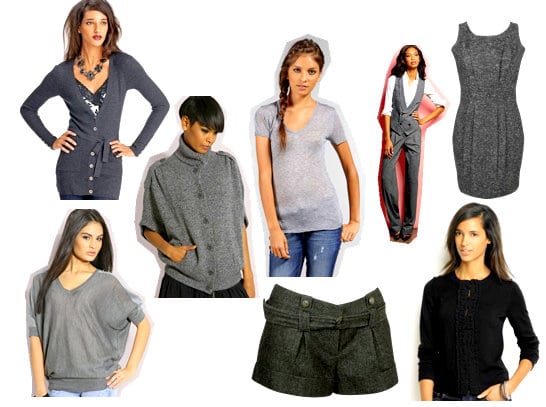 Product Information: Long Cardigan – White House Black Market, Knitted Poncho – ASOS, Tee – Revolve, Trousers – Victoria's Secret, Shift Dress – Forever 21, Knit Top – ASOS, Shorts – Forever 21, Cardigan – Banana Republic
Classic Black Pant
A common thread throughout Vera's collection was the stovepipe black pant. Completely flattering and able to be dressed up or down – every girl should have a perfect pair of black pants. And when I say perfect, I mean the perfect fit for you (not the Vera Wang model). If you're the adventurous type, try a skinny pair. If you're not quite a fashion risk-taker yet, stick to the style of jean that you normally wear, whether it be a flare, boot-cut or wide leg for the most flattering and comfortable look. With a little effort, you'll find the perfect fit in this perfectly flattering color.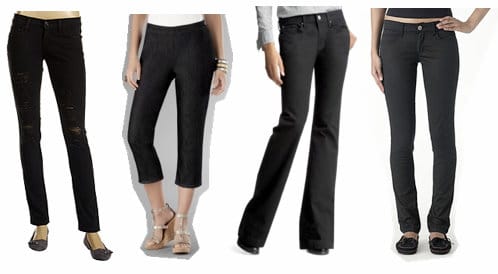 Product Information (from left to right): Zappos, Chicos, Gap, Delias
Embellishments
Okay, enough with the plain and boring. Embellishments are the simplest way to change an outfit while still having the most impact. (They're also a hot trend right now!) Vera's collection was littered with ribbons, bows, sheer underlays and ruffles. I've rounded up some of the different ways to incorporate these fun accessories into your outfits but, like every other trend, it's up to you to make it your own!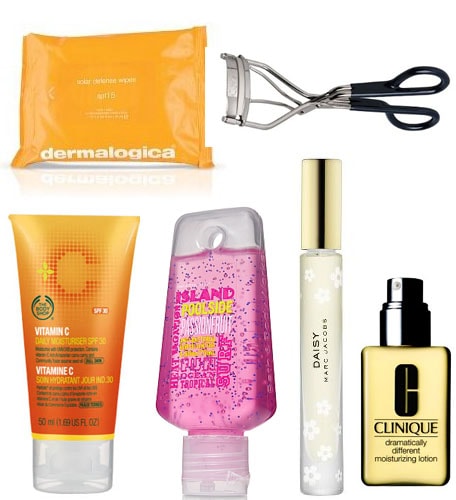 Product Information: Pearl Bracelet – Forever 21, Belt – ASOS, Ribbon Necklace – Newport News, Chain Necklace – Forever 21, Cuff – Dillards, Bib Necklace – Forever 21, Flower Cuff – Arden B
So there you have it, all of the tools you need to recreate Vera Wang's Fall 2010 runway looks with just a few key pieces! What do you think of the collection? What about the pieces that it's made up of? I'd love to hear your thoughts and input on other ways to recreate it!
Each Monday, I'll be bringing you affordable looks inspired by a different designer – so let me know whose designs you'd like to see and why – you may just see your favorite collections on College Fashion! Be sure to leave a comment.