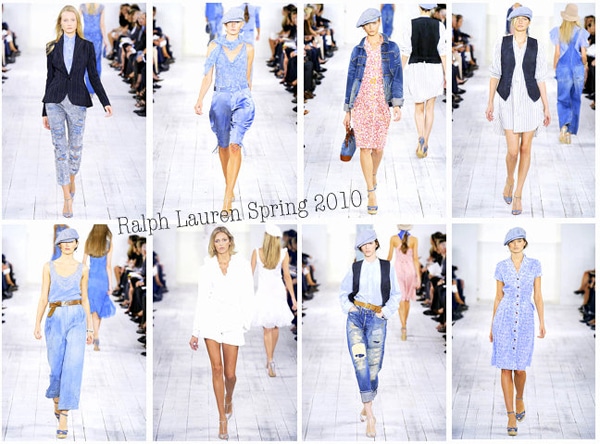 Ralph Lauren's Spring 2010 RTW Collection was inspired by the American spirit. As Lauren wrote in his program notes, "I am inspired by the character of the worker, the farmer, the cowboy, the pioneer women of the prairies." Over the past few weeks, the CF community has been buzzing about the Spring trends and how to make them your own, and Lauren's Spring collection incorporates these hot trends in an all-American way.
It was cinematic, like most of Lauren's collections. And it goes without saying that his vision is a romanticized one: Henry Fonda's character in The Grapes of Wrath didn't carry a lizard-skin bag. In fact, the show played like a rags-to-riches tale, a story line dear to the designer's heart. After a few white cotton organdy dresses and some thirties-esque suits—think pinstriped three-pieces with cropped and gathered pants or a boxy d.b. with fuller trousers—the work jackets and carpenter pants reappeared in blue ombré silk charmeuse, the nightshirts came striped with beads, and the overalls were transformed into a floor-grazing lamé dress. – Style.com
Over the last few weeks I've highlighted Steffe's femininity, Cavalli's tribal prints, Wang's nautical inspiration and even Balmain's studded leather, and I hope each week you find a little inspiration from each designer's unique style. Ralph Lauren's collection is the epitome of all-American girl and another perfect addition to the growing list of Spring inspirations profiled here at College Fashion!
Look #1
Ralph Lauren has always been one of the best at capturing the classic tomboy vibe. With a mix of ripped jeans, newsboy caps and over-sized blouses, his Spring 2010 models looked like they could have stepped out of a 1920's farm (albeit, a very chic one). I admit, I thought some of the looks that came down the runway were a little too over-the-top for daily wear (unless you're on a Vogue photoshoot) but they are easily translated into budget-friendly looks.

Product Information:Cuffed Sleeve Shirt – Charlotte Russe, Vest – Forever 21, Leather Belt – Martin + Osa, Button Front Shirt – Charlotte Russe, Skinny Jean – Forever 21, Boyfriend Jean – New York and Company
Tips to Make it Work:
Although cuffed boyfriend jeans are hard for many to pull off (especially if you're on the shorter side), when they're done right they really make a statement. A trick to making them work is to pair them with heels – they'll elongate your legs a la the model above.
Keep a balance within your outfit. Pair loose jeans with a tucked-in shirt, or skinny jeans with a loose button-up – don't lose your shape!
Tread carefully when recreating the all-American farm girl look to avoid actually looking like you just stepped off the farm..
Look #2
I fell in love with the breezy Springtime look below. The shirt dress gets a new spin when paired with a vest – which helps to add shape to an otherwise-shapeless frock. Lauren recreated the quintessential newsboy ensemble, and with a couple of swaps (like a pair of sandals instead of heels) the look becomes a perfect go-to for a day of lunch and shopping with your friends.

Product Information: Shirt Dress – Alloy, Dark Denim Vest – Bluefly, Sandals – Arden B., Chambray Dress – ASOS, Denim Waistcoat – ASOS, Fedora – Nordstrom
Tips to Make it Work:
Don't be afraid to show some leg – but be mindful of the weather. Most shirt dresses are quite loose at the bottom hem and may be subject to a windy day fly-up.
Be mindful of your waist. Although mens shirts are meant to be loose, you don't want to end up looking like you just grabbed something out of your Dad's closet. Look for dresses with a belted waist or a slim fit (like the two above) to get the look and keep it flattering.
Play around with vest styles and lengths; there are tons of different versions available. A long mens vest in black will create a completely different vibe than a cropped denim one – but that mixing and matching is what makes fashion fun!
Look #3
Oh, florals. Designers just can't seem to get enough of them, can they? Floral print is always one of the hottest trends for Spring and a favorite of the writers here at CF. Lauren paired dainty versions of the print with the classic jean jacket and espadrilles to create a closet staple look that will take you through the warmer seasons this year.

Product Information: Dark Denim Jacket – Forever 21, Chain Purse – Victoria's Secret, Western Denim Jacket – ASOS, Espadrilles – Victoria's Secret, Skater Dress – ASOS, Ruched Front Dress – ASOS
Tips to Make it Work:
Although the Ralph Lauren Spring 2010 collection is the epitome of all-American girl chic, the floral dress/jean jacket combo can easily translate into any style. Try a fitted tank dress and a cropped, distressed jacket for an 80's vibe. Not your style? Try an a-line dress with opaque tights and flats to create a more preppy look.
As always, try to find a balance between fitted and loose pieces. A ruffled or flowy dress can be easily balanced by a fitted jacket. Likewise, a tight dress works well with a loose-fitting denim jacket. Try to avoid pairing an oversized jacket and dress together. Similarly, don't rock two skin-tight pieces at once.
Tying it All Together
Each season, Ralph Lauren's collections are inspired by his love of the American spirit. His Spring '10 collection was no different. Pulling inspiration from the Great Depression and classic 1920's and 30's fashions, Lauren created looks that can be translated into every-day wear for college students on a budget. With such closet staples like jeans and button-up blouses, how can you go wrong?
What are your thoughts on the collection? What aspects do you like or dislike? As always, I write this column for you! I love to hear your feedback and opinions on what you'd like to see more of and which designer collections you'd like to see recreated for less. Be sure to leave a comment.