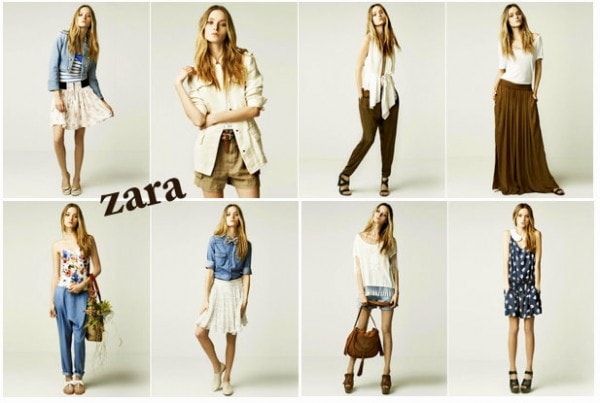 Although Zara began as an H+M and Forever 21 competitor, it quickly evolved into a chic, higher-end retailer (unfortunately, with prices to match). Zara's Spring collection is full of amazing bohemian-chic looks that are perfect for spring. The collection has it all – denim, khaki, florals – what else do you need?
Fortunately, you don't have to pay the Zara price for the Zara look. That's because I've tracked down budget-friendly items to help you get the Zara Spring 2010 aesthetic for under $25.
The Tops
Most of the looks in this collection rely on layering and, subsequently, basic tops like white tees, chambray button-ups, and simple tanks. However, there are also pops of pattern and color in the form of floral camisoles, nautical striped tees and fringe-embellished tops. In colors that complement denim and khaki pretty perfectly, it's no wonder that this collection is so easy on the eyes. Classic colors, fits and patterns are a chic addition to any summer wardrobe.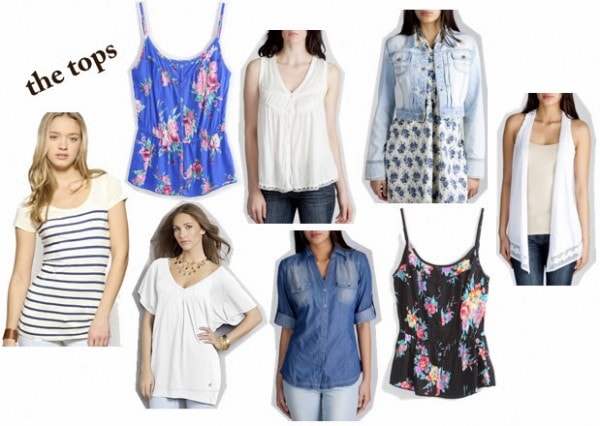 Product Information: Nautical Top – ASOS, Floral Cami – Pacsun, Tunic – NY and Company, Lace Top – Charlotte Russe, Chambray Shirt – Charlotte Russe, Denim Jacket – Charlotte Russe, Crochet Vest – Charlotte Russe
Get the Zara look:
Stick to the basics. You don't need sequins or neon colors here – a striped tee or a basic, well-cut tank will do the trick when layered with more flashy pieces.
Experiment with a chambray button-up. Try it buttoned and tucked into a flowy skirt for a fun contrast, or unbuttoned and untucked over a white tank and khaki shorts.
Mix prints! Thin, nautical-inspired stripes work with almost anything. Tuck a sailor top into a floral skirt for a fun way to mix prints this summer!
The Bottoms
For most girls, new pairs of jean and khaki shorts are on the summer to-buy list every year – and for good reason! They can be dressed up or dressed down, and worn everywhere from the beach to the city streets. They also go with almost any style or trend, and are definitely a must have for every girl's wardrobe. In addition to durable basics, Zara's spring collection included floral skirts, rompers and statement skirts in brown and lace.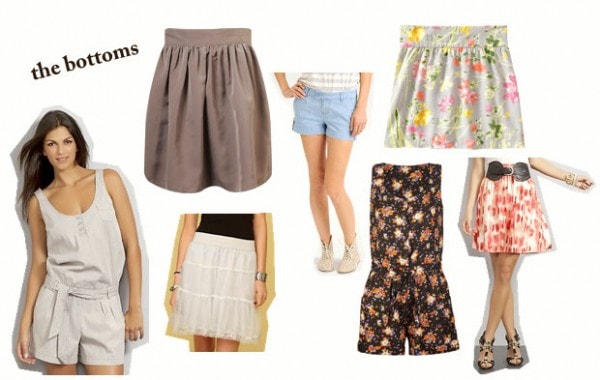 Product Information: Romper – NY and Company, Brown Skirt – Forever 21, Tutu Skirt – Free People, Jean Shorts – Forever 21, Floral Romper – Tillys, Floral Mini Skirt – Old Navy, High-waisted Skirt – NY and Company
Get the Zara look:
Stick to subdued colors that will mix and match with everything to double your wardrobe versatility and make getting dressed a breeze.
Don't be afraid of rompers! Give them a chance; I've seen styles that flatter every body type and personality. What have you got to lose by trying one on? Nothing!
High-waisted skirts aren't going anywhere, so keep stocking up! Still haven't embraced the trend? Try it out. Depending on your body type, certain styles will flatter better than others – for example if you want to add shape to your hips, try a shorter and poofier style to create that hourglass silhouette.
The Accessories
In contrast to most lookbooks, Zara utilized a ton of different shoe styles for their looks. Take a look through the entire collection and you'll see what I mean – they've got heels, clogs, platforms, flats, sliders..everything! The rest of Zara's Spring 2010 accessories are pretty classic, perhaps with the exception of a few fun hats. The brown suede bags are completely versatile and capture the bohemian feel perfectly.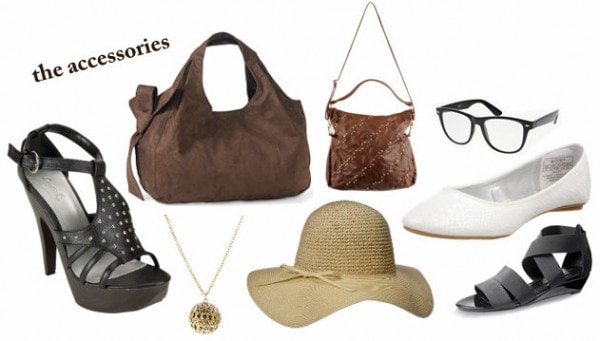 Product Information: Heels – Tillys, Suede Hobo Bag – Spiegel, Necklace – ASOS, Hat – Target, Studded Tote – Forever 21, Glasses – ASOS, Flats – Endless, Sandals – Spiegel
Get the Zara look:
Keep your jewelry minimal; it'll really help you to capture that fresh, young Spring look.
Celebrities ranging from Demi Lovato to Demi Moore have embraced geek-chic glasses, and Zara's lookbook featured quite a few pairs of the trendy style. Try Forever 21 for an inexpensive non-prescription pair of your own.
Tying it all Together
Zara's collection has a young, flirty feel without being over the top. It's simple, classic and chic – the perfect addition to any Summer wardrobe.
What do you think of the collection? Are these looks that you would like to recreate? I love to hear your opinions every week – and I always take suggestions into consideration! If you have any looks you'd like recreated here, let me know! Be sure to leave a comment.