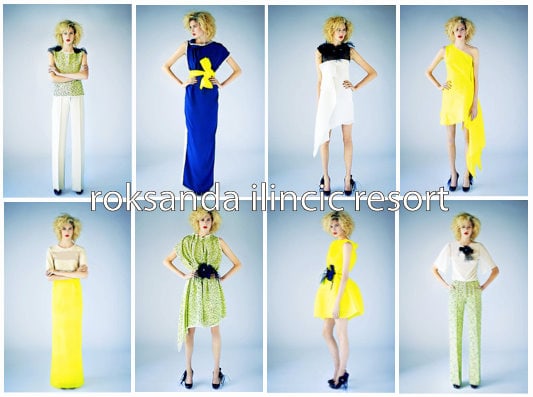 While researching different designers for this post, I stumbled upon Roksanda Ilincic's Resort 2011 collection and immediately knew I had to bring it to College Fashion. The fun, unique collection is perfect for summer and is easy to channel on a college fashionista's budget. Bright yellow and bold black accents were the main focal points for the collection, but unexpected navy blues and floral greens really made it unique.
Not a fan of yellow? Then look away now. Ilincic took a spring break in Sicily, and she came back to London determined to capture in cloth the fields of neon yellow rapeseed she'd seen. And she did it…It was certainly a fearless statement. – Style.com
Bright colors, fearless combinations and fun dresses – seems like a perfect college wardrobe to me. And luckily I've tracked down some pieces for under $25 dollars to help you recreate the Roksanda vibe on a budget!
Yellows
I grew up with my Mom hating the color yellow – to this day she remains a firm believer that the color doesn't flatter her at all. Sorry mom, but I'm a firm believer that there is a shade of yellow for every skin tone. Whether it's on the green end of the spectrum or leans more toward orange, yellow is a feel-good color that every girl should utilize in her summer wardrobe.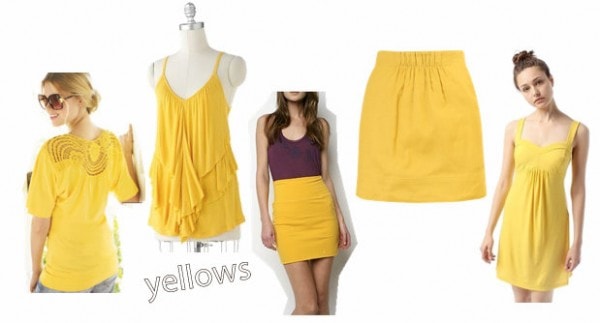 Product Information: Alloy, Kohls, Urban Outfitters, Forever 21, Urban Outfitters
Get the Roksanda look:
Don't be afraid to go all in – yellow dresses and skirts really make a statement. Plus, a bright yellow dress is a sure way to brighten any day.
Not feeling head-to-toe yellow? A little bit really goes a long way. Pair a yellow sash with any dress to add some spunk. Or invest in a pair of yellow sandals or flats – bright shoes are a perfect way to dress up your favorite jeans-and-a-tee look.
Summer Greens
Light green tones are a great way to include light, fun, summery colors in your wardrobe without looking too girly or prep-tastic. Pair the beachy color with a subdued floral print or light stripes and you've got a great piece to wear all season.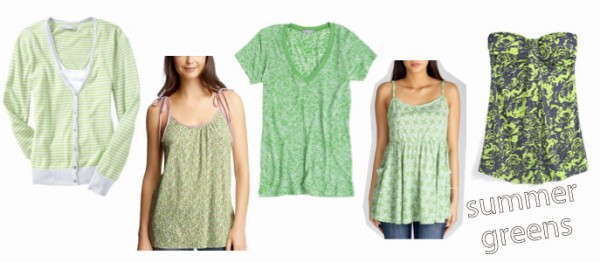 Product Information: Old Navy, Gap, Delias, Charlotte Russe, Pacsun
Get the Roksanda look:
Light green floral tops are young and whimsical – but they can be work-appropriate, too! Tuck your top in to a pair of dress pants or throw a blazer on over it for a perfect office look.
I won't lie, it would have never occurred to me to pair the light hue with bold black accents. However, Roksanda's collection is proof that the pairing is both unique and chic. I dare you to try it yourself!
Embellishments
The one thing you're sure to remember about this collection is the black flower belts that cinch in the waist on each look. They add a great contrast to the light colored pieces, but the overall look is not as harsh as a normal black belt would be. Black feathers and flower accents are perfect ways to dress up anything – even basic pieces of the same color.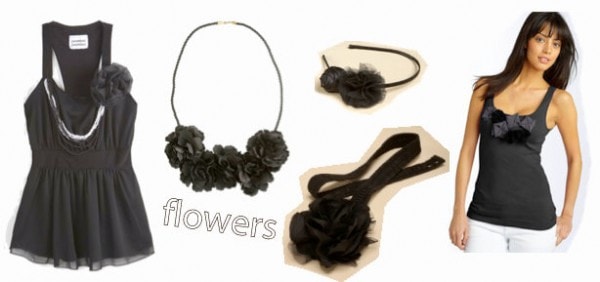 Product Information: Pacsun, Arden B, The Limited, The Limited, Nordstrom
Get the Roksanda look:
Many of you CF readers have told me you're fans of embellishments this season, and it seems like the trend isn't going anywhere soon. Stores like Forever 21 and H+M are great places to find unique, embellished belts, headbands and jewelry that incorporate the whimsical black flowers seen above.
Too tedious to search for the perfect accessories? Just buy a top or a dress with the embellishments woven right in! Ilincic's collection incorporates details on necklines, shoulders and even the footwear.
Tying it All Together
The Roksanda Ilincic Resort collection mixes bold colors and unexpected details. The most important take away is her use of color – the looks are proof that you don't need tons of accessories or details, just a couple statement-making colors (and maybe a great belt to tie everything together).
So, what do you think of the collection? Are you a fan of yellow pieces? (Or are you more in agreement with my Mom?) I love hearing your opinions each week!
Next week's post will be the last of this column for the summer (before I jet off to Europe for a few weeks!) so I'd love to hear suggestions for what designer you'd like to see featured. Be sure to leave a comment!