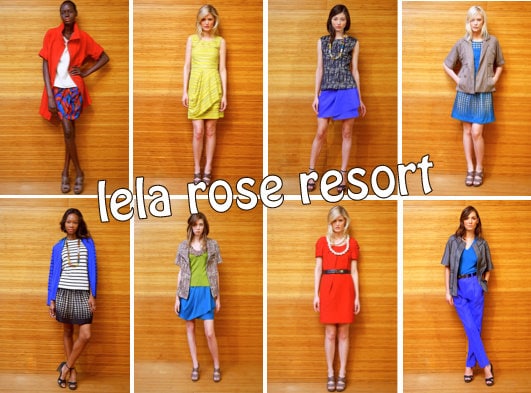 I've been on a color kick lately, so when I stumbled across the Lela Rose Resort Collection, I couldn't resist recreating it on a college budget for CF. As we all know, summer is the perfect time to have fun with bold colors and fabrics and this collection epitomizes that idea. Lela incorporated brights into every look, often mixing multiple bright colors at once. The surprising inspiration? Lela's home in Tribeca.
Strong pops of emerald, royal blue, and lemon paired with neutral hues nodded to the home's distinct art-filled living spaces.."I like the idea that rooms, like garments, can each occupy their own space but still be connected as a whole" – Style.com
Although the collection's inspiration is a unique one, it doesn't detract from the statement looks that Lela sent down the runway. I've tracked down some pieces to help you recreate Lela's Resort 2011 looks without breaking the bank – all for under $25!
Reds
One of the reasons that this Lela Rose collection really makes an impact is because of the bright red pieces – from a trench coat to a shift dress, pops of scarlet add impact to each look. Red is a great color to have in your wardrobe; it exudes confidence and style, and it's also super easy to dress up with black or down with jeans – what more could you ask for?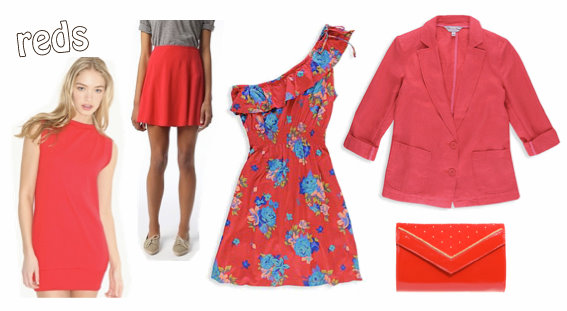 Product Information: ASOS, Urban Outfitters, Forever 21, Forever 21, ASOS
Get the Lela Rose look:
Look for prints that combine Lela's two go-to colors: red and royal blue. Pieces with abstract or floral patterns are sure to make a statement.
Wear red on red! Check out the first look from the collection above – pairing a red skirt with a red jacket is a fashion risk with a great payoff.
Blue Hues
Hands down, my favorite aspect of this collection is the use of different hues of blues and greens. Most people wouldn't think to wear two bold colors together (normally, you'd pair one statement piece with a neutral piece), but Lela's outfits prove that mixing colors is an awesome way to achieve a unique and fun look.
Product Information: Forever 21, Forever 21, Banana Republic, Urban Outfitters, Banana Republic, Urban Outiftters
Get the Lela Rose look:
Don't be afraid to experiment. Try pairing a royal blue skirt with a light green top, or a teal dress with blue accessories. As long as the color families are similar, the options are endless.
To really get the Lela Rose look, go for pieces with some sheen to them – think any kind of silky fabric that will reflect that Summer sun.
The Extras
The weather during the Spring and Summer months is often unpredictable – you'll no doubt have cooler days and hotter days. The best way to keep your outfits as versatile as possible is to invest in a great go-everywhere jacket. To finish off your colorful, bold Summer look, don't forget a bright necklace or a fun bracelet.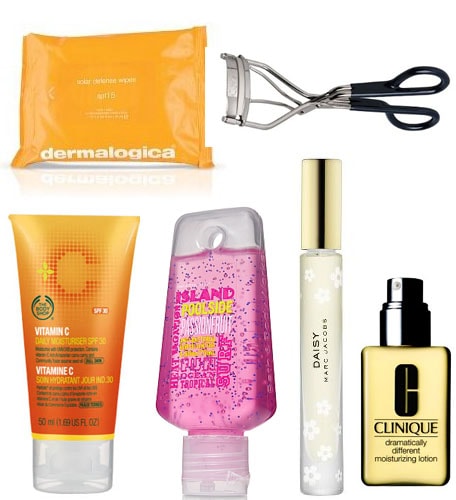 Product Information: Forever 21, Charlotte Russe, All Necklaces – Forever 21, Urban Outfitters
Get the Lela Rose look:
Although it might take some digging through your favorite stores, finding a short sleeve jacket is the best way to do Summer layering without compromising your cute outfit.
Don't worry about the colors in your jewelry matching those in your clothing. Have fun with colors and beads – one necklace can completely change the feel of any outfit!
Tying it all Together
The Lela Rose Resort collection is all about bold colors and shapes. What do you think of the interior design inspiration? Are you a fan of the bright colors? The mixing and matching? I love to hear your thoughts and opinions! Be sure to leave a comment