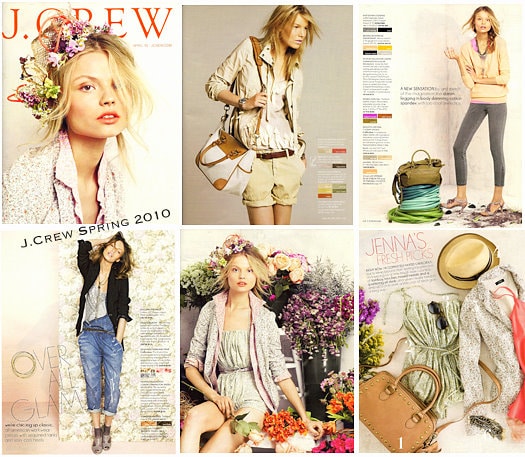 J. Crew isn't quite a runway designer, but with the brand's popularity (and prices) climbing it seemed only fitting that there be a budget-friendly way to recreate the new Spring looks.
The retail chain has always been known as a haven for country-club regulars, but in recent years, under the direction of a new Creative Director, J. Crew has become a favorite of fashion blogs and industry insiders. With a mix of uptown-chic cardigans and hipster silhouettes, J. Crew offers a little something for everyone.
The inspiration for this week's post comes not only from a CF reader's suggestion, (and our own obsession with their Spring 2010 Lookbook) but also from my discovery this week that J. Crew headquarters lies a mere 4 floors above me in my NYC office building. Although the girls waiting by the elevators in the morning look like they walked out of a catalog, the style is always classic, effortless and stylish. After scouring the Spring catalog and the brand's website, I went on the search for pieces under $25to help you achieve the J. Crew Spring 2010 look!
(And stay tuned – I'm determined to get a peak at their offices before my internship ends!)
Hair Accessories
Take a walk through a J. Crew store and you're bound to stumble upon the table of headbands, clips, scarves and hair elastics. The brand offers almost any kind of hair embellishment you could dream of, from flowers to ribbons to antique bobby pins. Their Spring 2010 collection is no different, decorating models' hair with cascading flowers and whimsical accents. Although you may look a tad ridiculous with a vine of flowers down your back, an embellished headband is the perfect Spring accessory to liven up an outfit and add a touch of fun.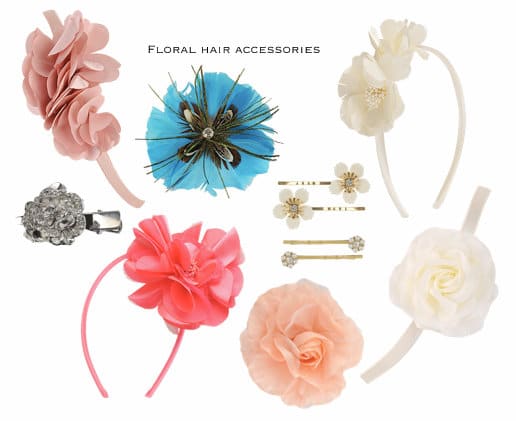 Product Information: Forever 21
Get the J. Crew hair look:
Keep your hair natural. No matter what the texture, naturally styled fits with the organic feel of the hair accessories. Try wavy hair with a headband, or a loose, messy braid with a flower at the end. As temperatures warm, try using a bobby pin to pin a flower above your ear for the ultimate beach look.
For day, keep the colors muted. Just the presence of a flower on your headband will make a statement–a bright pink or teal style may be a little overpowering for class in the morning. Save those attention-grabbing hair accents for the night on the town.
Not-So-Average Jeans
One of the reasons that the J. Crew Spring looks are so interesting is that they pair tailored pieces with unexpected jeans. Distressed boyfriend jeans, overalls and gray stovepipe cropped jeans are not quite the denim looks you'd expect from the choice retailer of Michelle Obama. CF readers are the best people to rock these styles: students and 20-somethings can pull of pretty much any style we want to. Plus, at prices under $25, how can you resist buying a new pair of jeans?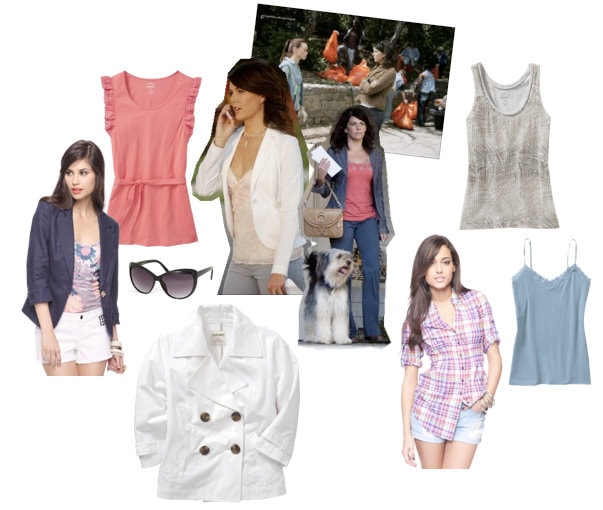 Product Information: Delia's, Express, Delia's, ASOS, Express
Get the J. Crew denim look:
One of the most popular looks this season is a pair of gray jeans paired with a warm-colored top. Think salmon, pink, orange and every shade in between.
Balance baggy jeans with a tailored blazer and tank, or skinny jeans with loose or layered cardigans. Balancing fit is one of the most important principles of style, and it ensures you have the most flattering look for you body.
To achieve that J. Crew contrast between distressed and Upper East Side, pair ripped jeans with an oxford button-up, or a polo and cardigan, etc. The combinations are endless.
Classic Layers
No news here: J. Crew carries a sweater in every style and color you could want or need. From v-necks to cardigans, and cable-knit to cashmere, they've got it all. The appeal of pieces like this is that they can be layered with each other, or worn with other items already in your closet. By mixing and matching, you get the most bang for your buck – a thin sweater or cardigan is one of the most versatile items you could own. Add a blazer into the mix and you're ready for every season – just layer as the temperatures drop!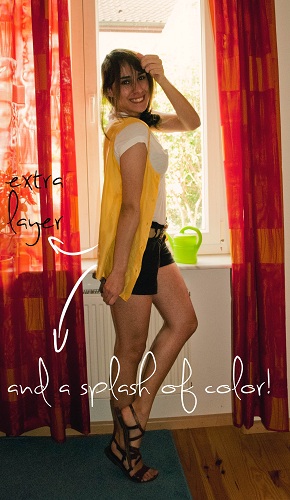 Product Information: Short Sleeve Blazer – Newport News, Terry Blazer – Tilly's, Blue Cardigan – J.Jill, White Cardigan – Target, Vee Neck Sweater – Target, Coral Cardigan – Dillards
Get the J. Crew layering look:
Layer, layer, layer! Stock up on thin tanks, tees and long-sleeve tops at discount stores like Forever 21 and Target.
Have fun with color. J. Crew's Spring looks are pastel-heavy but colors are incorporated in unexpected ways. Cardigans don't have to be boring – look for patterns and bright colors, they're the perfect statement-making piece to the classic jeans and tee look.
Tying it All Together
J. Crew is a mix of comfort, classic styles and fun embellishments – the three favorites of college girls everywhere. Take a look through the Spring catalog on their website and you'll see just how perfect the looks are to take you from class to the library to dinner with friends.
Are a fan of J. Crew? Is it a brand that you identify with? What do you think of the Spring 2010 pieces? As always, CF readers are the reason we all love writing here – we want to hear from you! Be sure to leave a comment.