This post may contain affiliate links, which means we may receive a commission if you purchase through our links. Please
read our full disclosure here
.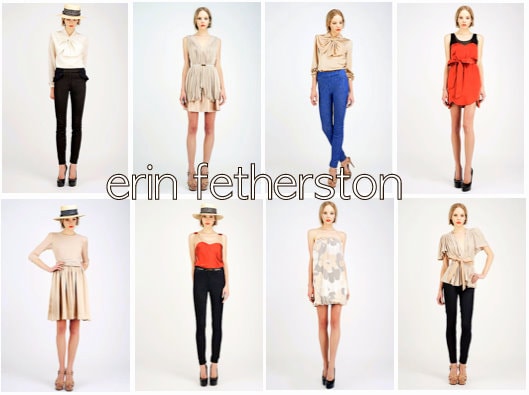 Erin Fetherston recently became the latest designer to collaborate with Juicy Couture, but her recent resort collection was much more versatile, and fashion-forward than the average terry cloth jumpsuit. Chiffon dresses, tailored jeans and sweatheart necklines all made their way to her Resort 2011 runway.
"The idea is that this collection is a self-contained wardrobe," Erin explained. "It's not just about cocktail dressing."
The collection relies on a minimal color palette – but one that makes an impact. Bright reds, black pants and nude tones all came down the runway. Classic nautical colors were splashed across tailored pieces, creating fantastic wardrobe staples you'll want to have in your closet all year long.
Can't afford the Fetherston collection? Don't worry – I've tracked down pieces for under $25 dollars to help you recreate the Fetherston look – without breaking your budget!
Reds
Although black is always touted as the universal 'flattering' color, there's a lot to be said for red. The bright color commands attention, shows your confidence, and is flattering on almost every skin tone and hair color, depending on the shade. (To find out which shade of red will work best on you, see our guide to finding your perfect colors.) Pair a red top with white shorts for a fun summer look, or a red dress with tights and a blazer for work. Summer is the best time to experiment with bright colors – and red is definitely a must.
Product Information: Anthropologie, Charlotte Russe, Urban Outfitters, Old Navy, Forever 21, ASOS
Get the Erin Fetherston look:

Invest in a silky red tank to take you from day to night; from the office to a night on the town. It's the perfect versatile top to have in your closet – and is sure to get everyone's attention!
For night, dress up your red hue with black accents. But during the day, stick with navy, blush tones or white to keep the color casual and daytime-appropriate.
Skinny Jeans
Continuing her collection's overall theme of versatility, Ms. Fetherston incorporated both dark and light wash skinny jeans into her Resort looks. Unlike flared styles, skinny fit pants can be worn easily with everything from flip-flops and flats to heels and boots. Stick to a dark wash to up the versatile factor and ensure that the jeans will fit any outfit you have in mind. (Darker washes are also more flattering!)
Product Information: Roxy, White House Black Market, Old Navy, NY and Company, ASOS
Get the Erin Fetherston look:

Create a balance by pairing a loose or long top with your skinny jeans (the same way you would pair a fitted top with loose pants).
Up the chic-factor by tucking in your top and adding a thin belt at your waist. This small outfit tweak will show off your shape and really pull your look together.
Nudes
Erin incorporated blush hues across her collection: on tops, dresses, skirts and even shoes. Blush and nude tones are fresh and young – and also are a great backdrop for other colors and fun accessories. Two colors nude goes great with? Red and navy. Fetherston definitely picked great colors for a summer collection and with embellishments like ruffles, pleats and muted florals, the pieces are hard to resist.
Product Information: All from ASOS – 1, 2, 3, 4, 5
Get the Erin Fetherston look:

There's something about a skin-tone dress that is very flirty and young, yet still timeless and subtle. Look for cotton or jersey dresses for day; leave the chiffon and silk styles for formal occasions or nights out.
Nude tones are very basic, so have fun with embellishments and fabrics! Shiny silk? An oversized bow? Grecian pleating? Anything goes! Have fun with all of the styles and textures without worrying about the color being too over-the-top.
Tying it all Together:
The Erin Fetherston 2011 Resort Collection mixes classic styles and nautical colors with a vintage vibe. It's a great collection to keep in mind next time you're out shopping and in need of some inspiration.
What do you think of the collection? Are these styles that you would wear? I love to hear your opinions on the collections featured each week! Be sure to leave a comment.