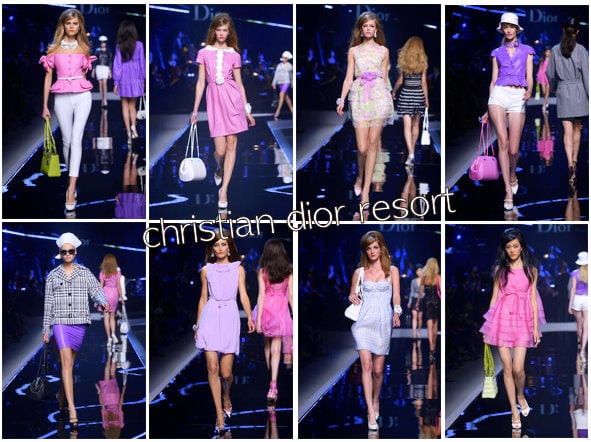 Two weeks ago, the Christian Dior 2011 Resort collection made its debut in Shanghai. The collection's feel was overwhelmingly nineteen sixties Parisian-chic, with a modern, fun twist. By combining vintage silhouettes, bright colors and flouncy ruffles, Dior's collection became perfect Summer wardrobe inspiration.
Roses were everywhere, from prints on shift coats to choker necklaces and handbags that accompanied almost every look. Mr. Dior's beloved Prince of Wales check became new on Bar jackets and trenches… Meanwhile, a Bardot-esque pale-blue gingham dress was cut from innovative, almost weightless organza, and flashes of superlight leather, like Karlie Kloss' sculptured opening number in shocking pink, added a frisson of sex appeal. – Style.com
Although Dior's collection is all about rich fabrics and unique details, it is possible to get the same feel on a college budget! With a few key pieces under $25 each, especially in pink or purple, you'll have your own budget-friendly version of Christian Dior's cruise collection in no time.
Separates
Each piece in the collection definitely made a statement of its own, and when combined, the looks are sure to garner a few compliments. The great thing about stocking up on separates is that you can mix and match to your heart's content. Not sure you'll wear a bright pink dress? Go for white shorts and a pink top. You'll spend the same amount of money and still get the Dior look – but both pieces can be worn separately too!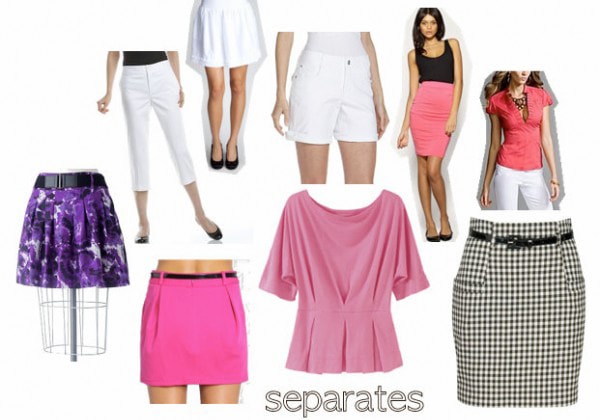 Product Information: Floral Skirt – Kohls, Capris – Kohls, Pink Mini – ASOS, White Skirt – Charlotte Russe, Shorts – Dillards, Knit Tee – Newport News, Pencil Skirt – ASOS, Button-up – Express, Gingham Skirt – Forever 21
Get the Dior look:
Repeat after me: Purple, pink and white. Those were the key colors in Dior's resort collection. Don't be afraid of brights! The summer months are the best time to experiment with bright colors and patterns.
Look for tops with unique silhouettes and cuts – think sexy but not showing a lot of skin. Boat necks and v-necks are great for showing a little bit of skin while still getting that vintage Parisian-chic feel.
Dresses
Although separates are great for mix and matching, dresses were the main attraction in the 2011 Dior resort collection. In keeping with the collection's color scheme and theme, the frocks were in pastels and brights – complete with '60s details. A dress is a great go-to summer-wardrobe staple – its easy to throw on and pull together a look in no time!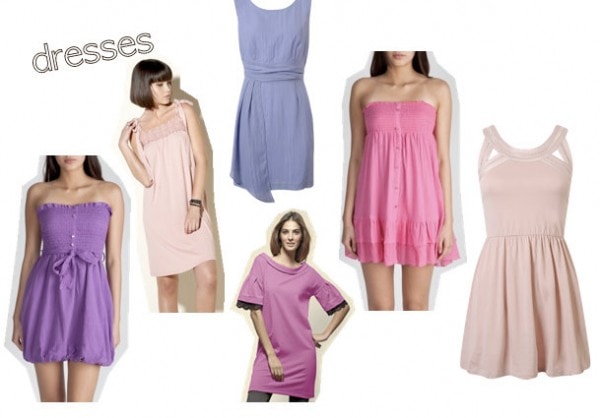 Product Information: Charlotte Russe, Quiksilver, Forever 21, Newport News, Charlotte Russe, Forever 21
Get the Dior look:
Look for girly details such as ruffles, corset tops and ribbon belts. Already have a plain dress? Make your own ribbon belt in any color and style you want!
In addition to brightly-colored solid dresses, Dior used classic prints such as gingham, checks and watercolor florals on his frocks. Printed dresses are super versatile – throw on a solid cardigan to go to lunch at your grandparents or add heels for date night.
Tying it All Together
The Dior Resort collection is inspired by Paris in the 1960s and that inspiration shows in the styles, silhouettes, and all the way down to the small details. I love the carefree summer vibe and the bright, fun colors. Although the collection won't be available for a few more months, why not stay ahead of the curve and wear next season's looks this summer?
Now I want to know what you think! Are these styles something that you would try? Are you already rocking a great bright pink skirt? I love to hear your opinions and thoughts on each collection I choose. If there are any designers that you would like to see featured in the future definitely throw suggestions my way as well! Be sure to leave a comment.