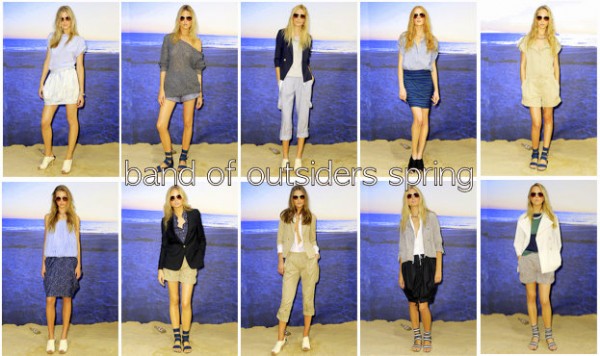 As summer gets closer and it becomes increasingly difficult to stay stylish and cool in the heat, we could all use a little outfit inspiration! And the Spring collection from Band of Outsiders is perfect summer inspiration, combining nautical and preppy, surfer and seventies, and a little hint of a Malibu chic.
"It started with a Jacques Cousteau documentary, Le Monde du Silence," he explained. "And from there I started listening to Dennis Wilson." As in the Beach Boys.

Sternberg's familiar shrunken, double-breasted navy blazers were paired with suspender skirts—kind of like a preppy Hervé Léger or, to put it another way, an urbane surfer. The seaside motif continued via a cute seersucker popover top paired with a faded denim bubble skirt, and a boat-print blouse worn with cuffed shorts and a decidedly not-weatherproof anorak with a feather-trimmed hood. – Style.com
The fun combinations of trends combined in the BoO Spring 2010 collection make for the perfect summer wardrobe. The best part? All of the looks are easily recreated on a college budget! Below, we'll show you how to get the Band of Outsiders look for under $25!
The Tops
From off-the-shoulder sweaters to fitted nautical stripes, the tops in the Band of Outsiders spring collection incorporated a bit of everything. Stick to comfortable fabrics and basic colors and you'll be able to mix and match all summer long. Button-ups and stripes have always been a classic, but Band of Outsiders took it one step further and added oversized, off-the-shoulder tops to their line-up. When tucked into a cute skirt or paired with short-shorts, a loose sweater will create a perfect carefree look.
Product Information: Victoria's Secret, Kohls, Charlotte Russe, American Eagle, Gap, Victoria's Secret
Get the look:
Stick to summery fabrics – jersey, cotton and linen are all comfortable fabrics that can take you from day to night.
Although a large, off-the-shoulder sweater might give some of you visions of Flashdance, trust me: there is a place for the look in this century. Pair one with white shorts and sandals rather than leggings and leg warmers and you'll be ready for any summer date night.
Although the BoO collection does have its preppy pieces, notice that the button-ups are worn loose or partially unbuttoned. This is a great way to take those closet staples you may already have and dress them down with other casual pieces!
The Bottoms
Almost every girl has issues finding the perfect pair of shorts each year. Lucky for us, high-waisted skirts are a huge trend this season. Not only will they keep your legs cool, but they're a million times more flattering than the average pair of cutoffs! In solid hues of nude and navy, as well as chambray, the Band of Outsiders collection showcased numerous high-waisted, drapey skirts. In addition to the comfy skirts, the collection also incorporated cargo and linen shorts to complete the beachy summer vibe.
Product Information (Clockwise): Kohls, Urban Outfitters, Old Navy, Forever 21, Forever 21, Banana Republic, Urban Outfitters, Forever 21
Get the look:
Khaki and navy, sky blue and white, stone and forest green – all of the colors in the Band of Outsiders Spring collection are easily mixed and matched! To get the look, stick to skirts and shorts in those classic colors rather than going for bright florals or ruffles – you'll get a ton more use out of more basic pieces.
Tuck it in. Found that perfect skirt? Show it off! Tucking your top in to that cute skirt or pair of shorts will instantly pull your look together and create a modern silhouette.
Finishing Touches
I admit it: I'm not much of an accessories girl. I wear the same rings and necklace everyday and lose earrings pretty regularly. But that's part of why I love the Band of Outsiders collection: it stands on its own and doesn't need much accessorizing. Add a blazer on top, throw on cute sandals and sunglasses, and you're good to go! Want to add a little more to really stand out? Stick with nautical or preppy touches to really nail the down-by-the-shore vibe. A skinny equestrian belt or rope bracelet are perfect finishing touches.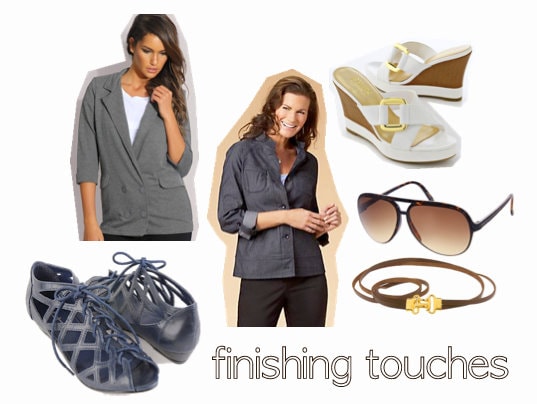 Product Information: Sandals – Forever 21, Jersey Blazer – ASOS, Denim Blazer – J Jill, Wedge Sandals – Kohls, Aviators – ASOS, Belt – Modcloth
Get the look:
Band of Outsiders' lace-up sandals were standout pieces in the collection. Let's face it: there isn't much that's cuter than striped ribbon. Luckily, if you can't afford a real pair of BoO sandals, there's an easy DIY way to recreate the look yourself with whatever tie you want!
Stick with classic sunglass shapes (no Paris Hilton over-sized shades) for the most modern look. Aviators are a great pick for the Band of Outsiders style but they aren't the most flattering for everyone. So check out Forever 21 and H&M for a huge selection of frames within a college budget – you'll be sure to find a style that fits you perfectly.
Instead of a denim jacket or a cardigan, grab a light blazer for those chilly summer nights. You'll look pulled-together and stylish while still keeping warm.
Tying it all Together
The Band of Outsiders collection is quintessential summer with a hipster twist. Although most of the pieces are classic closet staples, the unique mixing and matching and no-nonsense accessories have a great beach vibe.
What do you think of the collection? Are these looks something you'd try? Are you already rocking them? I love to hear your opinions! Be sure to leave a comment or suggestion for future posts you'd like to see.