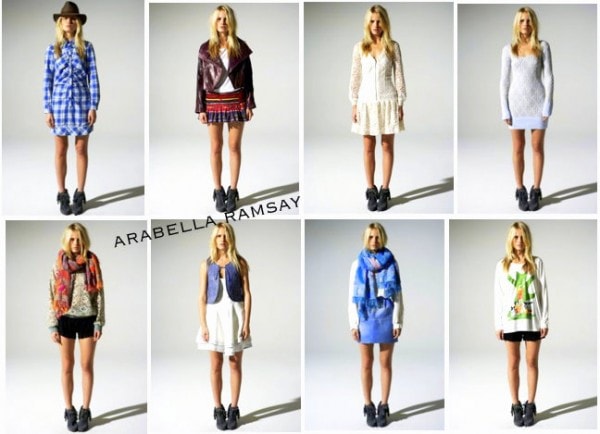 Unless you're from Australia, chances are you aren't too familiar with Arabella Ramsay. The Australian clothing label (that hasn't yet become a household name in the states) mixes femininity with a vintage aesthetic. With a youthful edge and gorgeous fabrics, Ramsay's collection is the perfect inspiration for your summer wardrobe!
Here's what wikifashion had to say about Ramsay's aesthetic:
"There is no single fabric allegiance. Each range brings new experiments in technique and material: leather, silk, wool, crochet, jersey, lace, soft suedes, worn denims, 70s vintage, upholstery trims, French and liberty cottons and old-world techniques such as pleating, crochet, appliqué, quilting, beading, embroidery and patchwork. Such traditional crafts are subtly customised, a rarity in an industry often cloned by mass market fashions."
Where does Arabella find inspiration? In her own words, "I love discovering old fabrics on trips to country towns to scour antique shops there. Vintage fabrics often have more life and they aren't afraid of color or prints."
To help you get the Ramsay look without paying a high designer price, I focused on the three most memorable aspects of Arabella's Spring collection: thick, rich scarves, effortlessly comfortable dresses, and unique accessories. I scoured the internet to find pieces under $25 to help you re-create Ramsay's look without breaking your budget! Read on to see my picks.
Statement Scarves
Rather than jackets and sweaters, Arabella incorporated scarves into her latest collection to take her summer looks from day to night. Not only are scarves the perfect addition for summer nights, they create a pop of color that can take your outfit from ho-hum to a statement look. If you're stuck working in an office this summer, scarves are also the perfect way to combat the air conditioning while staying colorful and fun!
Product Information: ASOS, Urban Outfitters, ASOS, Kohls, Kohls, Kohls
Get the Arabella look:
To get the right contrast and balance, pair a heavy scarf with short-shorts or a mini skirt.
Look for thicker scarves in rich fabrics or colors to really get that vintage look. Tip: H+M always has a great selection of thick scarves and shawls!
The Dresses
With a shirtdress and a white dress in your closet, there's not much need for any other frock during the summer. Both are casual, comfortable and effortless while remaining flattering and classic. Both are also perfect backdrops for any kind of accessory that fits your style! Dress them up or down – flats or flip-flops, pearls or costume jewelry – the combinations are endless.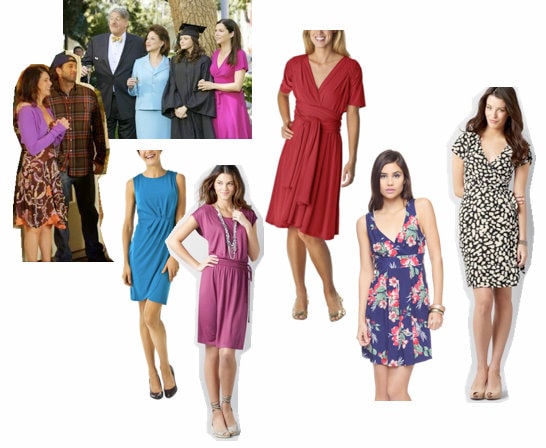 Product Information: Roxy, Dillards, Target, ASOS, Forever 21, Urban Outfitters
Get the Arabella look:
Pair your shirtdress with a fedora and booties for a look that doesn't need accessories to make a statement.
Have a flowy white dress? Anchor it with a tough vest or boots – or take a cue from the other Ramsay looks and add a thick scarf!
A long-sleeve dress can stand on its own, but try gold flats and jewelry to add some of your own sparkle.
Must-Have Accessories
One word to describe Arabella's spring collection is intricate. Unlike other designers, Arabella didn't rely on basic pieces. Instead, she combined different fabrics and styles for a layered, eclectic look. As fashion-minded college girls, it's likely that each of you has the same kind of style mix in your closet. So don't be afraid to mix up different trends and fabrics; you may just find that two pieces you've never worn together can actually complement each other.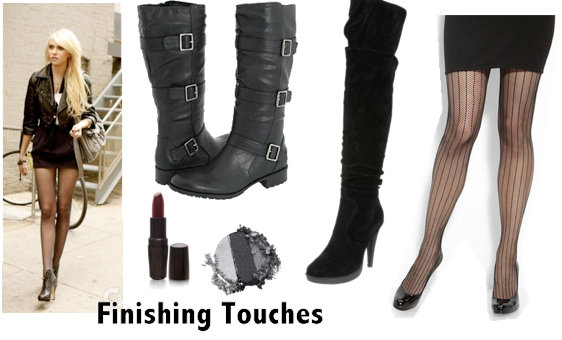 Product Information: Sweatshirt – Forever 21, Fedora – Urban Outfitters, Sandals – Kohls, Denim Vest – Forever 21, Straw Hat – Gap, Pinstriped Vest – Newport News, Heels – Forever 21
Get the Arabella look:
Grey footwear, whether in the form of sandals, booties or heels, can add a rich effect to any outfit. The charcoal color acts as a neutral, and matches everything, while still looking more unique than plain old black or brown.
As a celebrity favorite, the fedora has definitely gained some popularity in the last few years, and is still lingering this season. The hat is a perfect piece to keep the summer sun off your face (or hide a bad hair day!). Both Forever 21 and H+M have great and affordable styles worth checking out.
Arabella's collection screams comfort and one main reason is because of her use of sweatshirts and over-sized tees. Crew-neck sweatshirts are perfect for chillier nights – just throw one on with leggings and sandals or over your tank top and shorts!
As mentioned earlier, a denim vest looks great over a white dress. But, as we all know, denim works with almost everything! So be creative – run through your favorite outfits in your head – couldn't you see a demin vest thrown on over most of them?
Tying it All Together
Arabella Ramsay's Spring collection mixes youth with grunge, and vintage with classic – a combination that really sets it apart from the rest. Each look incorporates multiple layers, like sweatshirts, scarves, and jackets, which makes them perfect for your summer day-to-night wardrobe.
So what do you think of the collection? Would you wear any of these looks? Do you already? You guys are the best fashion critics and I love hearing how each of you feels about certain trends. Be sure to leave a comment!