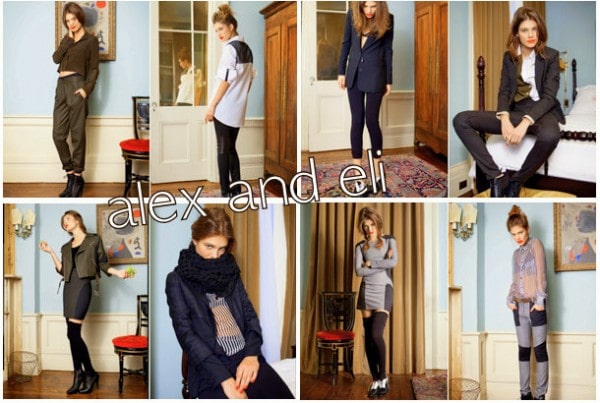 Whether you're just starting college or are a recent graduate, chances are you'll need a few professional pieces in your closet sometime soon. But if you'd like to do the corporate thing in a more modern way, those same old mall brands aren't going to cut it.
Alex & Eli is a brand focused on the power suit, but in a sexy mix-and-match way; they make pieces you could wear to the office and rock straight out to a party after work. Even if you have no need for corporate-America clothing, it's hard to deny the appeal and growing trendof masculine shapes and accents, two things Alex & Eli embodies.
In case you've never heard of the brand, here's a rundown:
With clean, tailored silhouettes and unexpected detailing, these mix & match suits are a fusion of modern elegance with iconic masculinity. This label provides an urban sartorial wardrobe to a woman of confidence and individual beauty. Her look is effortless, yet distinctive. – Alex & Eli
Quite an intriguing description, isn't it? While Alex & Eli's prices may be a little out of the average college girl's budget, I've tracked down pieces under $25 to help you incorporate the A&E feel into your own wardrobe!
The Tops
Although classic oxfords and button-up blouses comprise most of the tops in the collection, the designers also incorporated unique over-sized tops, sheer blouses and lace accents to keep things fresh.
Kept in neutral colors, looser-fitting tops contrast with fitted trousers and structured blazers without making the ensemble appear mismatched. Aim for that kind of of contrast to really capture the Alex & Eli look. In keeping with the rough, masculine theme, studs and leather accents are small embellishments that go a long way as well.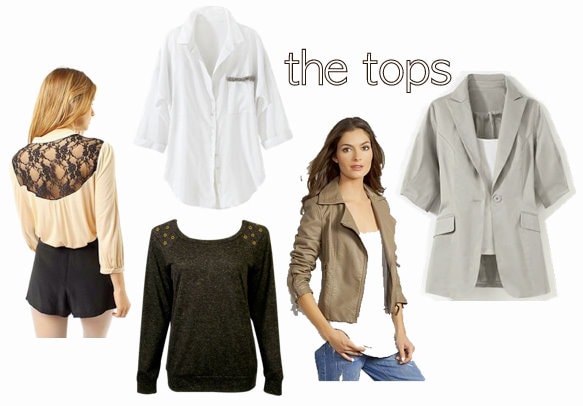 Product Information: Urban Outfitters, Newport News, Forever 21, NY and Company, Newport News
Making it work:
If you're going with a flowy or oversized blouse, pair it with fitted leggings or pants to balance out the look and avoid losing your shape.
Although the collection is menswear-inspired and perfect for many offices, tread carefully and know your audience! An advertising agency may love your sheer blouse and sky-high heels but the look might not go over so well at an accounting firm.
The Bottoms
Alex & Eli's bottoms are all about fit: think leggings, bandage skirts and fitted pencil skirts, most of which are not too sexy to wear to an office. A fitted bottom provides a perfect way to balance out less fitted tops and blazers, so look for a great fit when attempting a similar look. Kept in neutral colors, these fitted bottoms are great, distinctive pieces that you can wear from day to a night out on the town.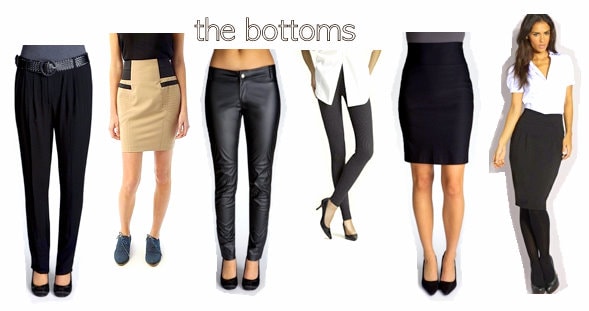 Product Information: Charlotte Russe, Urban Outfitters, Charlotte Russe, Spiegel, Charlotte Russe, ASOS
Making it work:
Invest in a good pair of leggings. It's easy to find a pair for a few dollars but they'll wear out fast if you're wearing them multiple times a week. So spend a little more for quality. Another thing to look out for? When leggings start to age, they also may become more and more see-through: double check your outfit in bright light to avoid the sheer look!
If you're going to spend your hard-earned (or birthday) cash on a pair of pants, make sure they are versatile. The best way to be a budget fashionista is to get the most out of every piece you buy. So although high-waisted, baggy brown trousers look great on the Alex & Eli model, such a trendy pair of pants probably wouldn't be the best investment for you.
Accessorize
Lace-up oxfords were a popular choice of footwear for the Alex & Eli spring collection, and they're a great work-appropriate shoe that still allows you to show off your inner fashionista. Whether you're a flats girl or a heels girl, there is a lace-up oxford out there for you – it just takes a little comparison shopping to find it.
Finally, to put the finishing touches on their collection full of sexed-up menswear, Alex & Eli's designers employed studded accents and leather insets to give each piece pop. You can channel this look with a faux leather belt or zippered clutch, as seen in the fabulous budget-friendly options below.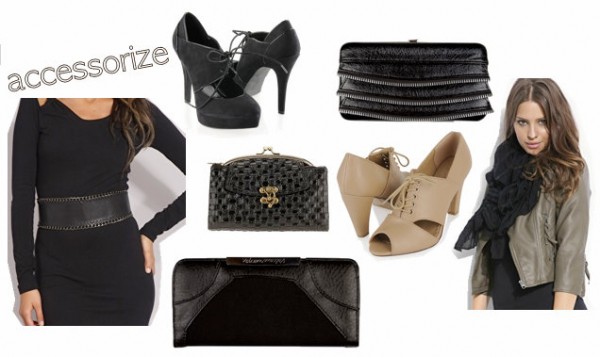 Product Information: Belt – ASOS, Black Pumps – Forever 21, Quilted Wallet – Urban Outfitters, Suede Wallet – Tillys, Beige Pumps – Forever 21, Zipper Wallet – Tillys, Scarf – ASOS
Making it work:
Be wary of shoes that will make your legs look shorter – if the top of the boot stops at an awkward mid-calf spot, they probably aren't the most flattering if you have shorter legs. Instead, get a pair that sits below your ankle to really elongate your legs!
Notice the lack of jewelry in the lookbook shots at the top of this article. Small details like this really echo the power-woman look and allow your clothing and bag to stand out; no need to over-accessorize when your ensemble looks this good on its own!
Tying it all Together
What do you think of the Alex & Eli collection? What about the menswear trend? Could you see yourself incorporating any of these pieces into your wardrobe? The great thing about neutral colors is that they also go great with jeans, and any other pieces you may want to mix and match.
I love to hear your suggestions and opinions about the collections I feature each week – so please mention any other designers or collections that you would like to see here in the future. Be sure to leave a comment!