This post may contain affiliate links, which means we may receive a commission if you purchase through our links. Please
read our full disclosure here
.
How many of you are in the midst of preparing for finals? I'm right there with you, and while these next few weeks will be some of the toughest to push through, just think about what's coming afterwards.
Summer break is taunting us with it's slow approach, and until it gets here, that leaves us with plenty of time to plan out adventures. Namely, the iconic summer activity – a road trip!
Now, a road trip doesn't have to take you hundreds of miles away. It can be as simple as hopping into your car and taking a day trip over to the next city. Today, I'm breaking down three different looks you could wear for whatever type of road trip you'll be taking, along with a finger-snapping, good-vibes playlist that'll be perfect for blasting as you cruise away.
The Mixtape
Look 1: Day Trip
Romper // Cardigan // Sunglasses // Necklace // Sandals
First up is an easy outfit to toss on for a day trip with your girls (or whomever you may be going with). This romper gives a fun spin to the good ol', summery tie-dye print, and when paired with a duster-length cardigan, you'll look right on-trend. Slip into your favorite sandals, add a boho touch with an earthy necklace, and pop on your sunglasses for a perfectly put-together yet casual look.
Look 2: An Amusing Adventure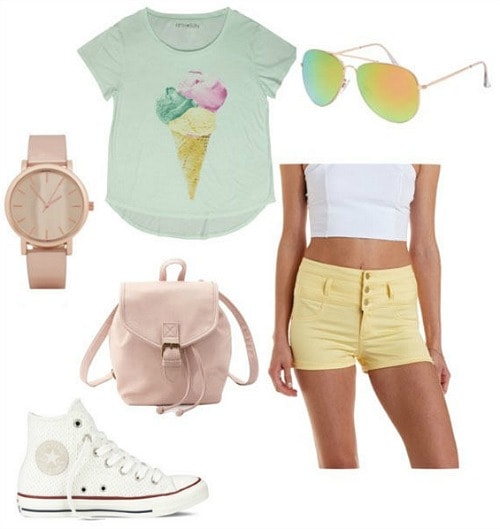 Tee // Shorts // Sunglasses // Watch // Bag // Sneakers
How many of you will be driving down to an amusement park this summer? For a day filled with rides, carnival food, and lots of walking, stick to a fairly basic outfit with fun touches.
Mixing pastel shades will match your fun activities for the day, and you can avoid the irritation of an overloaded shoulder bag by taking a small backpack instead. Keep your feet comfortable with high-top sneakers, then add a touch of style with cute accessories, like tinted sunglasses and a practical watch.
Look 3: Cruising Coastlines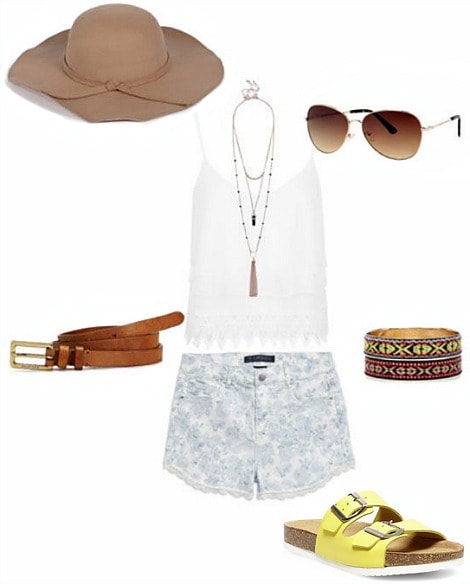 Tank Top // Shorts // Hat // Sunglasses // Belt // Bangle // Sandals
When we picture summery images, oftentimes we think about ourselves in a convertible with the wind blowing through our hair and an open road before us. No? Well, if not, try picturing it while wearing this outfit!
A pair of floral print shorts and a crochet tank top are perfect for a day of cruising under the hot sun. Slip into on-trend footbed sandals in a fun color, then add a few accessories to keep your getup from looking too plain. Now you're set to go down some winding roads!
Your Thoughts?
What did you think of this post? Do you have any upcoming summer trips planned? Will you be taking a road trip this year? Let us know in the comments below!