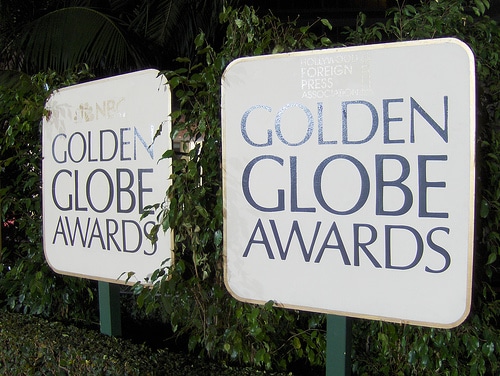 It's awards season in Tinsel Town, with tons of gorgeous celebs parading down the lush red carpet for all of us too ogle. While college students don't have many occasions to play dress up in Valentino gowns, we can still take inspiration from the stars' designer duds and translate them into everyday wear. Whether you're walking down the red carpet or walking through your school's hallways, you can be just as fabulous!
Last Sunday marked the 67th annual Golden Globe Awards. While everyone was rooting for Glee for Best TV Series and wondering whether Meryl Streep (in Julie & Julia) was going to beat Meryl Streep (in It's Complicated), I was drooling over the gorgeous colors, soft textures, and glittery dresses making their way down the red carpet.
Here are a few of my favorite trends from the 2010 Golden Globes red carpet and tips on how you can incorporate them into your everyday look!
1. Fabulous Shades of Purple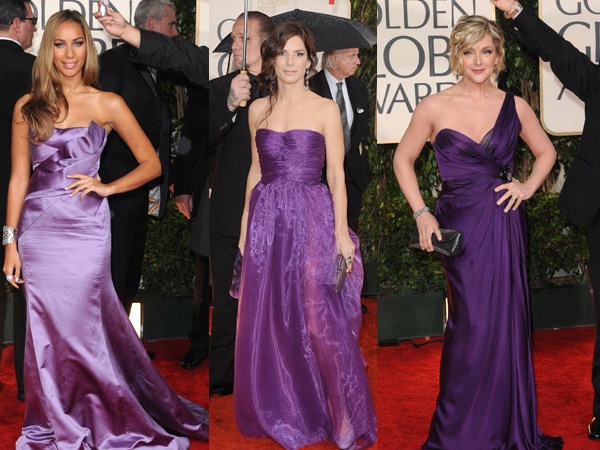 From left: Leona Lewis, Sandra Bullock, and Jane Krakowski – Photos from Style.com.
On the red carpet, Leona Lewis was wrapped up in a rich yet dainty lilac number by Roberto Cavalli. Sandra Bullock played with both bold hues and fun texture in Bottega Veneta, while Jane Krakowski draped herself in a royal purple, one-shouldered dress by J. Mendel.
It's no coincidence that my favorite color of the moment is purple. This color complements a wide range of skin colors and adds an incredible pop to any outfit. It was once a color that only royalty could afford because of its expensive dyes. Obviously, purple's economic exclusivity is no more, but you can't help but feel absolutely rich in the beautiful shade.
There are so many ways to add purple into your look, but like any bold color, it's best not to overdo it. If you're going all out in a purple dress or skirt, pair your look with neutral accessories in black or cream.
If you're feeling a little uneasy with the rich hue, utilize it in an accessory like a cell phone cover or some purple suede shoes. That way, the color will be subtle, but still eye-catching. Just remember to make sure the rest of your outfit is simple – an intense purple hue should play the leading role in your look.
Here are a few of my favorite purple pieces: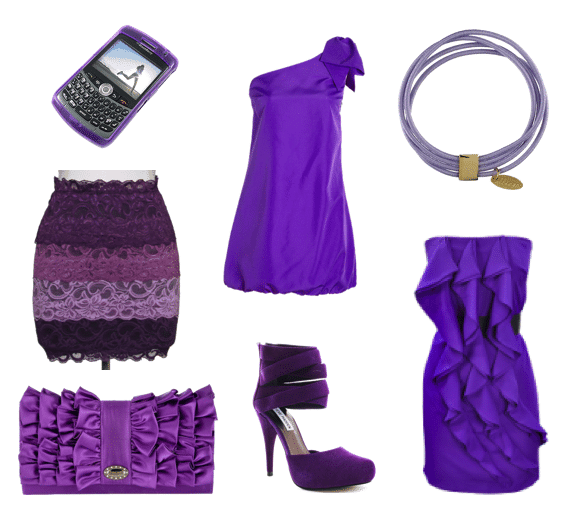 Cell Phone Cover – daydeal, Dress – Delia's, Bracelet – Zappos, Dress – Valley Girl,
Shoes – Steven by Steve Madden at Heels.com, Clutch – Oli, Skirt – Shop Ruche
2. Feminine Ruffles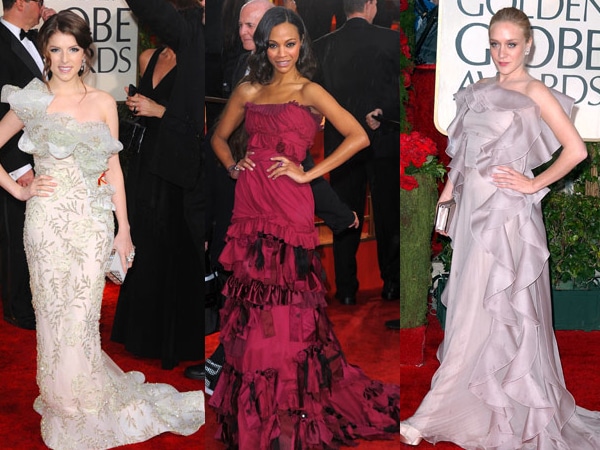 From left: Anna Kendrick, Zoe Saldana, and Chloe Sevigny – Photos from Style.com.
Ruffles have always been used to show off a girl's feminine side, but the celebs at the Golden Globes seemed to be on ruffle overdrive. Anna Kendrick wore a gorgeous one-shouldered ivory dress by Marchesa – definitely my favorite look of the night! Zoe Saldana's folds cascaded all the way down her deep red Louis Vuitton dress. And well… Chloe Sevigny's Valentino dress was just out of control – the ruffles just kind of swallowed her up. Not usually something I'd recommend, unless you're Chloe Sevigny.
Regardless of whether you're a celeb or a college student, ruffles are a gorgeous way to add femininity, elegance, and playfulness to your look.
And the best part of this trend is its versatility – you can rock ruffles on pretty much any article of clothing. They can even add the perfect touch to your flats. Personally, I love the look of a ruffled bag because it's the perfect mix of classy and flirty.
Here are few pieces to ruffle up your look: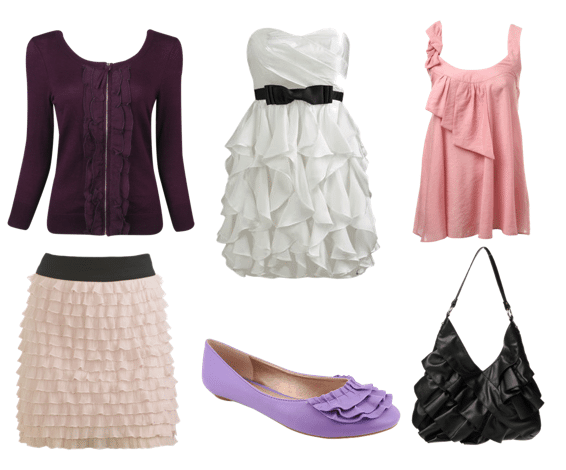 Cardigan – Forever 21, Dress – Arden B, Top – Miss Selfridge, Purse – Rue 21, Flats – Go Jane, Skirt – Wet Seal
3. Glitz and Shine!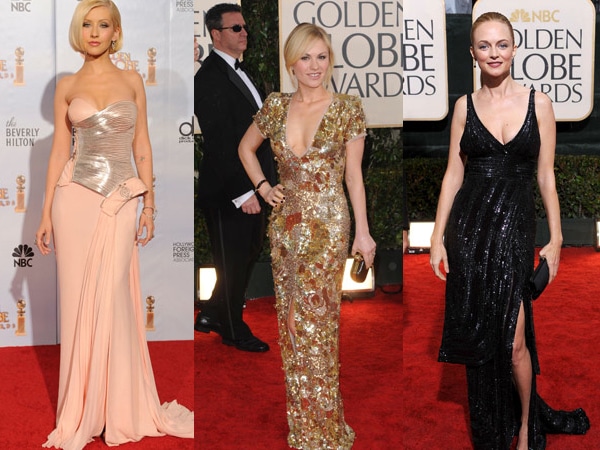 From left: Christina Aguilera, Anna Paquin, and Heather Graham – Photos from Style.com.
There's color, there's texture, and then there's shine! (No… I didn't intentionally mean to sound like a shampoo commercial.)
If there's one way to catch someone's attention, it's by wrapping yourself up in something bright and shiny – as these three ladies know. Christina Aguilera wore a Versace gown with a metallic bodice that made her look like a futuristic Greek goddess. Anna Paquin looked glam in a gold Stella McCartney dress, while Heather Graham kept it subtle in a black, slitted gown by Elie Saab.
These ladies prove that there are many ways to look dazzling, whether you want to go all-out, or just rock subtle touches of glitz.
For a fancier occasion, you can drape yourself in a playful golden frock or rock some silver, glittery pumps. For a more everyday look, try to add sparkle in the small details like a sequined pocket or on the trim of a cardigan. And to jazz up your super casual t-shirt and jeans look, throw a sequined vest on and voila: you're effortlessly glam!
Here are some of my favorite glitzy pieces: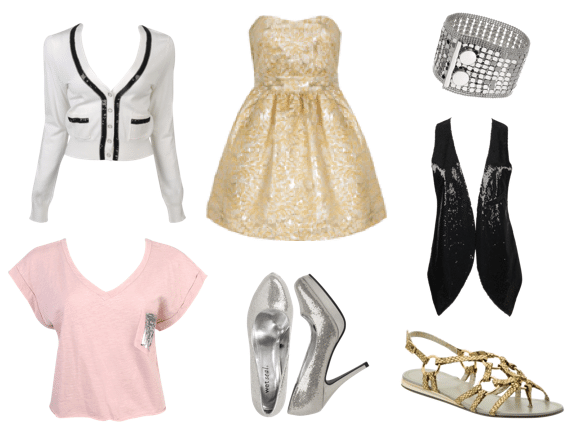 Cardigan – Forever 21, Dress – Fred Flare, Bracelet – Miss Selfridge, Vest – Forever 21, Sandals – Piperlime, Heels – Wet Seal, Top – Forever 21
What do you think?
What are your thoughts on these Golden Globe looks? Do you think there were any other celeb looks that were to die for? Which celeb's dress was your favorite of the night? Who were you rooting to win? Leave us a comment with your thoughts!