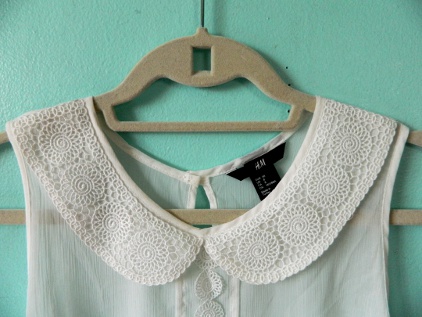 Back in January, I promised myself that I wouldn't buy any more clothes this year. But then this season brought us collars (detachable and not), colored denim, pastels, peplum, neon and nude… and I couldn't help but fall in love and crack open my wallet for some new pieces. The problem, though, was figuring out how to incorporate them into my existing wardrobe.
The Challenge:
So for this week's Style Challenge, I took the trends for a spin and vowed to incorporate at least one spring 2012 trend into each outfit.
The Results: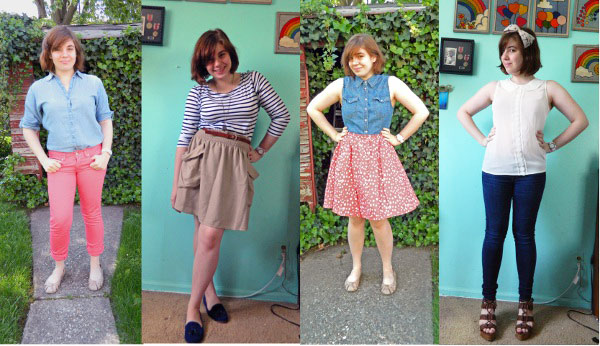 Monday: Today I paired a the chambray shirt, carried over from last season, with this season's insanely popular pink denim.
Tuesday: While nautical comes into style every spring, I paired this striped tee and khaki skirt with blue smoking slippers, my favorite trendy shoe style of the moment.
Wednesday: Here I paired a pink skirt with with this season's reinvention of the plain tank, a sleeveless denim shirt.
Thursday: I wore a sheer peter pan collar top with a simple pair of jeans. I also added a bird print headband.
What I Learned:
Although my wallet may not like it, it is fun to play with a trend or two — especially if you find an amazing piece you can style lots of different ways. Trendy pieces also a great way to get into the mood of whatever season it is. After doing this challenge, I couldn't wait to start enjoying this spring and summer weather.
A few more tips I picked up from this challenge:
Pair trendy pieces with other pieces that maybe aren't on-trend at the moment. You'll look like someone who knows what's in style, but isn't ruled by trends.
Think about how you can wear trendy pieces before you buy them. You don't need to have a complete outfit in mind, just some idea of what could match. Thankfully, my pink pants were a gift because they were sitting around my closet for weeks before I figured out how to wear them.
Don't just look to the runways! While retail stores are often influenced by the dominant trends of fashion week, they also pick up on the things that aren't featured in top trends lists. Poke around your favorite stores and see what's a repeat feature.
What do you think?
What are your favorite trends this spring? Do you play with trends or do you stick with the classics? How do you wear really trendy pieces? Let me know in the comments!