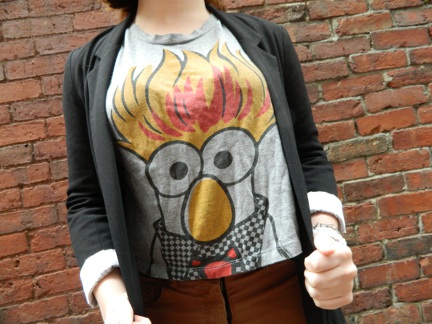 Back in high school, I stuck to a pretty regular uniform of graphic tees and jeans. It was an easy way to get dressed those early mornings and still look cute. But as trends changed and I got older, I wore graphic tees less and less. They stayed in my closet, though, because they were still in great shape and still cute!
The Challenge:
So this week's real-life style challenge had me revisiting a trend from my past. This week I aimed to style a week's worth of interesting and fashionable outfits, all around my collection of graphic tees.
The Results: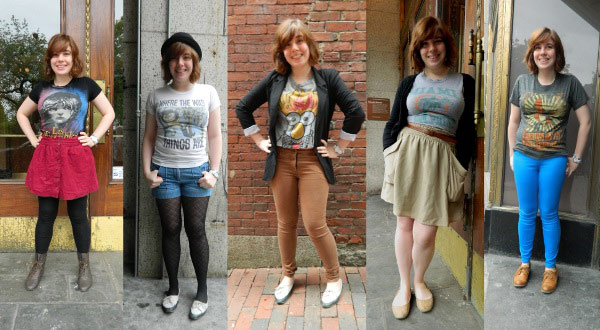 Monday: Starting the week, I wore my Les Miserables graphic tee with my red cord skirt, tights and boots.
Tuesday: I wore my Where The Wild Things Are tee (RIP Maurice Sendak!) with shorts over tights and accessorized with loafers and a bowler hat.
Wednesday: I paired my cropped Muppets tee with brown skinnies and my black boyfriend blazer.
Thursday: Showing team spirit, I wore a Miami Dolphins graphic tee with a khaki skirt, simple brown belt, and black cardigan.
Friday: Going casual for the almost-weekend, I wore a Hunger Games graphic tee with bright blue jeans and oxfords.
What I Learned:
When you think about it, graphic tees are really just like any other shirt! All of my outfits could have, and and in fact have, been worn with other plain blouses and shirts. While graphic tees aren't the most professional or maybe appropriate choice for all places, they are a great way to add some fun to any ensemble. And pairing them with other pieces besides jeans still gives you that casual feel while still getting style points.
A few more tips I picked up from this challenge:
Play with colored denim. Friday's outfit was basically jeans and a tee shirt, but since the jeans are a bright blue, the look becomes a little more interesting.
If you attend a sport-obsessed university, pairing a team tee with a skirt is a great way to show your school spirit at a game while still looking chic.
Adding a blazer can make anything look instantly polished. So even if you're wearing just jeans and a graphic tee, throwing on a blazer before you go out can add a extra dimension to your outfit.
Accessorize! Shorts and tee shirts, for some, can be the staples of summer. Adding on a hat or fun jewelry can set your outfit apart.
What do you think?
Do you still rock graphic tees or have you left them behind? How do you turn your tees into a fashion statement? Let me know in the comments!