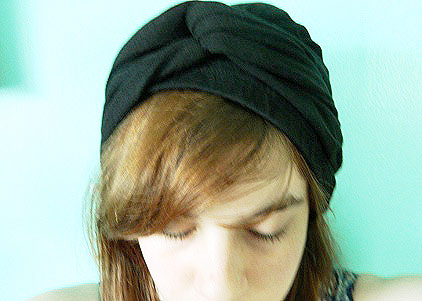 Turban fashioned from a pair of leggings
When you feel like your wardrobe is lacking, it may seem like the solution is to buy more clothing. And if you've tried every possible outfit combination, maybe it is. However, you may be missing a few of the more unusual ways to stretch your closet.
The Challenge:
For this week's style challenge, I focused on wearing items in unconventional ways. Therefore, I included at least one repurposed item in each outfit. Some were simple tricks, while others took a little bit more work. Read on to see how it went!
The Results: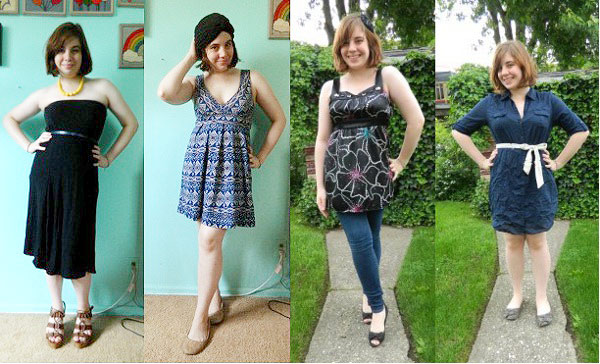 Monday: Here, I transformed a black maxi skirt into a breezy strapless dress.To complete the look, I added a navy blue skinny belt and a yellow necklace.
Tuesday: Today I wore an ikat print sundress with a turban fashioned out of a pair of leggings.
Wednesday: I gave a black printed dress that shrunk in the wash a new life as tunic, worn over a pair of skinny jeans. To accessorize, I added a black headband and black heels.
Thursday: Here I took a khaki belt that was originally from a pair of shorts and wore it with a navy blue shirtdress.
What I Learned:
Some of my repurposing ideas were easy and obvious – like wearing the skirt as a strapless dress – but other ideas required a little research. For example, I learned how to make the turban from leggings via the ladies at Advanced Style. It was fun to do research and find new ideas from fellow style bloggers!
A few more tips I picked up from this challenge:
You don't need to reinvent the wheel to get more mileage out of your wardrobe. Sometimes something simple, like taking a belt from one piece of clothing and adding it to another, can breathe life into an old outfit.
Play around in your closet and see what you come up with! The only limit is your imagination. After all, no one has to know that your "dress" is actually a skirt!
Think broadly. Necklaces can be seen as just longer bracelets, so why not wrap one around your wrist a few times? If something looks like something else, chances are you can repurpose it to be that item.
Understand that not everything will work. No matter how hard you try, you probably won't be able to wear a maxi dress as a shirt with a pair of pants. Don't be discouraged by the things that don't work; keep trying and you'll find things that do!
What do you think?
Do you have any interesting ways of repurposing your clothes? Have you tried any of these tricks before? Let me know in the comments!