This post may contain affiliate links, which means we may receive a commission if you purchase through our links. Please
read our full disclosure here
.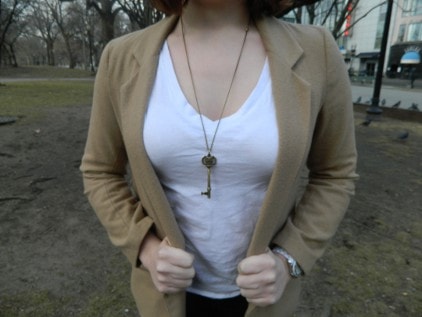 Welcome to the latest edition of Real-Life Style Challenge! Last time we learned all about maximizing color in our wardrobes. This week we're going to take things in the opposite direction and focus on the other end of the color spectrum… neutrals. Neutrals include basic shades like beige, black, brown, white and gray, which are seemingly the most boring of colors.
The Challenge:
This week's challenge is to spend the entire school week wearing only neutral colors. The goal is to create interesting, eye-catching looks while wearing the world's least interesting colors. Ready to see me try it? Read on!
The Results: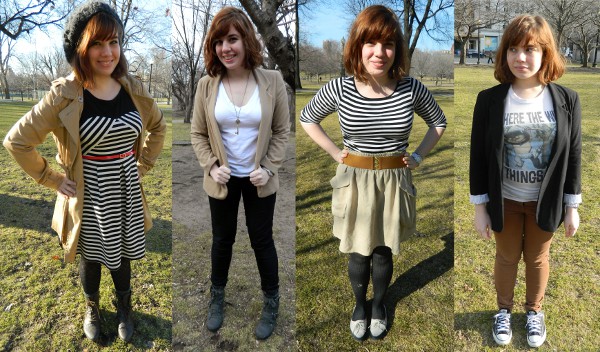 Monday: I went for a Parisian-inspired look to start off the week, wearing a black and white striped dress with a trench coat. To accessorize, I chose a camel belt, gray beret and some dark brown boots.
Tuesday: On Tuesday I paired a simple camel blazer with a basic white tee, black skinny jeans, and gray boots. I kept accessories simple, adding just a long necklace for interest.
Wednesday: Breaking out the stripes again, I wore a black and white striped tee under a high-waisted utility skirt. To finish it off, I added charcoal gray tights and light gray oxfords.
Thursday: For my last day of classes for the week, I went a little more casual, wearing a white screen tee underneath a black boyfriend blazer. On the bottom I wore brown skinny jeans and black Converse sneakers.
What I Learned:
As expected, this challenge was much less difficult than the color combinations challenge, thanks in part to the numerous neutral pieces that populate my closet. I'm sure most of you would probably fare the same!
However, while it wasn't difficult to pair neutrals, I did find myself yearning to include color in my outfits – it was tougher than expected to resist adding colorful extras. As someone who thought I was afraid of color, this actually surprised me! It all goes to show that bold colors and neutrals are both essential for a stylish, well balanced wardrobe.
A few more tips I picked up from this challenge:
Patterns and textures are key. A bold striped shirt or sleek suede shoe can add so much interest and life to an ensemble… even when you're working with an extremely limited color palette.
Layer, layer, layer. A simple color palette requires added complexity elsewhere in the look – this is easy to achieve by playing with layers. In addition, you can't go wrong when layering neutral-colored pieces – there's really no "incorrect" way to do it, so anything goes.
Wearing all gray or all black can sometimes be chic, but can also be very blah. So try mixing multiple neutrals in your outfit for best results.
What do you think?
Do you find neutrals boring? Do you wear all-neutral outfits often, or do you need that pop of color? How to you make your neutral pieces more interesting? What are your favorite neutral color pairings? Let me know in the comments!