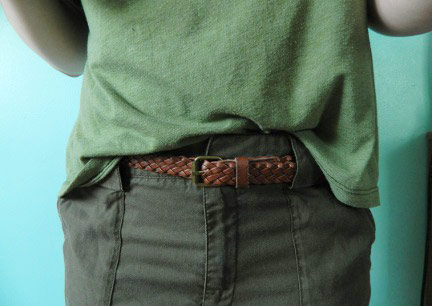 For past Real-Life Style Challenges, I've experimented with mixing bright colors and neutrals. Both challenges gave me fresh new ideas about how to maximize my wardrobe. So this week, I decided to take it one step further…
The Challenge
For this week's Style Challenge, I gave myself one simple rule: I had tobase each outfit around just one color. Like rocking neutrals, this challenge is all about working with a limited palette.. but this time, I got to work with my favorite colors. Creating monochromatic outfits may seem challenging, but it really is easy! All it takes is a quick peek into your closet and confidence.
The Results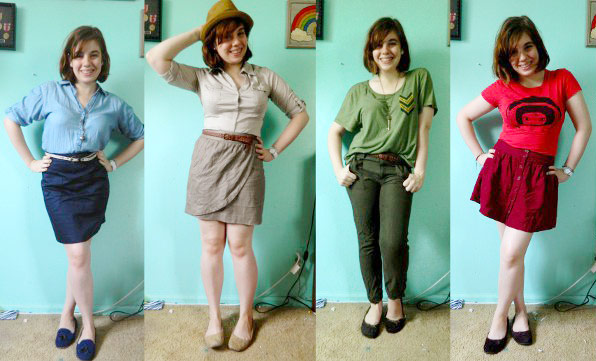 Monday: Today I wore a chambray shirt with a navy blue pencil skirt, blue smoking shoes and a navy blue and white belt.
Tuesday: Here I paired a light brown skirt with a khaki button-down top. To accessorize, I added a straw hat and beige flats.
Wednesday: For a casual look, I paired olive green capris with an army green tee. I don't own green shoes, I wore a pair of brown flats.
Thursday: Today I paireda red graphic tee with a red cord skirt and burgundy shoes.
What I Learned
If you plan on trying this challenge for yourself, your first step should be looking at all the bottoms you have. While I had many different colored tops, when it came time to pairing them up, I found that many of my bottoms were neutral colors. Starting from my skirts and pants gave me a great starting point for creating monochromatic outfits. So peek around your own closet and see what sorts of colors you have.
A Few More Tips I Picked Up from This Challenge
Be wary of neutrals. While all-black can be really hip, it can also look very dreary or like funeral attire. It's more fun to play with brighter hues.
Make sure your top and bottom contrast, or you might end up looking like a crayon. I really wanted to try a pink outfit, but my pink skirt was the exact same color as every pink shirt I owned.
Play with textures! In a monochromatic look, texture is key to breaking up your pieces and keeping the look interesting.
What do you think?
Have you worn a monochromatic outfit before? How do you keep it looking chic? What colors would you try? Let me know in the comments!