This post may contain affiliate links, which means we may receive a commission if you purchase through our links. Please
read our full disclosure here
.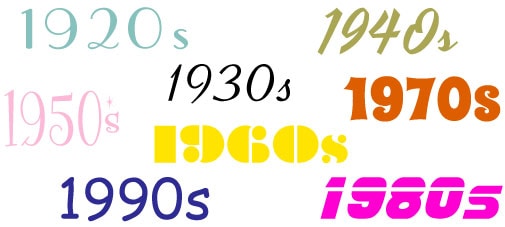 Like we always say here at CF, fashion is cyclical – trends are always coming around again, so whenever you need inspiration, you can always look to the past. That's exactly what I did this this week: Feeling like I was out of ideas for a new Real-Life Style Challenge, I cracked open the history books, and gained inspiration from the trends of decades past.
The Challenge:
This week's challenge was really simple – and really fun! Taking a page from the fashion history books, my challenge was to create five different modern-day looks, each inspired by a different 20th century decade.
The Results: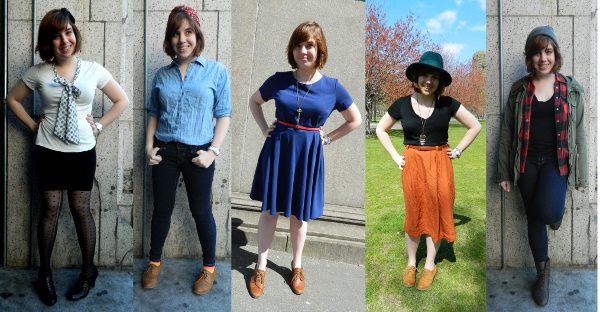 What I Learned:
We all may have a picture in our minds of what the trends were in each decade, but it can be easy to forget the simple things. A quick internet search, plus a look at our basic fashion history lesson, can help you get some retro style inspiration that's beyond the stereotypical. For instance, I had forgotten how many ways you can define 1960s fashion – there's Mad Men chic, Twiggy's mod look, and the boho hippie movement, just for starters.
Once I had taken my refresher course, the rest was easy! Designers are always recycling old looks, so even in my own closet, it was easy to spot pieces inspired by the trends of the past.
A few more tips I picked up from this challenge:
Costumes are for Halloween. Your looks for any other day of the year should be inspired. For instance, I decided that wearing a flapper dress to a day of classes was a no-go. But I remembered that girls didn't wear flapper dresses all day long – with a quick Google, I found pictures of 1920s day wear and made it my own!
The keys to this challenge are interpreting the looks of the past, and incorporating trends from each decade into your personal style. I knew that I was not dressing in genuine grunge or 1970s bohemian attire – instead, I was making those old looks my own.
Beauty changed over time as well! Though I didn't have the opportunity to play with makeup or hair for this challenge, it could be be fun to try a mod bold eyeliner look from the '60s or finger waves from the 1920s. (See our series, Beauty by the Decade for detailed instructions on each.)
What do you think?
What's your favorite fashion decade? Do you feel like your style reflects this or is it pretty modern? Do you draw inspiration from any other times in history? Let me know in the comments!