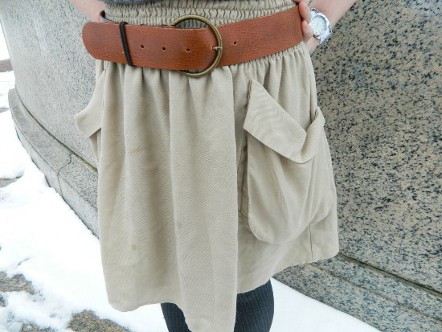 Sometimes looking at your closet can feel like a math problem that doesn't add up. You have so many pieces of clothing, but so few outfits to make with them. You can run to the mall for new clothing, but often that doesn't solve the problem, just breaks the bank. While wardrobe remixing can help, sometimes it's hard to know where to start.
So, in the spirit of "wardrobe remixing", I'm here to present to you Real-Life Style Challenges. While we've covered fashion challenges here before, this new column aims to bring those ideas to life. Every two weeks, I'll be taking a certain theme and creating outfits, using items in my own closet, that follow that challenge. I'll be sharing the results with you here so you too can get inspiration in expanding your wardrobe.
Ready to get started? Read on for the first Real-Life Style Challenge!
The Challenge:
We all love our dresses, but there's no denying that they can sometimes feel a little one-note. Maybe one day you'll wear tights under one, maybe not. A cardigan or blazer over one, perhaps. But it doesn't seem like there are many more ways to style a dress. That's where this week's challenge comes from: Turns out, there are actually TONS of ways to wear your dresses!
So this week's challenge was a simple one: Wear a dress in an interesting and different way each day of the week. This is similar to the challenge from The Uniform Project, although this version is easier because you have the option of wearing different dresses, instead of the same one for five days.
The Results: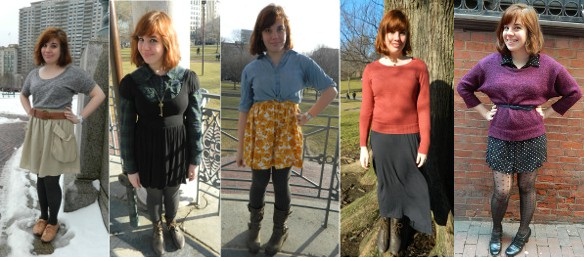 Monday: I wore a short grey T-shirt dress under a high-waisted utility skirt and added tights, a brown belt, and brown oxfords.
Tuesday: I layered a short, cap-sleeved black dress over a long-sleeved teal blouse, and added leggings and lace-up boots to make the look cold weather-appropriate.
Wednesday: I broke out one of my summer dresses – this yellow floral one – and made it warmer by layering on a tied-up denim shirt. Tights and boots complete the look.
Thursday: I decided to switch things up with a black maxi dress; by layering it under a basic crew neck sweater, I gave it the appearance of a maxi skirt.
Friday: A polka dot dress got a new lease on life with a few simple additions, namely a basic purple sweater and belt.
What I Learned:
The key to this challenge is to layer, layer and layer some more. This is also an especially good challenge to try in the winter months – I noticed it helped me make my dresses more wearable for frigid days. The best thing about this challenge is once you figure out a way to re-purpose one dress, the possibilities are endless. Almost any of the combinations above can be mixed and matched!
A few more tips I picked up from this challenge:
Have a skirt and dress that are roughly the same length? Try wearing the skirt over the dress for a fun new combination, just like in the first outfit of the set.
A sweater is the perfect thing to wear over dresses that might not be great for colder months, like your sleeveless maxi or spaghetti strap minidress. Belt an oversized sweater to show off your shape.
Try knotting up a button-down shirt over a dress, like I did in the Wednesday outfit. This will not only make it look like you're wearing a skirt and top, but it will also give your waist great definition.
Wearing a button-down under a dress can get tricky, you can toe the line between looking stylish and looking like a child in a school uniform. Try toughing it up a bit with boots and bold accessories.
Most importantly, just go for it! Be creative and see what works for you.
What do you think?
Do you have any other ways of remixing your dresses? How do you do it? Planning on trying the challenge for yourself? Do you have an idea for a future challenge you'd like to see me try? Let me know in the comments!