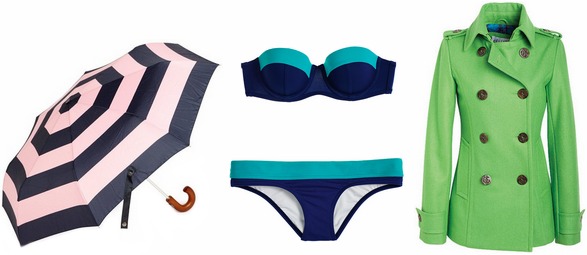 You might notice a change of scenery in this week's Real-Life Style Challenge. When I was planning out which challenge to try next, I realized it would fall exactly during my Spring Break. I asked myself how I could do an adequate challenge with a small suitcase. Packing itself is enough of a struggle without having to make sure you'll have interesting outfits to share!
The Challenge:
So while packing for break, I came up with the 6 for 6 challenge. Similar to Kendi Everyday's 30 for 30 challenge and the 6 Items or Less challenge, I decided to take just 6 items of clothing home and make 6 different outfits with them to last throughout my vacation.
My six items:
White V-Neck Tee
Black Boyfriend Blazer
Dark Wash Skinny Jeans
Red Cord Skirt
Marbled Grey Sweater
Blue Sweatshirt
Note: I didn't count tights, shoes, or miscellaneous accessories in my 6, though you certainly could if you wanted to make this stricter.
The Results: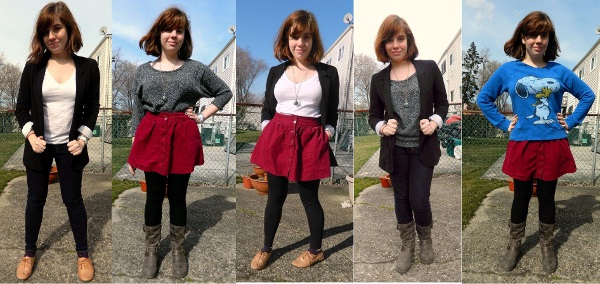 Monday: I kept it simple with a white tee, a boyfriend blazer and jeans.
Tuesday: I paired a marbled gray sweater with a red cord skirt, black tights, and boots.
Wednesday: Today I wore a white tee and black blazer with my red skirt and finished with some oxfords.
Thursday: Back to jeans today! I paired my skinnies with my marbled sweater and boyfriend blazer.
Friday: Using an item I packed on a whim, I matched my red cord skirt with a blue sweatshirt. (Aw, Snoopy!)
Saturday: Today was a travel day so I didn't manage to snap a photo! But for the 6th outfit, I wore my marbled sweater and boyfriend blazer with my red skirt.
What I Learned:
I found two parts of this challenge especially difficult: deciding what to bring home and sticking to bringing just 6 items. Once I had made my choices, though, creating outfits was a snap.
Here's how I decided on my items: I started with basic pieces I knew I could match with many different things, which meant my skinny jeans, white tee, boyfriend blazer, and cord skirt. Then, because I knew my break would be spent lazing around my home, I added comfortable items, leading me to include the sweater and sweatshirt. Really, it all depends on your needs!
A few more tips I picked up from this challenge:
Since this covers a short span of time, you can easily anticipate what you're going to be doing that week. So don't include a ball gown if you know you're not going to use it! Be realistic about what you'll actually want to wear.
I decided not to count shoes as I was bringing my boots home to leave them there. But if you're doing this challenge just because, try counting shoes and accessories and see how creative you can get!
Remember that sometimes it won't always work. Sometimes you can see more combinations of things in your head than there really are. (This can also happen in reverse, though!) So don't feel bad about repeating outfits. This challenge is all about maximizing your wardrobe as much as you can, and it's meant to be a learning experience.
What do you think?
How do you solve your packing woes? Do you have certain items you can wear with nearly everything? If so, which items would YOU choose for your six? And in case you want to play along with me, a little preview: Next week, I'll be mixing prints!