This post may contain affiliate links, which means we may receive a commission if you purchase through our links. Please
read our full disclosure here
.
Here at CF, we always try to look out for our readers' best interests in any and every way we can. That's why, for today's post, we created a quiz inspired by St. Patrick's Day fashion to ensure that our readers don't become helpless victims of green-wearing, pinching bandits that run around on this day.
Okay, so we may not be saving lives, but we think that if we can save just one person from the painful prick of a pinch, our efforts are worthwhile.
To help you create a fashionable and pinch-proof outfit come March 17th, just take this quiz below to find out what you should wear on St. Patrick's Day! Once you get your answer, find your letter and corresponding result below for a sample outfit based on your personality type.
Quiz: What Should You Wear on St. Patrick's Day?
Quiz Results – No peeking!
Below are the results of the quiz. Don't look if you haven't taken it yet! I've created one outfit for each result to help give you some ideas for what to wear. Enjoy!
Mostly A's: The Lucky Leprechaun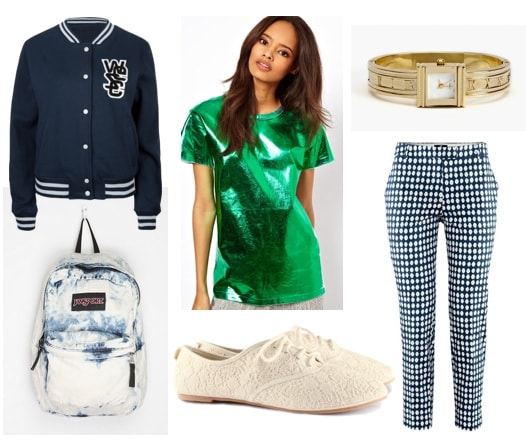 Product Information: Jacket, Top, Watch, Pants, Shoes, Backpack
Your personal style sways on the trendy side, and this outfit is a great way to showcase your on-trend look on the 17th. While this green shirt's shiny fabric makes it a true stand out, topping it with a navy varsity jacket helps anchor the look. Next, pair these pieces with polka dot-print trousers and trendy crochet skimmers. Lastly accessorize the look with a gold watch that gives a nod to a leprechaun's coveted pot of gold and a trendy tie dye denim backpack for your books.
Mostly B's: Green with Envy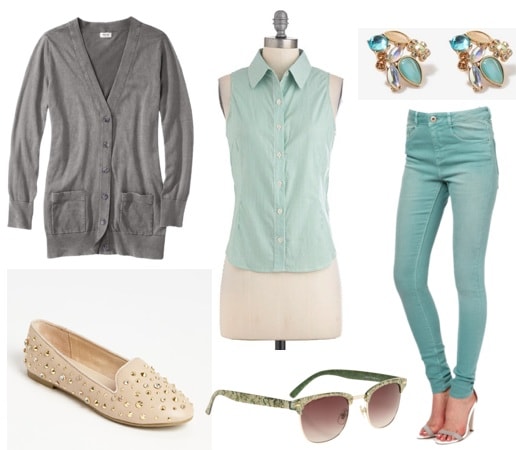 Product Information: Cardigan, Top, Earrings, Pants, Sunglasses, Shoes
St. Patrick's Day is often associated with a bright kelly green, but your aesthetic leans more towards light, pastel shades. To show your holiday spirit without giving up your style, try a monochrome mint look like this one.
To create this outfit, pair a light mint green top with a darker pair of mint skinny jeans. Use a simple gray cardigan as a cozy cover-up and slip into some studded slipper flats. Finish the ensemble with a printed pair of sunnies and jeweled posts and you will be ready to express your style while staying safe from the pinching bandits.
Mostly C's: Kiss me! I'm Irish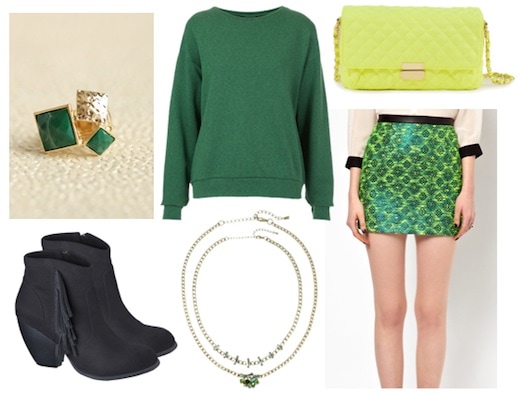 Product Information: Ring, Sweater, Bag, Skirt, Necklace, Boots
If your plans include a night out (or even if you feel like getting a little dressed up for daytime), an outfit like the one above is an appropriate and fun way to celebrate. I love this metallic tweed skirt – balancing it with an oversized pullover keeps the look from going over-the-top. Once you have this base, the rest is all up to the accessories. A jeweled necklace set and a neon bag again add touches of glam to the look while an emerald ring and black booties add on the finishing touches.
Mostly D's: Shamrock& Roll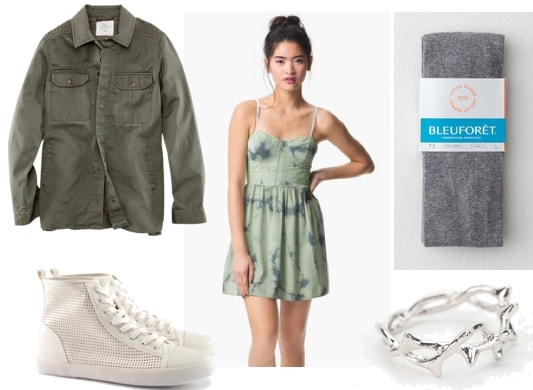 Product Information: Shirt, Dress, Tights, Ring, Shoes
This look really plays with the juxtaposition of soft and hard, and feminine and masculine. This dress is a good starting point as the shape and design are very feminine, but the chambray fabric and messy tie-dye print keep it a little bit edgy. To toughen up the look even more, throw on an army green button-up shirt to act as a jacket and some super cool high-top sneakers. Complete this "oh-it's-St.-Patrick's-Day?-I-just-threw-this-on" look with gray tights and a thorn ring.
What do you think?
What are you going to wear for St. Patrick's Day? Will you be wearing green? What do you think of these outfits? What are your St. Paddy's Day plans? Please let us know what you think by leaving a comment below!