This post may contain affiliate links, which means we may receive a commission if you purchase through our links. Please
read our full disclosure here
.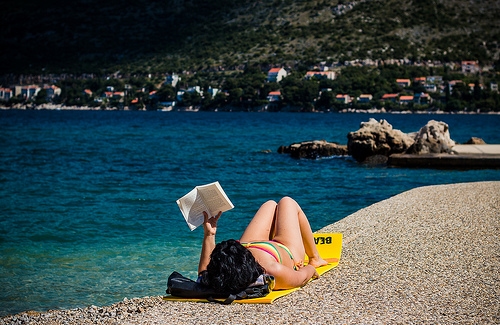 The unbearable heat of the summer can drive anyone insane – especially if you're going outdoors. And, let's be honest, who isn't spending at least some of their time outdoors in these hotter months?
I don't know about you, but whenever it's hotter than normal outside, I often run into trouble coming up with an outfit that is both cute and comfortable. After all, I don't want to sacrifice form for function.
Here are my go-to plus-size outfits for surviving the summer heat in style:
Outfit #1: Theme Park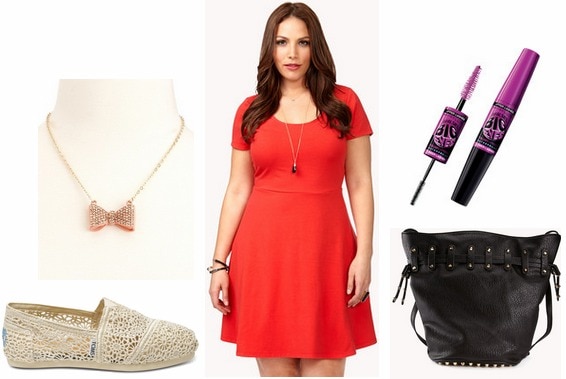 Necklace, Shoes, Dress, Mascara, Bag
A few years ago, I would've never dreamed of wearing a dress to a theme park because, who does that, right? But, I actually wore one this past weekend and was pleasantly surprised at how comfortable it was! The dress is flowy, so it lets you (and your legs!) breathe, which is a must, given the temperature. Plus, the coral color is perfect for summer. If you want a little more coverage from the sun, layering on a denim shirt would look super chic.
Side note: You'll want to wear shorts under your dress for the sake of coverage when going on rides! I usually go with some kind of active wear shorts that you can find at Target or Walmart for a decent price.
TOMS never let me down and I'm loving their crochet ones for summer. They're a cute addition to any outfit! Since a theme park usually involves a lot of walking, I suggest you wear them multiple times before you head to the park. If TOMS aren't your style, you can simply swap them for any pair of comfy walking shoes.
Maybelline's the Falsies Big Eyes Waterproof Mascara is my go-to mascara this summer. Even after going on multiple water rides, my mascara was intact, so I definitely recommend it. Top off the whole outfit with a cool studded bag and bow necklace and you're ready to hit up a theme park in style.
Outfit #2: Poolside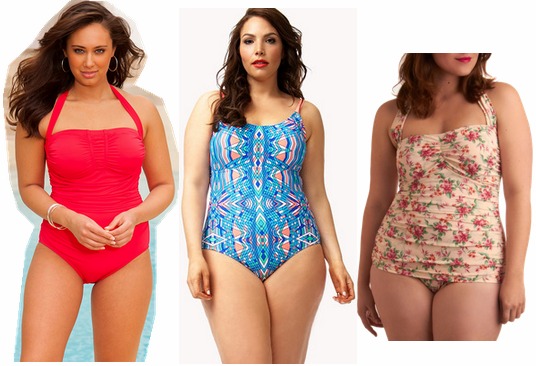 Swimsuits: Lane Bryant, Forever 21, Modcloth
No summer is complete without making a splash in the pool and these three swimsuits are ideal for any occasion. The red one has a classic appeal, the geometric print version is on-trend this season, and the floral suit has a romantic and feminine vibe. Pair your fave option with a stylish cover-up and some flip flips and you're poolside-ready!
Personally, I tend to wear one-piece swimsuits more than two-piece versions, simply because I find them more comfortable and prefer their classic look. Obviously, you can wear whatever you prefer, but I've found it difficult to find cute two-pieces that I actually like. (If you know where to find some, let me know in the comments!)
Outfit #3: Under the Moon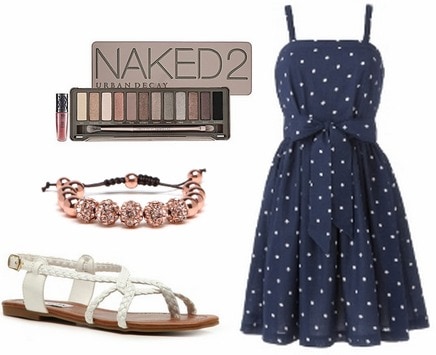 Palette, Bracelet, Shoes, Dress
I'm really into dresses this summer, so I'm a little in love with this navy nautical-themed dress. It's so versatile – you can use it as a pool cover-up, dress it down for daytime, or glam it up for night.
Paired with a rose gold bracelet and sandals, you've got yourself a casual and summery nighttime outfit. During the warmer months of the year, I feel like the more natural your makeup, the better, so use this neutral eyeshadow palette to create a subtle, yet sultry look.
What do you think?
Would you wear any of these outfits? What's your favorite look? Would you look to see more posts like this? Let me know in the comments below!