This post may contain affiliate links, which means we may receive a commission if you purchase through our links. Please
read our full disclosure here
.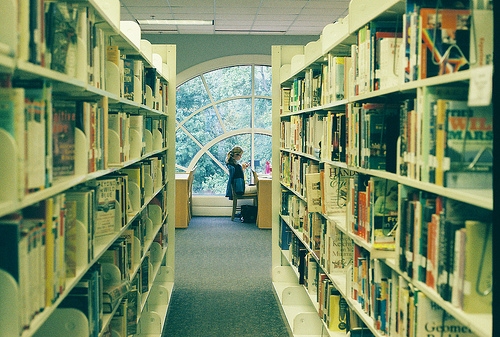 It's that time of year again – summer is coming to an end and the fall semester is right around the corner. So, it's time to say goodbye to swimsuits and shorts and say hello to cardigans and boots!
The beginning of the fall semester is all about combining your summer and fall wardrobe seamlessly as the weather begins to change. The first few weeks, however, are a bit of a challenge since it's not exactly summer, but it's not quite fall yet either.
However, we've got you covered with threeplus-size back-to-school outfit ideas for you to rock on your first week back:
Outfit #1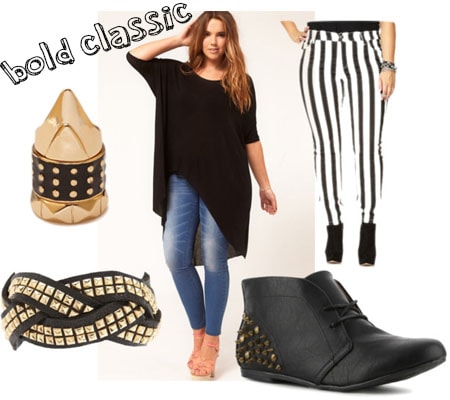 Shirt, Jeans, Bracelet,Shoes, Rings
If you're looking to make a statement on your first day of class, then this is the outfit for you! With a pair of black and white vertical-striped skinny jeans and a black high-low top you're sure to turn heads when you walk into any classroom. Although bold in concept, this look sticks to the classic (and trendy) color combination of black and white, while the rings, bracelet, and studded booties give it an edgy touch.
Outfit #2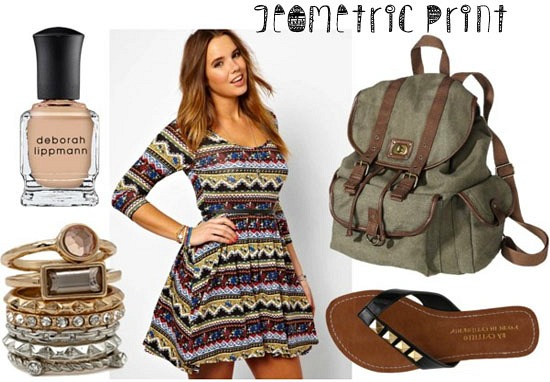 Dress, Sandals, Backpack, Rings, Nail Polish
If you're not ready to let go of your summer wardrobe just yet, this on-trend mixed geometric print dress can help you transition into the fall weather. (Investing in the activewear shorts I spoke about in an earlier plus-size fashion post would be smart in order to avoid a wind mishap!) Sandals are a summer staple and since the weather hasn't changed too much during this time, you can easily wear them for the first few weeks of classes.
The brown and green backpack not only matches this dress, but is likely to match almost any outfit you pair it with this semester. Add a splash of beige nail polish and some stacked rings, and not only will you be heading to class in style, but the light color of the polish will disguise any chips! (Who has time to do their nails during the first week?)
Outfit #3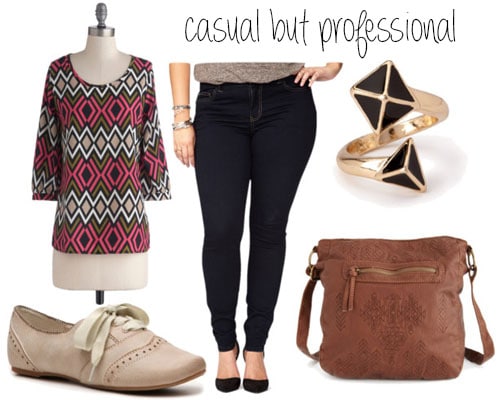 Shirt, Jeans, Shoes, Bag, Ring
First impressions matter and if you're on the hunt for a casual outfit that can be work-appropriate as well, look no further. The printed blouse really makes the outfit and the three-quarter sleeves are perfect for those cold classrooms – you won't have to worry about bringing a cardigan to cover up! The oxford shoes keep the air of professionalism, but are also a comfy and stylish choice for walking from class to class.
Since the first few days of class are usually pretty lenient, a small bag is ideal for carrying the essentials: your wallet, cell phone, make-up, and a pen/pencil pouch. As the semester continues, you can swap it for a bigger bag or even a backpack. For an even more work-appropriate outfit, swap the blue jeans for a pair of black pants and you're all set!
What do you think?
Would you wear any of these outfits? Which one is your favorite? Would you like to see more posts like this? Let me know in the comments!