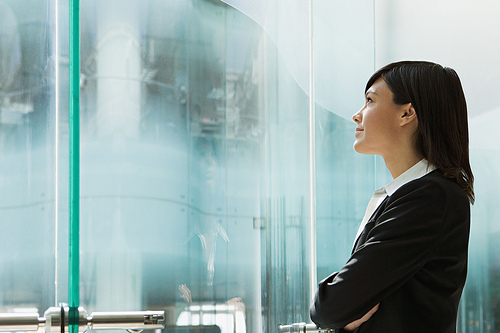 We're nearing the end of August which means one of two things: that fall semester has already started for you, or it will be starting in the coming week or so.
With a new semester comes new courses, new professors, and new opportunities, which means that dressing for success is crucial. A cute outfit can change your entire outlook on the day ahead of you and in my experience, make your day great.
I've learned that half the path to success is simply believing that you can succeed. And, what better way to have confidence in yourself and your ability to succeed than to dress the part?
Below, I've compiled three different outfits that I hope will inspire you to dress for success whether you're doing an internship this semester, working in an office environment and taking classes, or simply giving a professional presentation for class:
For back to school plus size inspiration, be sure to check out my last post on Plus Size Back-to-School Fashion.
Outfit#1
Blazer, Shirt, Skirt, Earrings, Flats
Monochrome Chic is all about putting your best foot forward with the cute gold accent flats and a bold polka dot blazer. This look manages to be eye-catching while sticking to the classic professional look at the same time.
The floral earrings and the blazer keep it playful while the rest of the outfit makes things a bit more serious. If you're not a fan of the bandage skirt, as some people aren't, swap it out for a pair of black slacks and you're ready to take the office by storm!
Outfit#2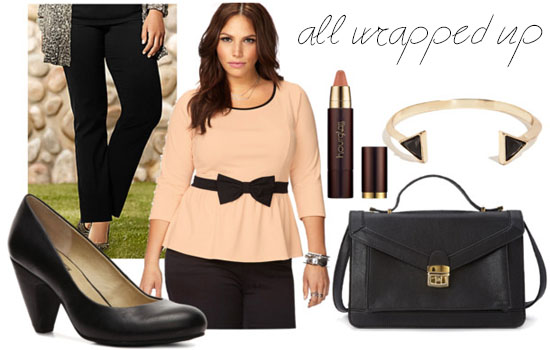 Shirt, Pants, Lip Crayon, Shoes, Cuff, Purse
Two things I really love right now are peplum shirts and bows and this look, dubbed All Wrapped Up, combines both. The peplum bow shirt style is flattering on most body types because of its waist-cinching nature, while the three quarter sleeves are ideal for the changing season – as it gets chillier, you won't have to carry an extra cardigan to cover up!
The heels take the entire look to the next level and make an otherwise-casual outfit a lot dressier. To top it all off, paint your lips a subtle peach and you've got a cute ensemble for a day on the job.
Outfit #3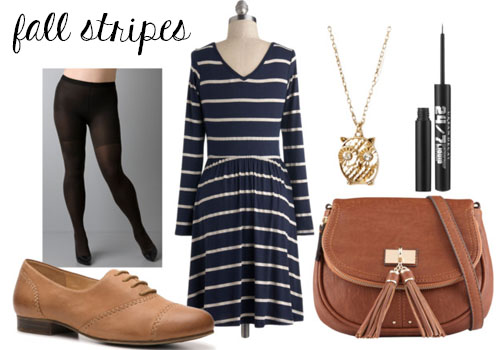 Dress, Tights, Shoes, Necklace, Purse, Eyeliner
The main attraction in Fall Stripes is the multi-purpose long sleeve striped dress that can be dressed up for business or dressed down for fun, which definitely makes it a great investment. Combine it with my favorite pair of Spanxtights (they're reversible – brown/black – and last forever!) and it's the perfect fall outfit.
Instead of the oxford shoes, you could also swap in boots for a bolder look. For an even more daring look, use the Urban Decay liquid eyeliner to create a cat eye (one of my favorites!). FYI, The Beauty Department has a great tutorial on how to create the perfect cat eye!
What do you think?
Would you wear any of these looks? Which one is your favorite? What's your go-to internship look? Let me know in the comments below!