This post may contain affiliate links, which means we may receive a commission if you purchase through our links. Please
read our full disclosure here
.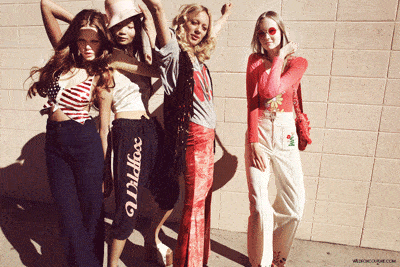 Photo: Wildfox Couture, via Elle.com
Buckle up kids – here at College Fashion, we are in full-fledged spring transition mode. It's always a toughie to pick the perfect March outfit, which is why we're here to help. The best part? All of our outfit picks are under $100!
Weather is the ultimate challenge during this awkward almost-springtime season. Choosing the right look for chilly mornings/evenings and warm days is simply frustrating. Though it's far from toasty out yet, we can't help obsessing over twirly summer skirts and sandals, so here are our suggestions for how to mix them into your winter wardrobe to make a sleek winter-to-spring wardrobe shift.
March Wardrobe Resolutions to Perk Up Your Closet:
Get inspired. Go outside and see blooming flowers. Follow bright and colorful inspiration boards on Pinterest. Clean out your closet. Flip through your favorite fashion magazines. Getting in the right mindset will make getting dressed exciting!
Repurpose your winter staples. If you live somewhere warm, your long sleeve sweaters will give the perfect amount of warmth when paired with shorts. Your go-to chambray or flannel shirt? Wear it with your favorite summer dress to cover your shoulders on brisk mornings. Rock your riding boots with white jeans or a flowy skirt.
Shift your color choices. I know how easy it can be to reach for a snoozy neutral when you've been in a rut all winter, but it's time to spunk up your color choices. Make it a March Resolution to not buy anything else in grey, black, or brown. Instead reach for hot spring colors – hot pink, neon yellow, and soft pastels. You'll be amazed at how much more awake you feel by just throwing on a fresh color!
Mix prints. The thought of polka dots and plaid together can be daunting, but the result of a well-put together mixed print outfit can be wonderful. Remember, we have a guide to wearing mixed prints in case you don't know where to start.
Layer. Your early morning walk to class may still feel like a trip to Iceland, but by noon it may be a beautiful spring day. Throw a button-up shirt over your dress, with a sweater over that. Still chilly? Grab a coat. It's like four outfits in one!
Outfit 1: Casual-Chic for Class (Total: $91.91)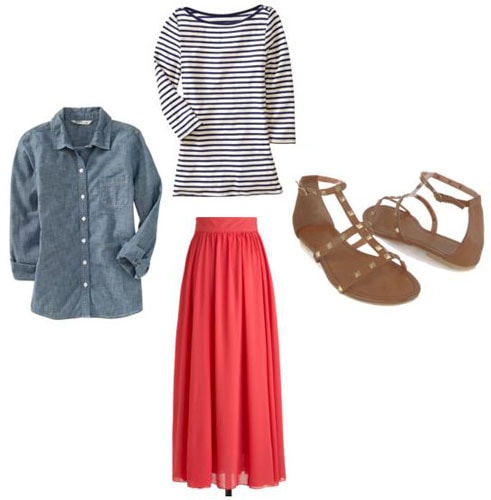 Product Information: Button Up – Old Navy, Tee – Old Navy, Skirt – Modcloth, Shoes – Forever 21
This look would be perfect for those of you in the warmer parts of the country, or for those of you up north to wear during the later spring days. Don't be afraid to pair your go-to winter pieces with a bright and punchy maxi skirt. A casual chambray button-up makes the perfect additional layer over a nautical striped tee. A long, breezy skirt and sandals will have you feeling like you're at the beach and you will be totally on-trend.
Outfit 2: Laundry Day (Total: $91.70)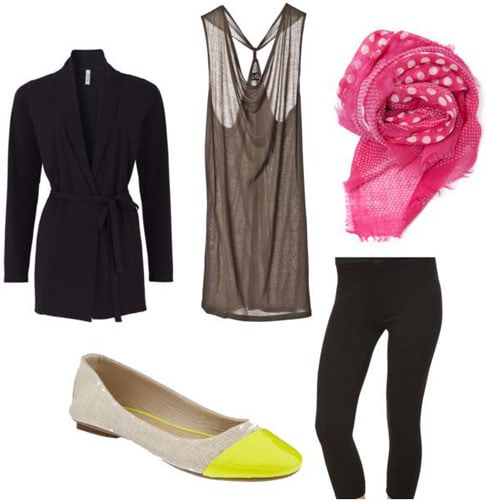 Product Information: Tank Dress – Cheap Monday, Wrap Cardigan – People Tree, Leggings – Forever 21, Flats – Old Navy, Scarf – Mango
There are few things in the world that are comfier than a good pair of leggings. As the most fashionable alternative to those dreadful sweatpants, reach for a simple pair of leggings and a fabulous long sweater on laundry day. Rock them with a great pair of flats (these are Old Navy – can you believe it?!) and a fun scarf to be the hippest girl at the laundromat.
Outfit 3: Karaoke Night with the Girls (Total: $98.12)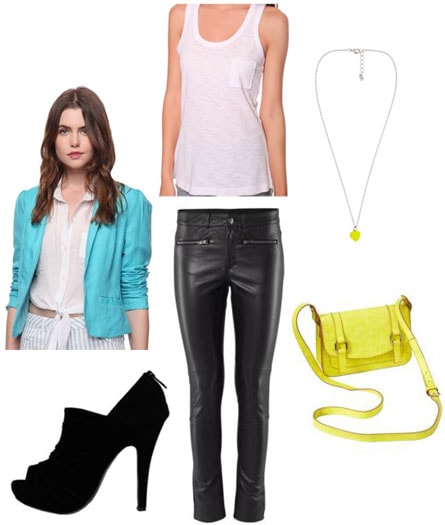 Product Information: Tank – Forever 21, Jacket – Forever 21, Pants – H&M, Shoes – Amazon, Bag – Old Navy, Necklace – Forever 21
Looking hot on a night out doesn't have to come with a hefty price tag. Stores like H&M and Forever 21 have you covered with great going-out apparel, like these H&M faux leather pants. Open-toed booties are among the sneakiest transitional footwear ideas; they're open-toed for spring but lend enough coverage to keep your tootsies warm. Remember to grab a jacket, because the walk home on a late March evening is certain to be a chilly one. (Layer your winter coat up top if you live somewhere ultra cold!)
Now we want to know your thoughts!
Which of the looks above is your favorite? Do you have tips for the awkward transitional weeks between winter and spring? Leave a comment below and let us know!