This post may contain affiliate links, which means we may receive a commission if you purchase through our links. Please
read our full disclosure here
.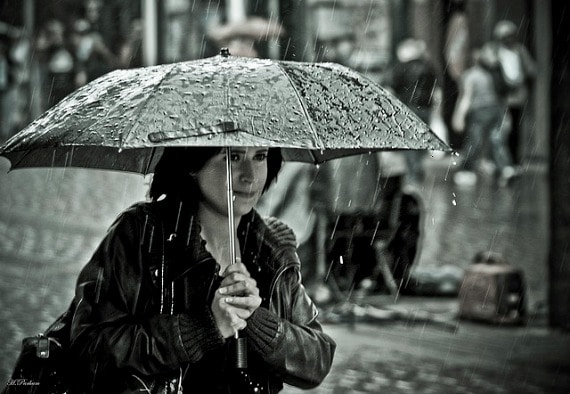 It's the time of year when we can no longer rely on just a sweater and a pair of jeans to get us to class. Fall is best known for, yes, pumpkin spice and crunchy leaves, but also unpredictable weather situations.
My shopping advice for you is to keep your go-to look the same. Wear your boots, jeggings, and soft sweater, then add weather-appropriate extras to keep you warm and dry. Below are three outfits that will have you looking stylish no matter what the weather is like outside:
Windy Days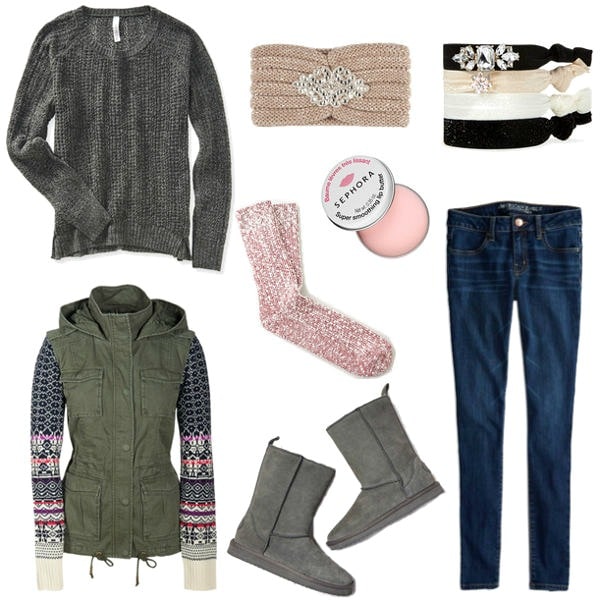 Product Info: Jeans, Boots, Sweater, Jacket, Socks, Lip Butter, Hair Wrap, Hair Ties
Windy days wreak havoc on your hair and skin, but leave plenty of opportunities to accessorize. A lightweight yet cozy jacket is what you need to shield yourself from the wind and stay warm. Woolly socks up the coziness, while a knit headwrap gets your hair out of your face. I go to school in a very windy city where sometimes even a thick headband isn't enough, so I bring hair ties with me to prevent whiplashing myself on the way to class.
A quality lip balm or lip butter is essential. Chapped lips are the worst, and a good product keeps your skin hydrated and protected, but not overly greasy.
Snowy Days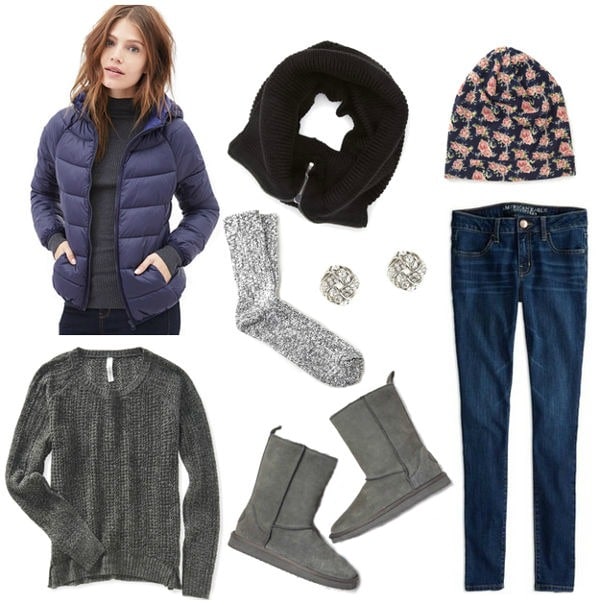 Product Info: Jeans, Boots, Sweater, Socks, Jacket, Earrings, Hat, Scarf
It's not too early for some of us to be thinking about snow! Everyone in Southern California can go back to reading their textbooks at the beach and skip this part, but the rest of us need a go-to outfit that's ready for the first snowfall of the season.
Whether it's a light dusting or a blanket of snow outside, a puffer jacket will keep you warm and insulated. A knit scarf and hat are must-haves to keep your face and neck region warm. Wool socks are essential for warm feet, and don't forget to accessorize with a cute pair of studs as you head out into winter wonderland.
Rainy Days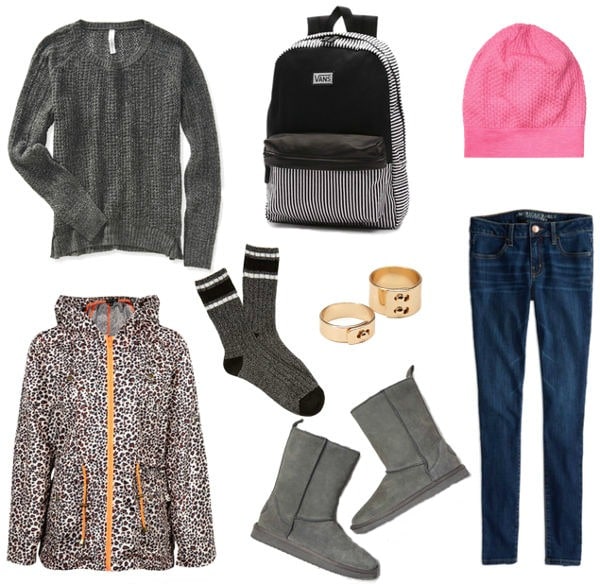 Product Info: Jeans, Boots, Sweater, Jacket, Rings, Socks, Backpack, Hat
This sportier look is great for rainy days. When it's not too cold but you need some water resistance, a lightweight jacket with a hood is a great option. If you can find something fun and flashy, like, say, an orange and leopard print jacket, life is more fun. If it stops raining, you can stow your jacket away without bulking up your bag.
High-rise athletic socks keep your feet dry, while a lightweight hat prevents your hairstyle from getting watered down. On this occasion it's best to put away your leather book bag and opt for a more weather-friendly backpack. The last thing you want is for a nice bag (and your books!) to get caught in a downpour.
What do you think?
Are you ready for the weather changes up ahead? Has anyone been dealing with any of these elements already? What have you been wearing? Let me know, and happy shopping!