This post may contain affiliate links, which means we may receive a commission if you purchase through our links. Please
read our full disclosure here
.
After reading the comments on my last post about different ways to wear denim shorts, I realized that I'm not alone in loving my pair of TOMS! Several of you requested an installment of One Item, Four Ways to be written about these comfy shoes, and here it is! TOMS shoes come in lots of cute colors and support a great cause — for every pair sold, another pair is donated to a child in need.
Because of their versatility and comfort factor, TOMS are a great shoe for college students. While I've chosen to make outfits based around the standard TOMS slip-on, TOMS come in a variety of styles, from wedges to lace-ups, so there's truly a pair for everyone.
Outfit 1: Minimum Color, Maximum Style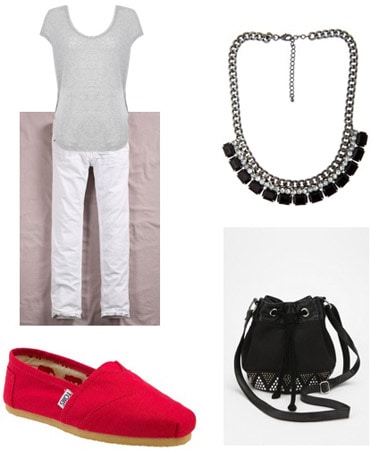 Tee, Jeans, Necklace, Bag, TOMS
A pair of bright red TOMS adds a fun pop of color to a neutral outfit. I added a statement necklace and studded bucket bag for a hint of glamour. This outfit would be perfect for a day of shopping — TOMS will keep your feet happy all day, no matter how many stores you visit!
Outfit 2: Flirty Florals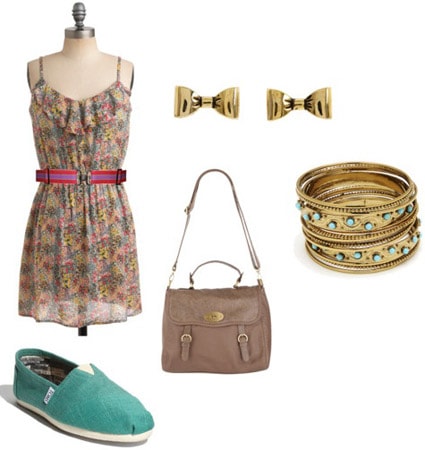 Dress, Belt, Earrings, Bangles, Bag, TOMS
A pair of teal TOMS complements the colors of this floral dress and accents this set of bangles perfectly. A striped belt is a fun and easy way to try your hand at pattern-mixing, and simple gold earrings and a neutral-colored bag finish the look. This outfit would be perfect for a daytime date where you'll be doing a lot of walking, like a visit to the zoo.
Outfit 3: Pretty and Polished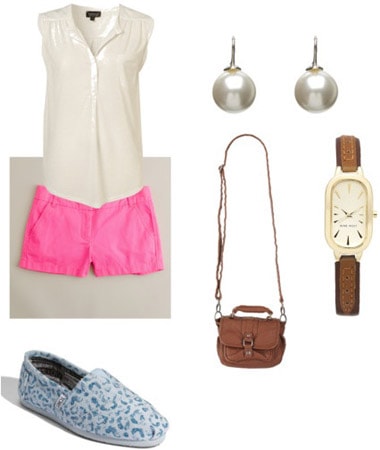 Shirt, Shorts, Earrings, Watch, Bag, TOMS
This outfit illustrates the fact that TOMS can work with pretty much any style. This look is a little preppier, combining classics like chino shorts, a watch, and pearls, but these leopard-print TOMS inject a fun dose of modern trendiness. I like to dress in classic pieces when I go to museums, and this outfit would be perfect for a day spent roaming art galleries.
Outfit 4: A Little Bit Bohemian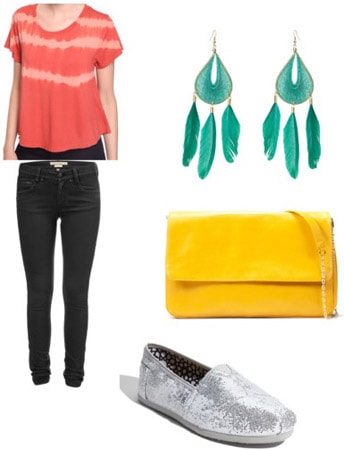 Top, Jeans, Earrings, Clutch, TOMS
This last outfit incorporates a statement-making pair of TOMS that I absolutely love! These silver sequined shoes are right at home in a look that showcases bright accessories. Since metallics can act as neutral, the shoes will go with most colors and will instantly add a fun twist to any outfit. I'd wear this during the day to class (I'd stow the clutch in my tote bag) and then out to a casual dinner with my friends.
What do you think?
Do you own a pair of TOMS? Which look is your favorite? What other items would you like to see featured in "One Item, Four Ways?" I'd love to hear from you, so be sure to leave a comment!