This post may contain affiliate links, which means we may receive a commission if you purchase through our links. Please
read our full disclosure here
.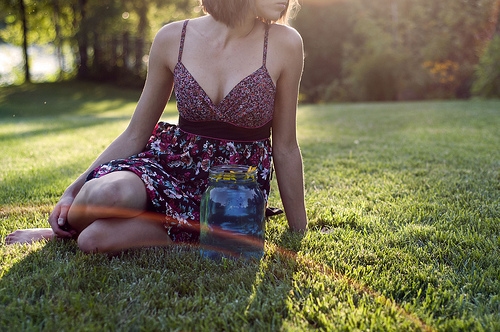 Every summer, the sundress is a popular style among college girls everywhere. Whether you like 'em striped, brightly colored, or with a fun floral pattern, sundresses are easy to throw on and work for a variety of occasions, from a day of shopping to a day of classes. Sundresses are also great for college girls because we spend a lot of time walking around campus, and no matter how cute those skinny jeans are on the mannequin, chances are they're going to be constricting and h-o-t when you're trekking across campus.
However, like their cousin, the maxi dress, sundresses can sometimes be so simple that it's hard to wear them in different ways. It can be tempting to just add sandals and a set of bangles and be done with it. But with a little effort, you can create a whole slew of creative outfits centered around your sundress, and with the right accessories even transition it into fall and winter.
Outfit 1: Knotted Up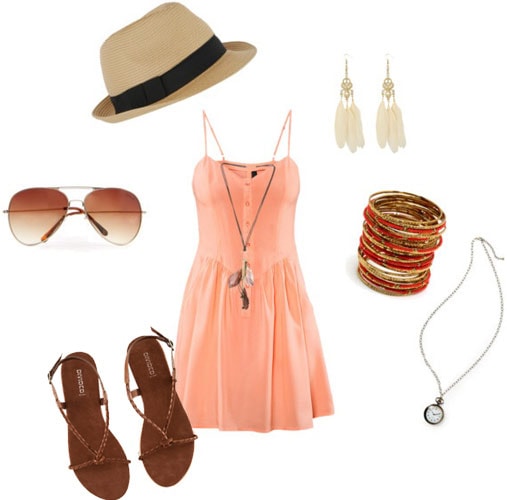 Dress, Tee, Earrings, Bag, Flats
I'm a big fan of turning a dress into a skirt by tying a loose-fitting tee over it. It can make dressier sundresses look more casual so that they're appropriate for a wider variety of events. It's also a fun way to play around with color combinations and get more wear out of your dresses and tees.
Outfit 2: Boy Meets Girl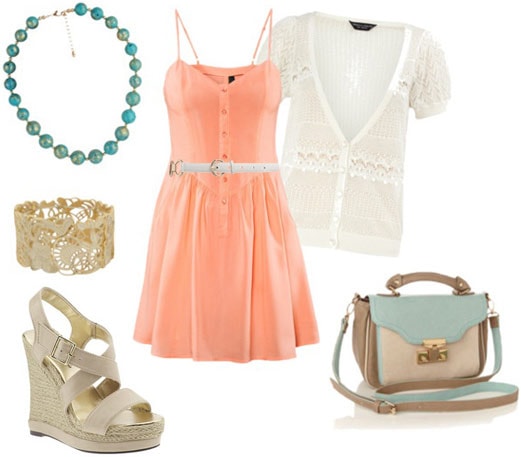 Safari- and utilitarian-inspired jackets are perfect for adding a touch of masculinity to your look. Here, I paired the sundress-and-jacket combo with a glammed-up necklace and a sweet ballet flat. This look would be great for fall as well; when it gets chilly, add a pair of tights and switch out the necklace for a scarf.
Outfit 3: Invest in a Vest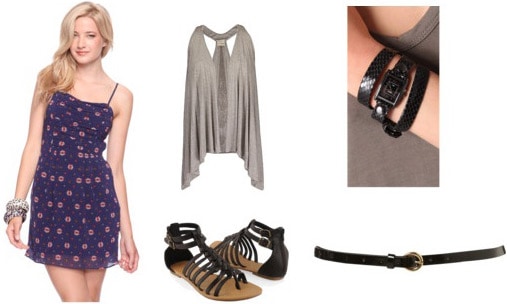 I recently picked up a knit vest from the sale rack at Target, and ever since, I've been surprised again and again by its versatility! Besides working with tanks and tees, it also looks great on top of all of my sundresses. Wearing a vest with your sundresses adds another layer to the look, and as a bonus, allows you to wear a normal bra instead of having to battle a strapless one.
Outfit 4: Under Wraps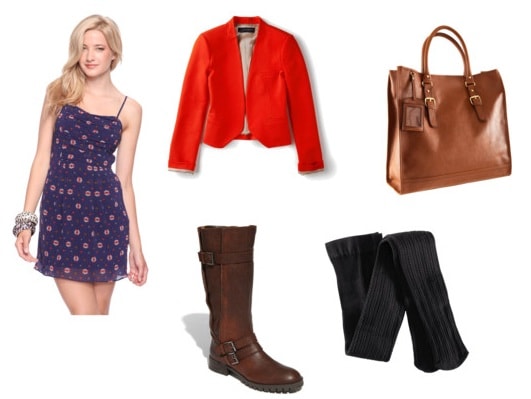 Blazer, Bag, Tights (similar style), Boots
Playing around with blazers and cardigans is another easy way to create more looks using the same sundress and transition your look from summer to fall. I know it's only August, but I couldn't resist including boots and tights in this outfit set. In the meantime, while the temperatures are still warm, wear this look with sandals or flats, and use the blazer as a cover-up in chilly lecture halls.
What Do You Think?
What's your favorite type of sundress? Do you have any tips on how to remix your dresses? Which look is your favorite? What kinds of items do you want to see featured next in "One Item, Four Ways?" I'd love to hear from you, so be sure to leave a comment!