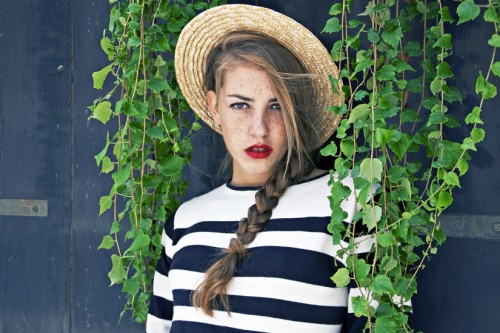 I'm sure you remember our post from a few weeks ago about styling a fabulously cheap striped tee from Rue21. As Katie discussed in that post, striped pieces can act as neutrals — they go with pretty much anything, are a great way to experiment with pattern-mixing, and can easily be dressed up or down to work for many different occasions. And because this pattern has seen a huge resurgence in popularity this season, it's not hard to find a striped top that fits both your budget and personal style.
For this installment of One Item, Four Ways, I put together four different outfits using another striped tee. Unlike the top in Katie's post, this shirt has a more classic fit and smaller stripes, but it's just as versatile and definitely deserves a spot in your closet.
Outfit 1: Real-World Ready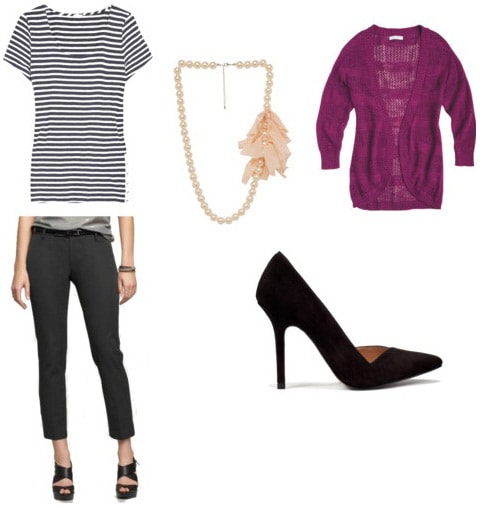 Striped Tee, Pants, Pumps, Cardigan, Necklace
In a previous installment of "One Item, Four Ways," I talked about the importance of owning items that can make the leap from college wardrobe to work wardrobe, and one of the great things about stripes is that they instantly add polish to whatever you're wearing. In other words, they're perfect for both casual and work wear!
Depending on the dress code of your workplace, this look could be perfect to wear to your summer internship or job. I like this look best with skinny dress pants, but you could easily swap in a boot-cut or trouser style. Along those same lines, if your job requires a more professional dress code, substitute a blazer for the brightly colored cardigan.
Outfit 2: Pattern Mixing 101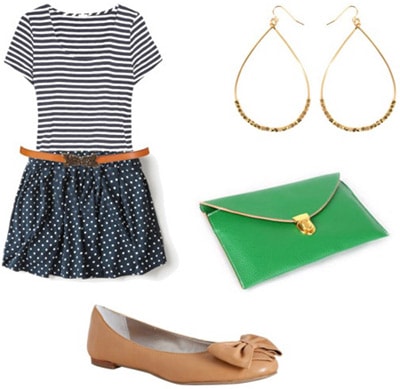 Belt, Skirt, Flats, Clutch, Earrings
As I said earlier, stripes are the perfect choice when mixing patterns. A striped shirt looks great with florals, polka dots, leopard print — pretty much everything! In this look, I paired the striped tee with a polka-dotted skirt to put a quirky twist on an otherwise girly outfit.
Don't know where to begin when it comes to mixing prints? Start by making sure that the items share a similar color scheme — here, it's navy and white — and tie the look together with complementary accessories.
Outfit 3: Fierce Fashionista
Jeans, Flats, Earrings, Blazer
This is definitely my favorite outfit of the four. Colored jeans might be intimidating at first, but they match well with a variety of solid tops and, of course, stripes! A navy blazer ties the look together, and the leopard-print moccasins are a subtle nod to mixing patterns. Since this outfit has a lot going on, I kept the accessories simple; a pair of pearl studs is all you need.
Outfit 4: Safari Chic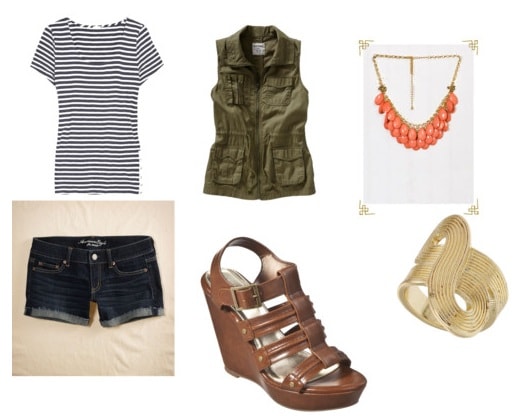 Vest, Necklace, Ring, Wedges, Shorts
This last outfit was inspired by this post on the Sterling Style fashion blog. A utility vest looks chic when paired with a striped top like this one, once again proving that stripes look fantastic with pretty much anything. I included a pair of wedges and some standout jewelry to balance out the masculinity of the vest.
What Do You Think?
Have you added a striped top to your wardrobe yet? What do you think of using striped pieces as neutrals? Which of the looks is your favorite? What kinds of items do you want to see featured in "One Item, Four Ways?" I'd love to hear from you, so be sure to leave a comment!