This post may contain affiliate links, which means we may receive a commission if you purchase through our links. Please
read our full disclosure here
.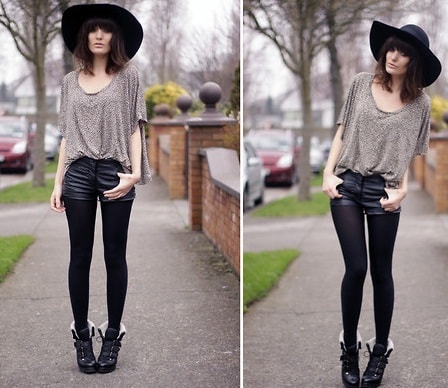 When your week is particularly hectic, sometimes it can just feel like too much effort to wear anything besides a t-shirt. But that doesn't mean you need to sacrifice your fashion credibility. A slouchy tee is just as comfortable, but a lot more stylish than your boxy, unisex varieties, and because these tees come in a million different patterns and colors, it's so easy to find one that fits your style!
Read on to see four different outfits that showcase the versatility of this simple wardrobe staple.
Outfit 1: Fashionable for Fall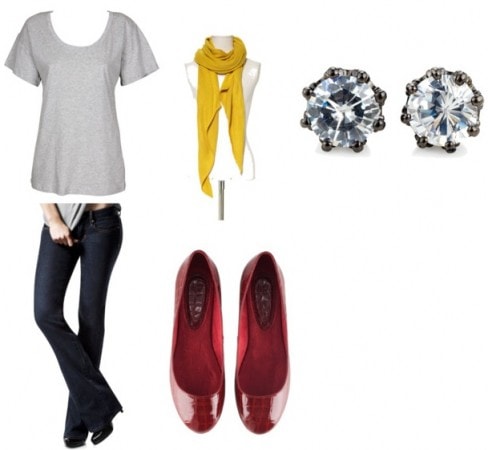 Tee, Jeans, Scarf, Flats (similar style), Earrings
The easiest way to wear a tee is with a great pair of jeans. The combo can be stylish on its own, but you don't have to stop there! Throw on a colorful scarf and a fun pair of flats to add a little punch to your look, and top it off with a pair of classic earrings.
Outfit 2: From Dull to Dressy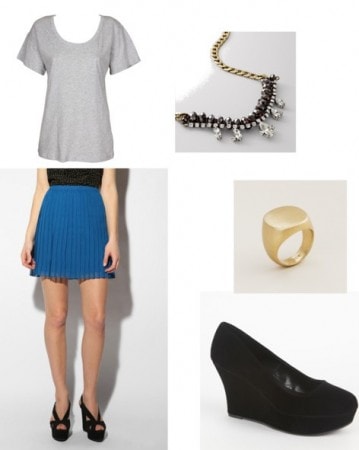 Tees don't have to be relegated to classrooms and libraries — they go great with a variety of skirts as well! For this look, I paired the tee with a super trendy pleated skirt and dressed it up with some statement jewelry and a serious pair of wedges. If it's getting too chilly for bare legs where you live, this outfit would also look great with tights.
Outfit 3: Glammed Up Cowgirl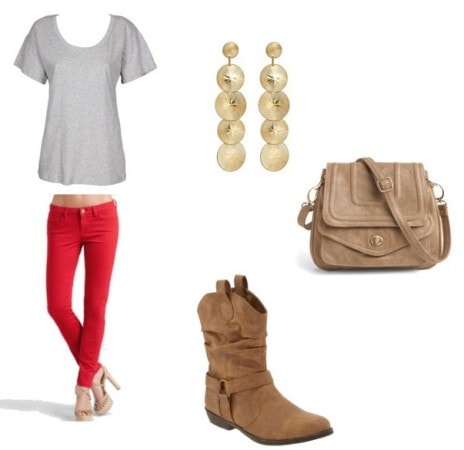 Gray is a neutral, so don't be afraid to pair it with colorful pieces, like these red pants. (For another look at wearing bright bottoms, check out our post on the pink pants trend.) I love the juxtaposition of the fancy earrings with the casual cowboy boots — this outfit is both fashionable and functional, and would transition perfectly from a day full of classes to dinner with friends.
Outfit 4: Nice and Neutral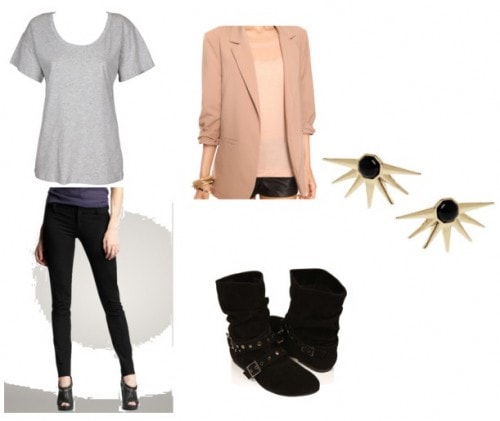 Pants, Blazer, Boots, Earrings
Neutrals may seem boring on their own, but when you combine them in the right way, you can create a seriously fierce outfit. Skinny pants and a blazer add some structure to a loose-fitting tee, and ankle booties will keep your feet warm as the temperatures drop. Finally, top it off with some stylish spiked earrings.
What Do You Think?
How do you stay stylish when you're having a busy week? Do you own a slouchy tee? If so, how do you style it? Which look is your favorite? I'd love to hear from you, so be sure to leave a comment!