This post may contain affiliate links, which means we may receive a commission if you purchase through our links. Please
read our full disclosure here
.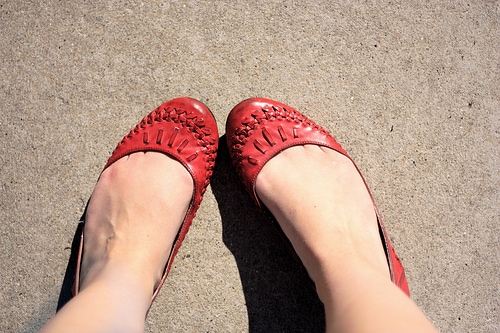 One fateful day a few years ago, I picked up a pair of ruby-red flats on sale at the Gap. They were super comfortable, had the perfect amount of toe-pointiness, and quickly joined the group of most-worn items in my closet. Alas, they're looking a little worse for wear now, and my current search for a replacement pair has inspired me to dedicate this installment of One Item, Four Ways to this surprisingly versatile shoe choice.
Red flats can seem intimidating at first, but don't be scared! Red is actually very easy to match with other colors and patterns, and there's no denying that flats add polish to any look. Read on to see how I styled the same pair of red flats in four different outfits.
Outfit 1: A Little Bit Country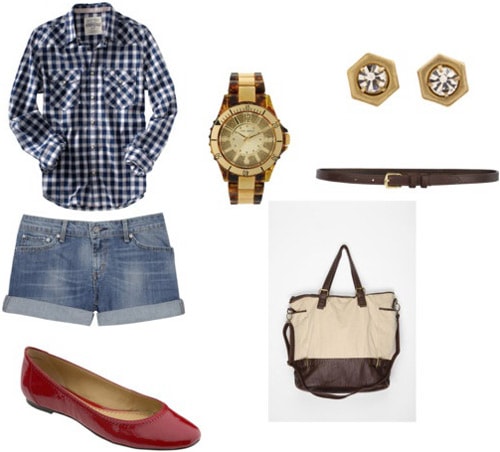 Flats, Shirt, Shorts, Watch, Earrings, Belt, Tote
Dress up a laid-back plaid shirt and worn-in pair of denim shorts with some ruby red flats and choice accessories. This outfit would be perfect for class — easy to throw on, but still put-together, and flats are perfect for trekking across campus. Don't forget the tote bag to carry all your school supplies in style.
Outfit 2: Cool Classics
Shirt, Jeans, Scarf, Earrings (similar style), Purse
This outfit looks like something I'd wear on an impromptu road trip with friends. The striped top is chic no matter where you go, the scarf will keep you warm in case of any sudden temperature changes, and a carry-all bag is big enough to stash your travel necessities. Be sure to show off your pretty footwear by cuffing your jeans.
Outfit 3: Trendy and Transitional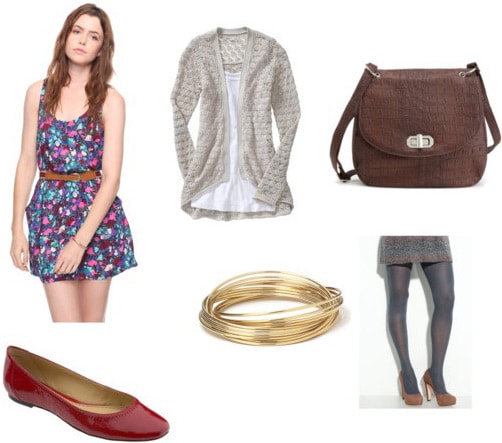 Dress,Cardigan, Purse, Tights, Bangles
Flat sandals and wedges are faithful partners for summer dresses, but as the weather cools down, they can look out of place. Make your dresses seasonless by pairing them with some red flats — wear 'em now while the weather is warm, and just add tights and a cardigan or blazer as it gets colder. This outfit is also a great example of how to wear red with similar colors — the shoes really pop against the pinks and purples in the dress.
Outfit 4: Chic for Class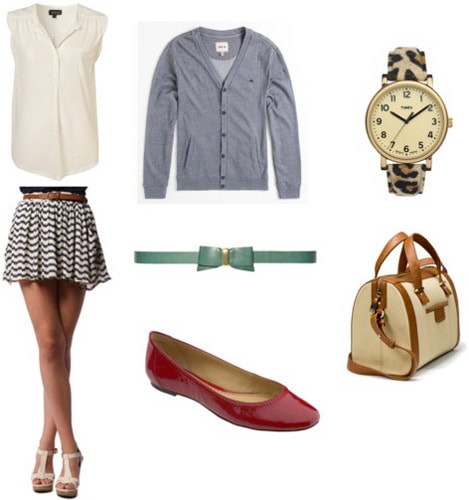 Shirt, Skirt (similar style), Cardigan, Watch, Belt, Bag
As you might know, I'm a huge supporter of dressing up for class. This outfit is something I'd wear to class if I was making a presentation that day, or if I just wanted to feel a little fancier. The flats and belt add pops of color to an otherwise-neutral look, and I couldn't resist injecting a little animal print via this fun watch.
What Do You Think?
Do you own a pair of red flats? How do you work colorful accessories into your wardrobe? What kind of items would you like to see featured in "One Item, Four Ways?" I'd love to hear from you, so be sure to leave a comment!