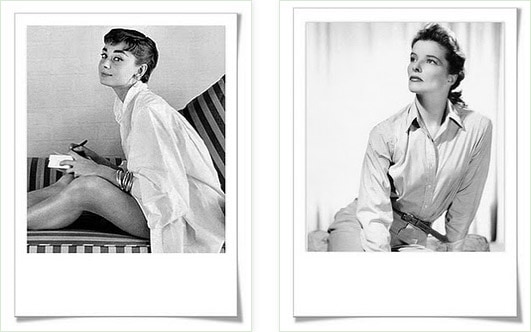 Audrey Hepburn and Katharine Hepburn in oxford shirts | Photo Credit
The summer wardrobe of the typical college student usually includes shorts and tank tops for day and bandage skirts and statement jewelry for night – most of us don't have closets stocked with office-wear. I totally understand — it's easy to deny the need to buy clothes that will make the transition from classroom to real world, especially when there are so many cute party tops to be bought!
That being said, it's never too early to start investing in classic pieces that can be worn after college, and it's surprisingly easy to find unique, student-friendly ways to style office staples.
The oxford shirt can be found in the closets of many working women, but that doesn't mean it has to be limited to the boardroom! Here are four cute outfits that you can create using any button-down shirt you have in your wardrobe. (And if you don't have an oxford shirt yet, it may be time to invest!)

Outfit 1: Laid-Back Weekend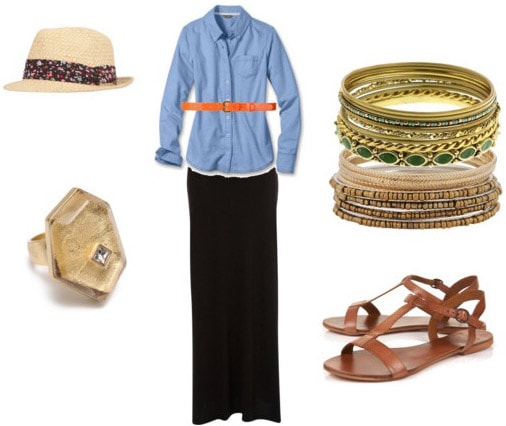 Shirt (similar style), Belt, Maxi Dress, Gold/Green Bangles, Beaded Bangles, Sandals, Ring, Fedora
Oxford shirts don't have to be stuffy and buttoned-up! The beauty of a classic shirt like this is that it can fit with almost any style, from preppy to bohemian. By belting one over a maxi dress and adding some serious accessories, you create the perfect weekend outfit that is casual but still put-together.
Outfit 2: The Office After Hours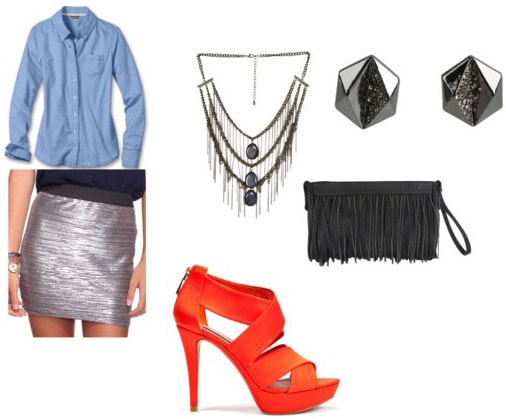 Skirt, Necklace, Earrings, Wristlet, Heels
Your oxford shirt doesn't have to be limited to daytime wear, either. Dress it up for a night out with the girls by pairing it with a metallic skirt, statement necklace, and some killer heels. With accessories like this, no one will even notice that your top half could be headed to a business meeting!
Outfit 3: Tie One On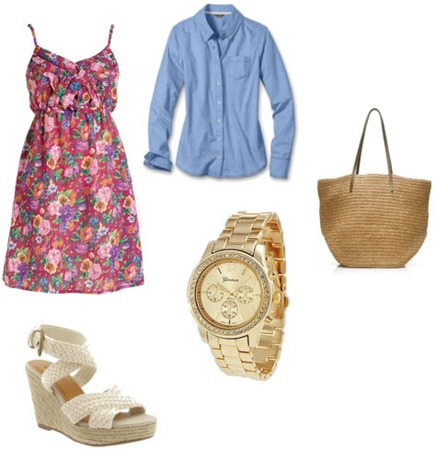 Sundresses are great in the summer, but they can quickly become uninspired. Try tying an oxford shirt over a sundress you already own to make your "summer uniform" feel new again. (This post on the Atlantic-Pacific fashion blog demonstrates the look perfectly!) Add accessories like a straw tote, crochet wedges, and a boyfriend watch, and you're ready to stay stylish for the rest of the summer.
Outfit 4: Blair-Waldorf Approved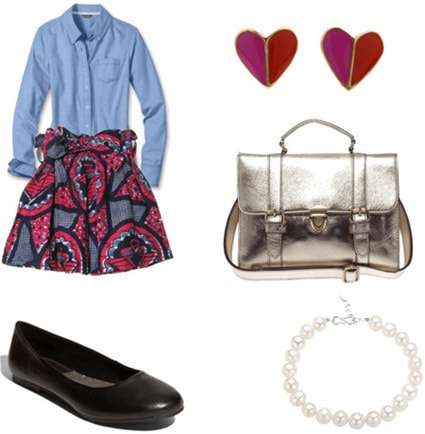 Skirt, Earrings, Bag, Bracelet, Flats
When putting together this outfit, I was inspired by Blair Waldorf's style from the first two seasons of Gossip Girl. She added feminine twists to her school uniform, which was usually comprised of an oxford and a swingy skirt, with girly accessories like pearls and purses. Take a cue from Blair and pair a button-down with a skirt in a fun pattern for a cute outfit to wear to class.
What Do You Think?
Do you own an oxford shirt? Do you have any office-ready pieces in your closet? Which of the looks is your favorite? What other items do you want to see on "One Item, Four Ways?" I'd love to hear from you, so be sure to leave a comment!