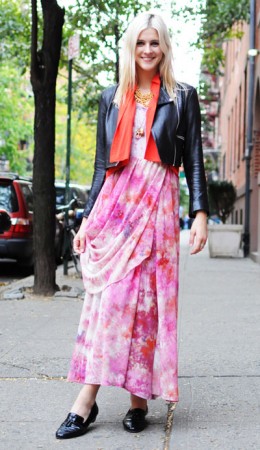 For this week's installment of One Item, Four Ways, I'll be putting together outfits that incorporate an item that has enjoyed a lot of popularity in recent summers: the maxi dress. As the summer winds down (we only have a few weeks left until we head back to campus!), there's no time like the present to get as much wear as possible out of this summer wardrobe staple.
The beauty of the maxi dress lies in its simplicity; throw one on and bam!–you're already dressed and looking like a million bucks. The only downside is that this simplicity can make a maxi easy to wear again and again in the same way, which can definitely get boring. But never fear, below are four different outfits that are guaranteed to make your maxi dress feel new again.
Outfit 1: A Simple Statement
This look is probably the easiest way to wear a maxi dress. It would only take a few seconds to put this outfit together — toss on the dress, add a statement-making accessory like this large bib necklace, and strap on a pair of flat sandals. This look would be perfect for those days when you've got a million things to do but still want to look chic.
Outfit 2: Excess-ories
Belt, Scarf, Earrings, Woven Bracelet, Watch, Gold Bangle, Beaded Bangles, Sandals
This look takes the first outfit to the next level with the addition of more accessories. By belting an open vest over the dress, you add another layer to the look. My favorite part of this look, however, is the stack of bracelets with the watch — you can mix and match the bracelets and watch to fit your personal style. And while I included a store-bought friendship bracelet, making your own would be a great DIY project to do with your friends and beat summer boredom. (There's a great step-by-step article here.)
Outfit 3: Top it Off
Most people equate maxi dresses with more casual looks, but it doesn't have to be that way! By adding a blazer on top of your maxi dress (a white one would be a great choice because it's summer-appropriate), you can add some polish to your outfit. I'm not saying that maxi dresses are the new power suit, but this is a nice option for the days when you just want to feel a little more put-together, or when you're out at night and want a unique cover-up to wear after sunset.
Outfit 4: Switch It Up
Bag, Shirt, Belt, Earrings (similar style), Sandals
Another fun and easy way to jazz up your maxi dress is to turn it into a skirt! By wearing a solid tee over the dress (a looser top works better, just be sure to belt it to define your shape), you've successfully disguised your dress and opened a whole new door of outfit possibilities. Teardrop earrings inject a little glamour, and a colorful clutch (I'd carry this bag without the detachable straps) finishes off the look.
What Do You Think?
Do you own a maxi dress? What's your take on the trend? What other items would you like to see featured in "One Item, Four Ways?" I'd love to hear from you, so be sure to leave a comment!