This post may contain affiliate links, which means we may receive a commission if you purchase through our links. Please
read our full disclosure here
.
Last week, we showed you how to wear a few different pairs of seriously stylish leopard shoes. For this week's installment of "One Item, Four Ways," I'll be creating outfits based around a leopard shoe that just's as chic, but a little more practical for an on-the-go college girl. I'm talking about a leopard loafer!
Loafers have been making a comeback this season, and they've been injected with a dose of glamour. They're comfortable, cute, and – because leopard can totally work as a neutral – they match with a surprising amount of outfits that you probably already have in your closet. Read on to see 4 different ways to wear this fierce footwear.
Outfit 1: Diva's Day Off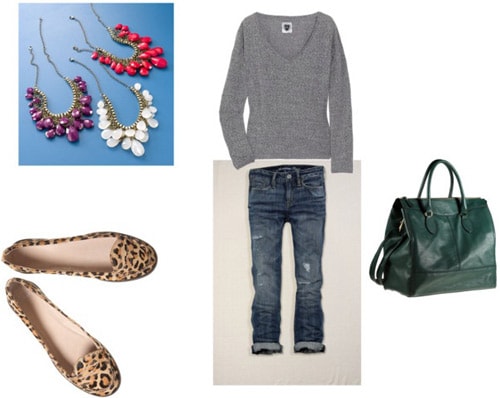 Loafers, Necklaces, Sweater, Jeans, Bag
This outfit would be perfect to wear to class when you want to be comfortable but still look good. I would tuck the sweater in around the front to keep it from looking too sloppy, and add a statement necklace to inject some color into the look. An oversized purse is a stylish way to carry all your school supplies.
Outfit 2: Silky Simplicity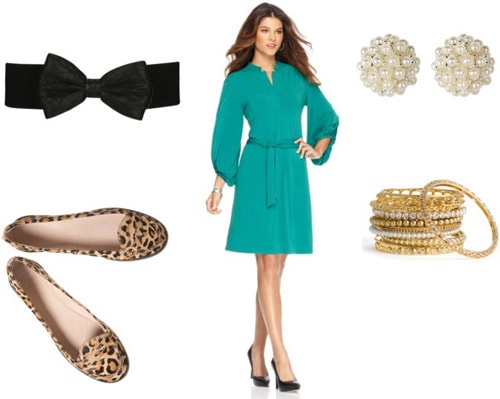 Belt, Dress, Earrings, Bangles
This look was inspired by the photo at the beginning of the article. A flowy dress looks great when worn with the structured loafers and would be perfect for a dinner out with friends. I swapped out the fabric belt for one that makes more of a statement and brings out the black accents in the loafers.
Outfit 3: Versatile Style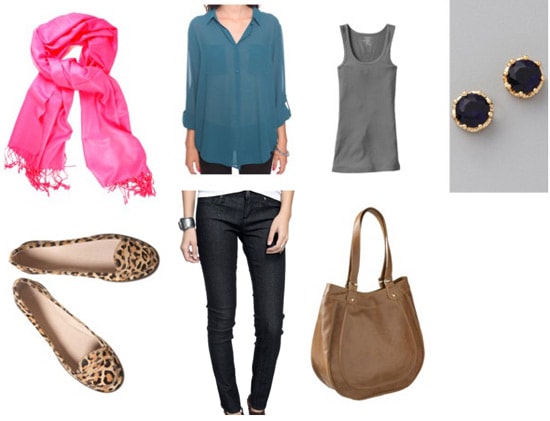 Scarf, Blouse, Jeans, Tank, Earrings, Bag
Lately I've been all about silky blouses, and I can't wait until the weather gets cool enough for me to be able to wear them with leggings and skinny jeans. The pink scarf and the loafers add a pop of color and print to an otherwise neutral outfit. I'd wear this outfit almost anywhere, from classes to a day of shopping.
Outfit 4: Not So Business Casual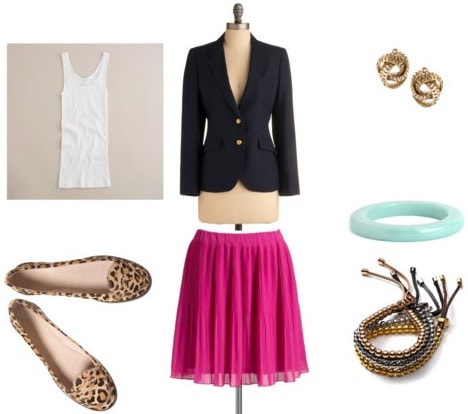 Tank, Blazer (similar style), Skirt, Beaded Bracelets, Bangle, Earrings (similar style)
When I saw this picture pop up on my Tumblr dashboard, I was automatically in love. I love the way the structure of the blazer balances out the pleated skirt, and the leopard loafers and accessories keep the look from being too stuffy. This outfit would also be super easy to transition into colder weather — just add some tights and you're ready to rock leopard no matter what the weather is!
What Do You Think?
What's your take on the leopard print shoe trend? Do you own a pair of leopard loafers? Which outfit is your favorite? What other items do you want to see covered in "One Item, Four Ways?" I'd love to hear from you, so be sure to leave a comment!