This post may contain affiliate links, which means we may receive a commission if you purchase through our links. Please
read our full disclosure here
.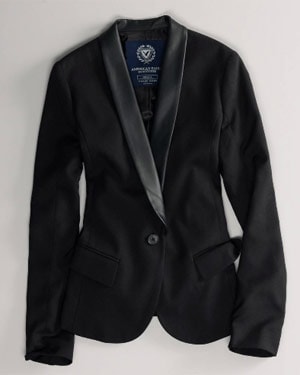 As the weather gets cooler in most cities across the country (unfortunately not where I live — I'm SO jealous of all of you who get to properly enjoy fall weather and fall fashion!), it's time to start playing around with outerwear to add another layer to your look and keep you warm. Blazers are a polished alternative to the ubiquitous cardigan, and they're definitely just as versatile!
Whether you like a navy, school-boy inspired blazer or a more fashion-forward option (J.Crew has some awesome colorful versions right now), there's bound to be a blazer to fit your personal style. Use one to inject some polish into your casual outfits, or wear one during a night on the town to add some coverage.
Read on to see four very different outfits put together using the same perfect gray blazer.
Outfit 1: Study in Style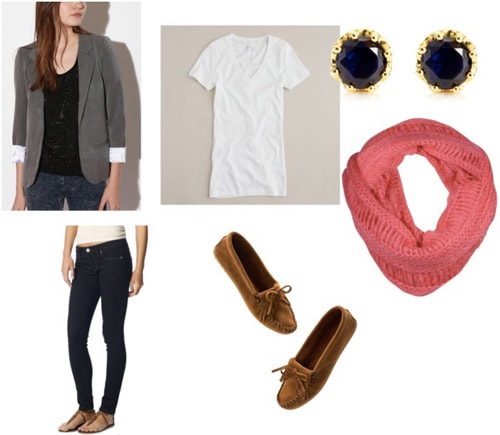 Blazer, Jeans, Tee, Shoes, Earrings, Scarf (similar style)
For many college students, the library "uniform" is made up of sweatpants, a hoodie, and flip flops. Sure, it's comfy, but it's also definitely not the most stylish outfit on the planet. By pairing a blazer with an otherwise-cozy outfit — jeggings, a tee, a scarf, and moccasins — you can add polish to your studying look. I always feel more productive when I'm not doing homework in my pajamas, and I encourage everyone to try it out — you might be surprised at how much more you get done!
Outfit 2: Classy Coverage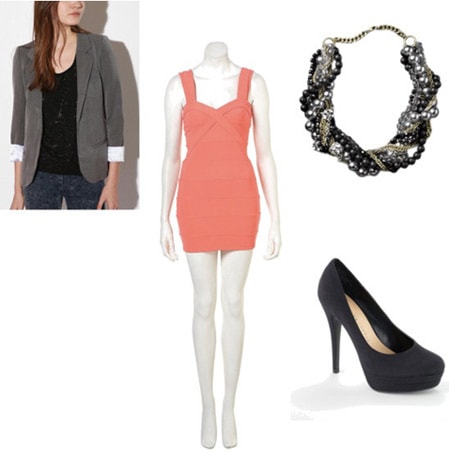 Blazers shouldn't be restricted to just daytime wear. They can be the perfect way to make a potentially-revealing dress a bit more modest at night. Blazers can add coverage and warmth when you're out on the town, and they're also a great way to get more out of your wardrobe — wear the dress one weekend on its own, and a few weeks later with the blazer!
Outfit 3: College Classroom-Approved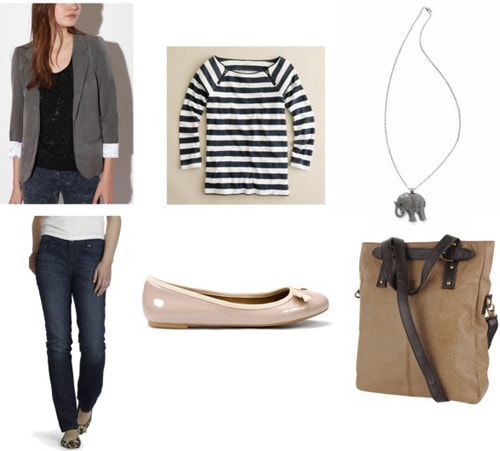 Jeans, Shirt, Flats, Necklace, Tote
I can't wait for it to get cooler here in Houston, mainly because I can't wait to wear variations of this outfit almost every day — a cute top, skinny jeans, and a chic blazer. This outfit is simple and classic, but the necklace and blazer add a little something extra. I would cuff the jeans to show off my flats, and the tote is the perfect size to carry a laptop.
Outfit 4: A Hint of Vintage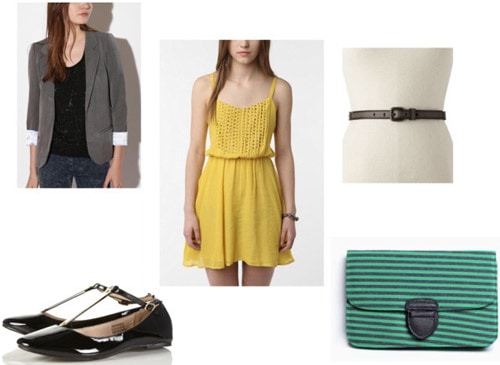 This is a great outfit to wear as we transition into fall temperatures – it might not be quite cold enough for tights yet, but a sleeveless top is definitely out of the question. Strike a balance between the two by adding a blazer on top of a sundress. Flats make the dress more season-appropriate, and a fun clutch adds a dose of color contrast.
What Do You Think?
Do you own a blazer? How do you wear yours? Which outfit is your favorite? What other items do you want to see featured on "One Item, Four Ways?" I'd love to hear from you, so be sure to leave a comment!