This post may contain affiliate links, which means we may receive a commission if you purchase through our links. Please
read our full disclosure here
.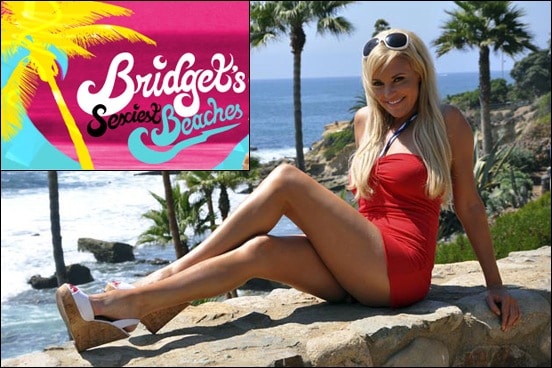 Earlier today I had the opportunity to talk with Girls Next Door and Bridget's Sexiest Beaches star Bridget Marquardt about beachwear, fitness, beauty, and her new life as a host of a show on the Travel channel.
I'm a HUGE Girls Next Door fan, and I know a lot of other CF readers love the show too, so I was psyched to chat with Bridget and share the interview with you guys. Read on to learn about her favorite swimwear, possible future luggage line, fitness tips, and how she stays so tan.

Do you choose your own outfits to wear on the show, or do you have a stylist who picks them out?
Both. I have a stylist, and she's also my hair and makeup person and a good friend. Her name is Joyce Bonelli. She totally knows my taste and what I like and she scours the internet, LA, fashion houses, everywhere for wardrobe for each of our trips.
She knows how I like to do themes for everything, so she tries to get things that follow the theme of each episode. When we were in Mexico for example we had vintage mexican skirts and ruffle tops and things like that that I got to wear. Really fun stuff. We're about to go to Morocco on Monday so she's running around town looking for Moroccan-themed stuff!
We have tons and tons of wardrobe – she travels with like 5 huge suitcases that are all just wardrobe. And when we get to each location her assistant lays everything out – all the shoes in the corner, all the bathing suits on the couch (or on the dining room table depending on the room!), and then each morning when we're getting ready it's kind of a collaborative effort of how I feel that day, what kind of activities we're doing, and what types of things I want to wear.
So I definitely have a lot of say – I choose out of all the stuff that's there like what I'm going to wear for the day. And some of it is my own personal wardrobe. If I have things that I think would be really great for Mexico or Hawaii or whatever, I'll pack those and bring them along too. So a lot of the times we use my own wardrobe.

What are some of your favorite swimwear brands?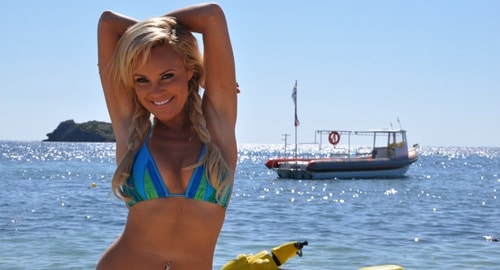 Oh gosh, I love Beach Bunny – that's probably my number one favorite brand of bikinis right now. They're very ornate. I love bathing suits that have a lot of detail to them, a lot of hardware on them. I also love just plain, bright colored, vivid bathing suits – purples, hot pinks, turquoises, and bright yellows. And a lot of those are Vitamin A – we've been using a LOT of Vitamin A. But definitely Beach Bunny is one of my favorites because they're so ornate and fun!
We also have stuff custom-made, like for instance we're doing this whole Baywatch, Malibu scene. So I had like a Baywatch red one-piece replicated to do the scene. And then we did a scene in Jamaica, where they filmed Dr. No, one of the Bond movies – I came out like one of the Bond girls in an exact replica of the bikini from the movie!

I noticed on the Travel Channel website that you were wearing clothing you designed in some of the photos. Any plans to launch a clothing line in the future?
I would absolutely LOVE to. I would love to have my own line of bikinis or even push that further and go into resort wear.
I would actually also love to do my own line of luggage because I've been having trouble finding really great luggage that's cute and fun and compartmentalized to hold everything properly. I feel like I always need so many different suitcases – I feel like I need a shoe suitcase and a suitcase for all my bathroom products and another suitcase for all my clothes, and then what do I do with my wet bikinis? I feel like there isn't a luggage line right now that addresses all of that.
I'd love for there to be (a suitcase with) compartments to separate your shoes from your clothes, and compartments like a Ziploc baggie, but higher quality than that, to hold your wet bikini. And I feel like you should be able to buy a bathroom bag that has compartments in it that are adjustable to change things to hold your liquids in place and keep everything organized so that when you open it up it's not just like a huge mess and everything is sprawled everywhere and things are leaking.
I also want to make sure the luggage is cute. Why can't we have pink luggage that's also really nice quality? Why is all the cute luggage out there right now from cheap quality brands that you find on Venice Beach? I just feel like there isn't a luggage line that incorporates (everything I discussed before) AND is cute and fun and girly.

You look like you're in great shape – what are some of your diet and fitness tips for those of us who want to get in bikini shape for summer?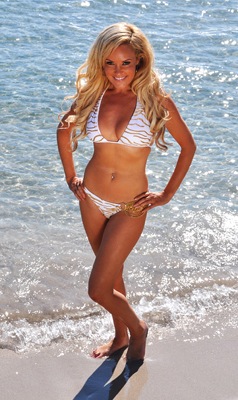 My number one diet tip is don't diet! You can't stick to it and then you end up binging and making things worse and worse.
I eat anything I want whenever I want it, but I eat in moderation. If I'm craving a candy bar, I don't eat a whole candy bar. In fact I have them provide those little bite sized candy bars on-set, because sometimes all you need is two of those and your sweet tooth is totally satisfied. So I don't believe in dieting at all – I think you can have anything you want but in moderation. You just have to watch what you're doing – don't have a whole pizza, have a couple slices of pizza and maybe a little bit of salad!
And as far as working out, working out is very important to me. I don't always love to do it but I try to find things that I love to do.
When I'm home in LA I love to do trapeze. It's a great workout – it's like cardio and yoga combined. But at the same time, I don't feel like I'm working out, I feel like I'm learning a really cool new talent. And I am, but at the same time I'm getting a great workout!
While I'm on the road I try to go for a run on the beach, and usually I try to stay at places where they have gyms. Of course the gym is my last resort – I'd rather run on the beach or do hiking or cool things like that. But I will hit the gym and do treadmill, abs, and things like that. And if I'm in a pinch, I always have a jumprope with me in my bag.

How do you get your tan? Is it real or does it come from a bottle?
My tan is completely fake. I went and got spray tanned (before I started filming the show) because I'm trying to preserve my skin, which everyone should be doing.
I wear sunscreen on my face underneath my makeup, and then on my body I wear this stuff called Tantalizer. It's by LORAC, and I love, love, love it! You have to have a little bit of color already for it to be really effective, whether it's a spray tan, a natural olive complexion or a real tan. I use that on top of the spray tan and it makes your legs look great. I can't tell you how many people go "are you wearing nylons?" It makes your legs sparkly and tan and it's great stuff.
I definitely advise people who are traveling and spending a lot of time on beaches to definitely wear your sunscreen and spray tans are the way to go! I know some of the Mystic Tans can be kind of orange and stuff, but even though they're more expensive, you can go in and get the customized airbrush tans that are really really nice, and they typically stay on pretty evenly.
My Thoughts on the Interview
Overall, it was such a fun experience to interview Bridget – she's just as nice as I expected and really took the time to answer my questions in-depth! I'm happy to hear that she fake-tans instead of laying out in the sun, and I totally agree with her philosophy on dieting and exercise.
I wish Bridget all the best of luck with her new show – I'll definitely be watching the next time it's on! What about you?
If you want to check out Bridget Marquardt's new TV show, Bridget's Sexiest Beaches airs Thursday nights at 10PM on the Travel Channel.