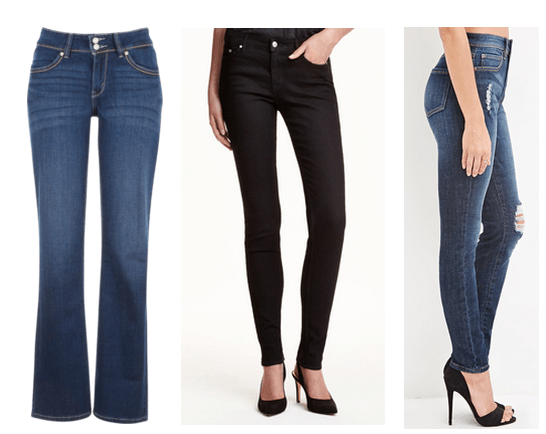 Products: Left, Center, Right.
I still remember the intense disdain I had for straight-legged pants as a kid. Why was my problem with them exactly? I'm still not sure, but apparently my obnoxious younger version had self-appointment herself as the fashion police, and straight-legs were unacceptable.
It's not like the pants in question were anything abrasive or offensive. In fact, I own many pairs now that closely resemble the straight legs I once turned my nose up at. So what was my issue?
Let's remember that this was a different time. This was the age of flared jeans and waists so low they were barely decent. High waisted and skinny? To me, that was the greatest fashion faux pas of all time.
Obviously, not everyone back then had such a narrow idea of what constitutes a good pair of pants. However, there's a tendency that we seem to have as a culture to get tunnel-vision on one style. When I was in junior high, it was low-rise flares. When I hit high school, it was high-waisted and skinny. Sure, the movers and shakers of the fashion world dressed with more diversity, and styles like boyfriend jeans came in to mix things up, but certain pant silhouettes tended to reign supreme for years at a time, eclipsing all others.
It's a strange idea, and not one I can necessarily explain. Why are pants only allowed to be widely accepted in one shape at any given time? Everything goes through trends in the fashion world, but the drastic back-and-forth of pant styles takes it to the extreme. With all the variety in fashion sense out there, why do we let the pant industry get so flat and one-note?
Enough is enough. It's time to stop playing the exclusion game with your outfit bottoms! After years of skinny and straight-legs dominating, flared styles are well on their way back into mainstream popularity. It's a welcome change for those missing the wider style, but an ominous one for fans of the skinny. Will tapered legs once again go the way of the dinosaur? How do we choose where to align ourselves?
I have a proposition, ladies. Let's not choose.
This fall, fashionistas everywhere have the opportunity to find affordable pants in both skinny and flared, with both styles available at popular retailers. It's an early holiday miracle, and I hope it's here to stay. Many of you might be passionate about your style of choice, but I promise, everyone can and should pull off a medley of different pant shapes and cuts! Let this fall season be about freedom, and allow yourself to embrace the whole spectrum of styles, even the ones that you might have written off as dated or ugly.
Sweet Skinny Jeans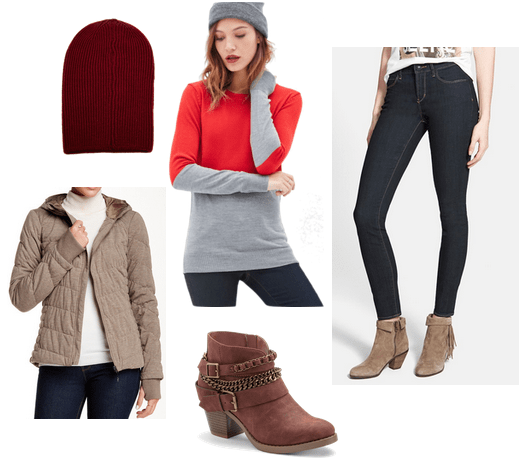 Products: Hat, Coat, Top, Boots, Pants.
I'm sure you all have your fair share of skinny jeans, so this should be an easy look. As we head into chillier weather, grab a sweater and a beanie to wear to class. Foliage colors are always a slam dunk in the month of October, so don't be afraid to mix your red and orange tones!
Fun with Flare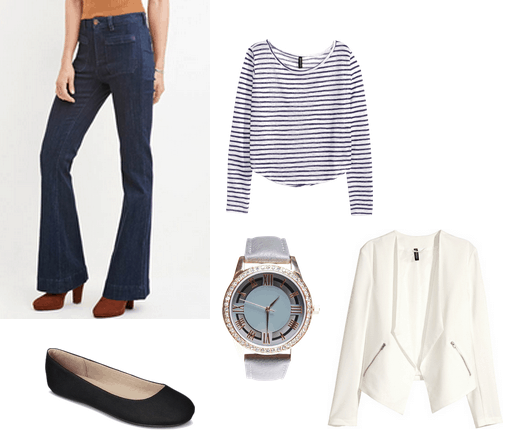 Products: Pants, Shoes, Shirt, Watch, Blazer.
Okay, no one's saying you need to immediately fill your wardrobe with '70s bellbottoms. However, there are plenty of very cheap ways to try out a gentle flare right now, like with this dark wash pair from Forever 21. Maybe this is just my association, but the more flared jeans get, the more I tend to write them off as only boho or laid-back.
In reality, flared jeans can work for any number of different aesthetics. For example, if you wear these jeans with some fun stripes, classy flats, and a blazer, they take on a polished, preppy vibe.
Comfy Boyfriend Jeans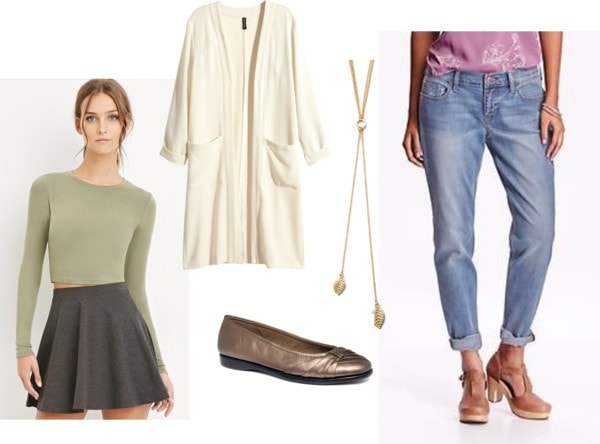 Products: Top, Coat, Necklace, Shoes, Pants
Boyfriend jeans are a wonderfully airy alternative to the painted-on jeans and jeggings you often find in stores. A tighter shirt, like this green crop, helps keep the silhouette balanced. A long necklace and loose coat complete the laid-back vibe.
What do you think?
What did you think of the looks? How do you feel about the return of flare? Do you have irrational hatred for a certain style? Have fun expanding you pants palette and let us know how it goes!