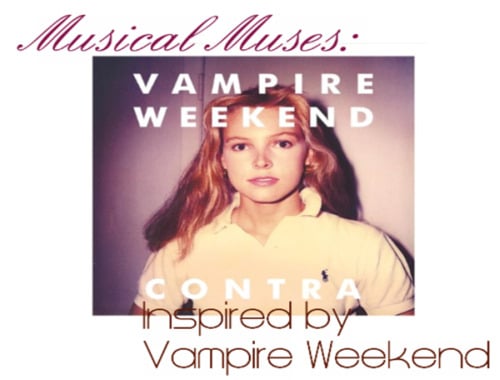 With the recent release of their sophomore album, the boys of Vampire Weekend (Ezra Koenig, Rostam Batmanglij, Christopher Tomson, and Chris Baio) have proved that they are more than just a passing fad in the music industry. Just like their much blogged-about self-titled debut album, Contra features more of the unique vocals and African-inspired rhythms mixed with preppy lyrics (and the occasional Louis Vuitton reference) that Vampire Weekend fans love.
But in addition to their musical style, these boys also have some serious fashion sense! Below, I'll show you the key elements of Vampire Weekend's style and how you can bring some East Coast prep into your own wardrobe.
Outfit 1: "California English"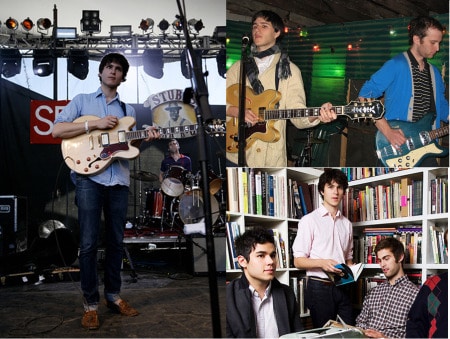 This first outfit is inspired by the band's lead singer, Ezra Koenig. His signature look is cuffed jeans with moccasins or boat shoes. Paired with a plaid button-down and a scarf, this is a laid-back look that easily works for either gender. Layer on a T-shirt (Columbia of course, VW's alma mater), some silver jewelry, and a fun watch for an easy casual outfit perfect for class.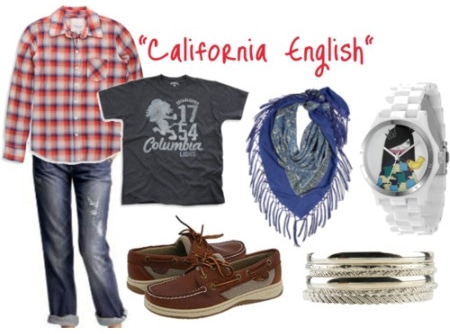 Product Information: Shirt- Forever 21, Jeans- Gap, T-Shirt- Ivysport, Scarf- Modcloth, Shoes- Zappos, Bracelets- Forever 21, Watch- Nordstrom.
Outfit 2: "White Sky"
This look showcases Vampire Weekend's playful punk side, with brightly hued jeans, ray-bans, and colorful sneakers. They still make this "punk" look their own, however, by incorporating their classic style through plaids and stripes and by throwing on a vest or sweater.
If you're feeling adventurous, try mixing prints–a big trend this season. Make it work by keeping the prints in the same color family, or combine a bold print with a more subtle one, like the striped sweater and bleached denim vest. Incorporate some elegant extras like a gold floral necklace and purple leather bag for a glam twist.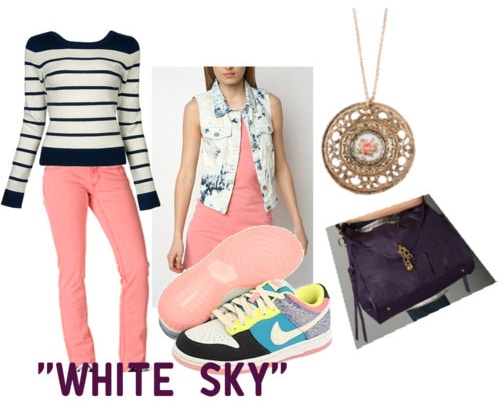 Product Information: Sweater- Forever 21, Jeans- Vans, Vest- Urban Outfitters, Sneakers- Zappos, Necklace: Modcloth, Purse- Lulus.
Outfit 3: "Cape Cod Kwassa Kwassa"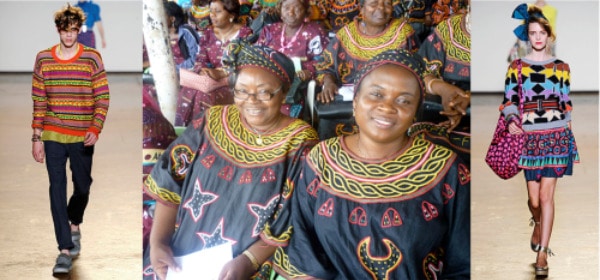 Capture the essence of the African beats from "Cape Cod Kwassa Kwassa" (off VW's debut album) and the distinctive rhythmic style that inspires Vampire Weekend's music with this outfit.
As seen in shows like the Marc by Marc Jacobs Spring 2010 collection, this look is all about having the right confidence to pull off crazy colors and tribal prints. To try out this trend, pair a boldly patterned cardigan with neutrals for a pop of color that is still ultra wearable. Add a wide knotted headband for a toned-down nod to Jacobs' oversized hair bows. Don't forget some cute jewelry either–a beaded bracelet looks just right for a safari while a little bumblebee ring keeps things fresh and fun.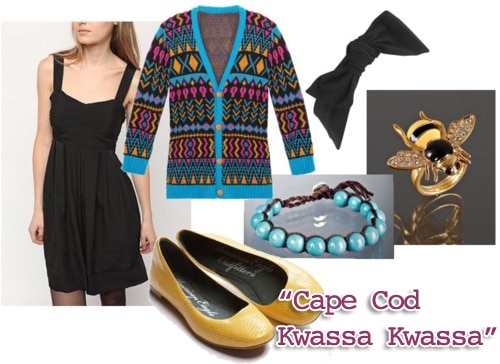 Product Information: Dress- Urban Outfitters, Sweater- Fred Flare, Flats- American Eagle, Bracelet- Bluefly, Ring- Bluefly, Headband- Forever 21.
Want more Vampire Weekend?
Download these!
"M79"- A standout from Vampire Weekend's debut album, M79 is a catchy tune with an international flair.
"Diplomat's Son"- The trials of romance and the rich are relayed in upbeat layered rhythms.
"California English"- Escape from the January blues with this fast-paced song about sunny California.
Watch this!
"Cousins"- With its crazy colors and cool optical illusions, this music video makes me want to throw my own block party, confetti and all.
Also, check out Vampire Weekend's website for a free download of their single Horchata!
While you wait for their new tour to come to a city near you, check out these other Vampire Weekend inspired pieces!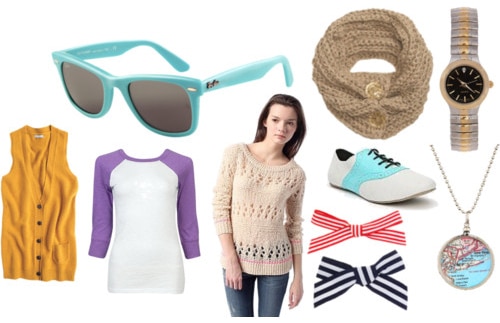 Product Information: Sweater Vest- Delias, Raglan- Forever 21, Sweater- Urban Outfitters, Sunglasses- Ray-ban, Neckwarmer- Modcloth, Watch- Modcloth, Shoes- Urban Outfitters, Bow Brooches- Topshop, Necklace- Lulus.
What do you think?
Are you a fan of Vampire Weekend's style or music? What music artists do you look to for fashion inspiration? Are there any artists you'd like to see in a future post? Let us know with your comments!