This post may contain affiliate links, which means we may receive a commission if you purchase through our links. Please
read our full disclosure here
.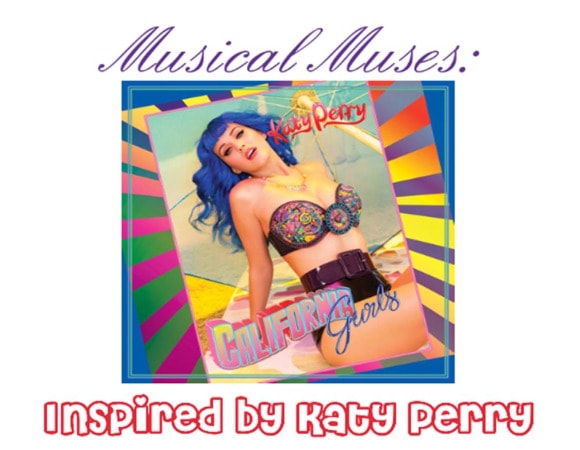 Just a few years ago, Katy Perry was beginning her music career singing gospel and opera as Katheryn Hudson. Now the pop star, known for her controversial lyrics and daring sense of style, has had numerous chart-topping hits, is releasing a new album this summer, and will make her film debut in 2011's The Smurfs. If you'd like to liven up your summer wardrobe, let Katy's colorful vintage style be your guide.
Outfit 1: "California Gurls"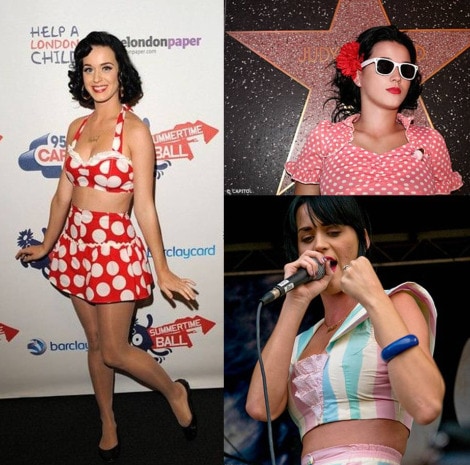 One of Katy Perry's signature looks is a pair of high-waisted shorts or a high-waisted skirt paired with a crop top. (She especially loves crop tops with sweetheart necklines.) She is not afraid of color and loves to try out different combinations. Channel her retro pin-up vibe with a polka dot swimsuit, denim cut-offs, and fun teal jelly sandals. Add some pops of color with bold bangles and a sparkly flower clip in your hair.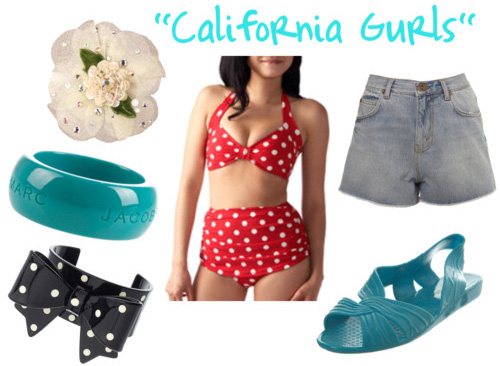 Product Information: Flower clip- Tarina Tarantino, Blue Bangle- Far Fetch, Bow Bangle- Miss Selfridge, Swimsuit- Modcloth, Shorts- Miss Selfridge, Sandals- Miss Selfridge.
Outfit 2: "Hot N Cold"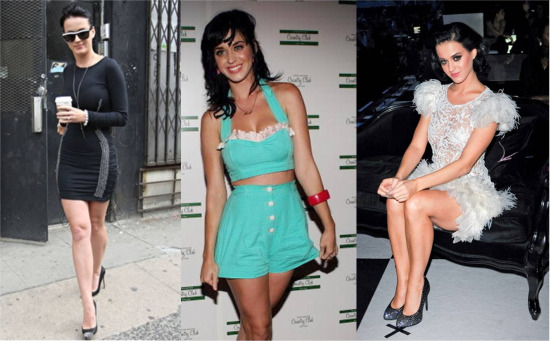 As much as Katy loves all things cute, vintage-inspired, and quirky, she also likes to glam up her look with edgier pieces every now and then. Feathers, glitter, studs, and black accents are her go-to items for statement-making style.
Adorn this baby blue dress with a mix of sweet and punk-rock accessories in hot pink and black for a look that is quintessentially Katy. Top it all off with Katy's signature pink lipstick.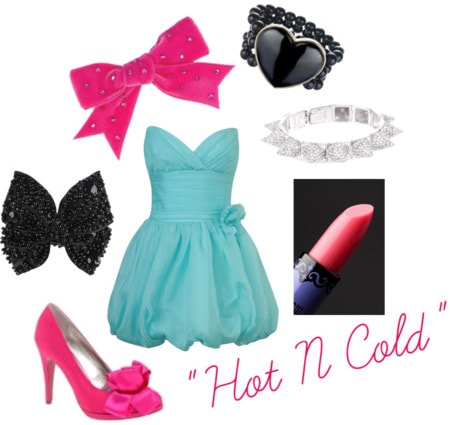 Product Information: Pink Bow Clip- Tarina Tarantino, Black Bow Clip- Forever 21, Heels- Asos, Dress- Forever 21, Bracelet- Dorothy Perkins, Silver Bracelet- Asos (Katy is wearing the same one in the first photo!), Lipstick- Anna Sui.
Outfit 3: "Waking Up in Vegas"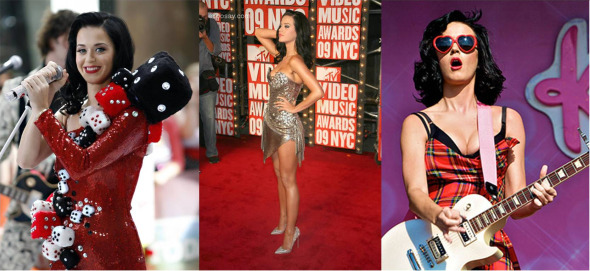 When it's time to perform, Katy loves to be creative with her costumes. Dice and playing cards, fruit, and most recently, blue hair have all made it into her stage wardrobe. She embraces the fun of fashion and wears what she likes regardless of criticism. Add a dash of Katy's on-stage style to your look by rocking cheetah print, glitter heels, vintage-inspired accessories, and Ray-Ban sunglasses.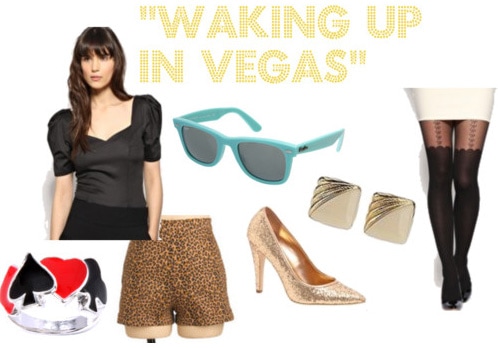 Product Information: Ring- Asos, Top- Asos, Shorts- Modcloth, Sunglasses- Asos, Heels- Asos, Earrings- Urban Outfitters, Tights- Asos.
Looking for More of Katy Perry's Music and Fashion?
Watch this video!
"California Gurls"– This Candyland-themed video features Snoop Dogg in a technicolor wonderland full of everything from walking gummy bears to candy cane snakes.
Listen to these!
Katy Perry's new album, Teenage Dream, comes out this August, so check out her website for tour dates and more info. And here are some more pieces inspired by the singer's style.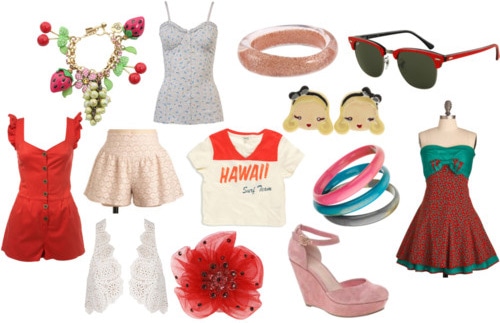 Product Information: Romper- Miss Selfridge, Bracelet- Zappos, Tank- Forever 21, Shorts- Modcloth, Vest- Forever 21, Flower Clip- Tarina Tarantino, Bangle- Asos, Sunglasses- Endless, Earrings- Zappos, T-Shirt- Forever 21, Bangles- Dorothy Perkins, Dress- Modcloth, Heels- Asos.
What do you think?
Are you a fan of Katy Perry? Will you be incorporating any vintage items like high-waisted shorts into your wardrobe this summer? Let us know with your comments, and as always, let us know if there are any artists you'd like to see featured in a future post!