This post may contain affiliate links, which means we may receive a commission if you purchase through our links. Please
read our full disclosure here
.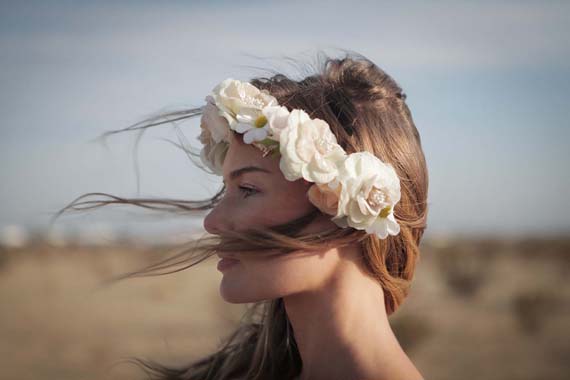 Photo: ELLE
Summer is almost here, and for many of us it means that a slew of fabulous concerts are heading our way. Whether you're a seasoned veteran or you just made plans to attend your first music festival, you can guarantee the weekend will be filled with friends, fun, and memories you won't soon forget.
One of the biggest obstacles of attending an outdoor music festival (especially one that requires you to camp out) is staying comfortable in the elements for a long period of time.
Last year, we wrote a post detailing must-know tips and tricks to make the experience easier. This year, we're back with a few more tips, plus five fantastic music festival outfit ideas that are certain to keep you feeling good and looking chic.
Let's get to it!
How To Be Prepared and Look Fabulous At An Outdoor Festival
Photo: ELLE
Bring sunscreen.It's imperative. I like the spray-on kind for easy application. Pack it in your day bag and reapply often. You can even use it as a sneaky prop to talk to someone cute – offer to spray them down!
Pack baby wipes and tissues in your day bag. Baby wipes can rid you of that sticky sweat feeling on your neck, face, and hands, and will automatically make you feel refreshed. Tissues are necessary in case one of the gross Port-A-Potties runs out of toilet paper… or if you uh, have to squat in the woods somewhere.
Stick with easy, long-lasting make up. Waterproof mascara, cheek stain, and colored lip balm are all you'll need. Anything else will become a sweaty, smudged mess after a few hours.
Carry a bag that keeps your hands free. A cross-body bag, chic backpack, or one of those North Face fanny packs we were all obsessed with in 8th grade are ideal. You'll need your hands free to carry drinks and and to dance!
Bring a juice pack for your cell phone. This way you can charge your phone on the go. You can pick these up for under $30 at Walmart or pharmacies. Be sure to close out extra apps and turn off Bluetooth to conserve energy – you'll need your phone working so you can take pictures and, in case you get separated, find your friends.
Stay hydrated. Most outdoor festivals let you bring your own refill water bottles, and even provide free water! Snap a carabiner to it and attach it to your purse so you don't accidentally forget it somewhere.
Check the weather. If a cold front is headed your way, pack a jacket. If rain is coming, bring an anorak and rain boots. Thank goodness I remembered to bring rain boots to Wakarusa last year – it poured on and off throughout the weekend, and every walkway, campsite, stage, and bathroom was covered in a 5-inch layer of thick mud. If it wasn't for the rain boots, I would have been completely miserable the whole weekend.
Keep an eye on your drinks and surroundings. In a crowd of thousands, there's bound to be a few shady characters. Keep your drink in sight at all times, and never go off to a stranger's campsite with them alone – no matter how friendly or cute they might be.
Make peace with the grime. If you're at a festival that requires you to camp out, accept and embrace the fact that you're going to get grungy. The more you try to fight it, the more time and energy you'll waste trying to stop the inevitable from happening. Forget about your greasy hair and sticky body – in a day or two, you'll be home taking the most epic shower of your life. While you're at the festival, focus on your friends, the music, and having fun in the moment.
(Again, check out this post for a full survival guide!)
Outfit Ideas
1. Crop Top + High-Waist Shorts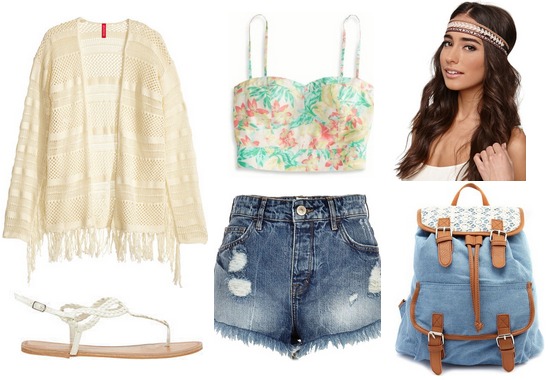 Cardigan, Cropped Top, Shorts, Shoes, Backpack, Hair Band
Floral print cropped tops and outdoor festivals were practically made for each other! Pair yours with distressed, high-waist denim shorts, then add a kimono-style cardigan if you anticipate chilly weather. Finish the look with sandals, a hippie headband or two, and a backpack to carry all of your belongings.
2. Maxi Dress + Flower Crown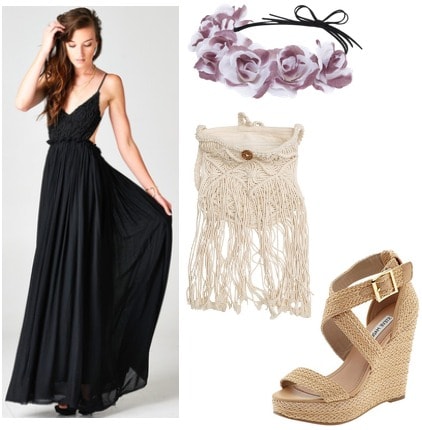 Dress, Purse, Wedges, Flower Crown
If you're going for a more dramatic look, you can't go wrong with a maxi dress paired with a flower crown. I pretty much have permanent Barbie feet and could handle wearing medium height wedges for several hours, but swap those out for flat sandals if you know your feet have a tendency to get tender. Lastly, grab a crocheted cross-body bag.
3. Tank Top + Leggings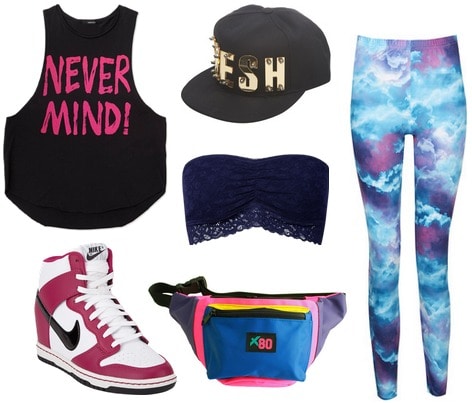 Tank Top, Leggings, Bandeau, Shoes, Hat, Fanny Pack
This sort of outfit is perfect if the festival you're going to will have a lot of EDM and dubstep music. Layer a bandeau under a slouchy tank top, and pair it with your wildest pair of leggings. Finish with statement shoes and a fun hat, then complete the ensemble with a kitschy throwback fanny pack.
4. T-Shirt + Hot Pants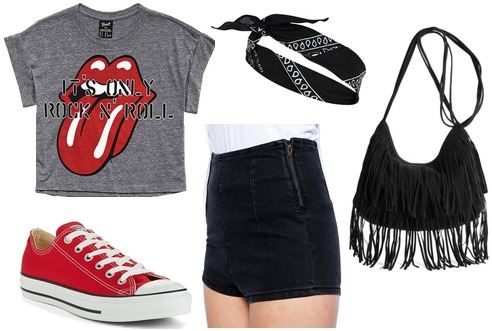 Top, Shorts, Purse, Bandana, Shoes
This outfit is a take on a sort of retro, rockabilly pin-up look. Contrast an old concert tee with super-short denim hot pants, then balance them out with a pair of Converse All-Stars. Finish with a fringed purse and a rolled-up bandana tied around your head.
You can go to typical hairband way – where the flat, rolled part lays across your forehead – but I prefer to tie my hair in a pony, then tie the bandana's knot off-centered on the crown of my head.
5. Dress + Denim Vest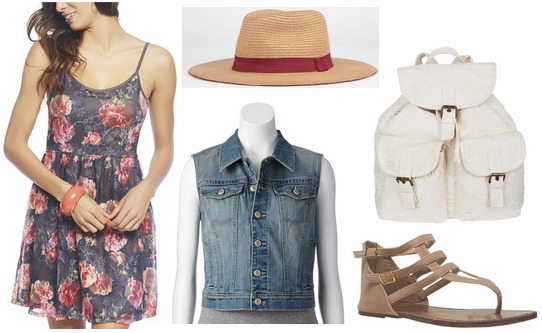 Dress, Vest, Hat, Sandals, Backpack
A sundress always looks effortlessly cool at an outdoor concert, especially when it's paired with a denim vest for a fun retro flair. Add a Panama-style brimmed hat, a backpack, and for the finishing touch, a pair of sandals.
What Do You Think?
What concerts or festivals are you going to this summer? Have you ever been to one before? Have you ever camped out at a music festival? What advice would you give to newcomers? What are you planning to wear to these events? Leave a comment and tell us what you think!