This post may contain affiliate links, which means we may receive a commission if you purchase through our links. Please
read our full disclosure here
.
When supermodels vacation – which seems to be quite often – they always do it in style. Paparazzi are sure to be lurking whether they're in Miami or St. Tropez, so these beauties have to be camera-ready at all times.
With summer straight ahead, we'll take some beach and poolside style inspiration from these seemingly professional vacationers. Below, I've listed three beach fashion must-haves, inspired by our favorite supermodels.
1. The White Dress
The white dress is a beach classic. Lightweight and breezy, it'll keep you cool under the sun, but it looks much more put-together than the standard gym-shorts-and-t-shirt look. So whether you're sitting on a beach chair or making your way to lunch on the boardwalk, a white dress is always a great choice.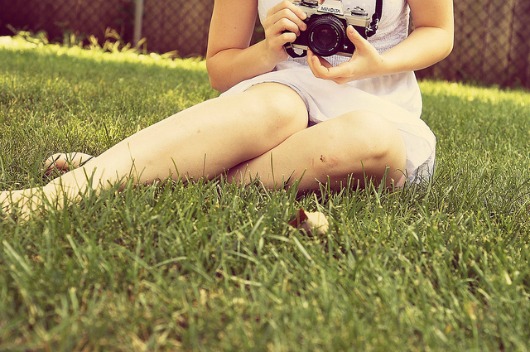 Credits: 1, 2 | Products: Long Dress, Short Dress, Watch, Sunglasses, Bracelet, Beaded Necklaces, Stone Necklace, Hat
For inspiration, check out how Naomi Campbell and Elle MacPherson style their white dresses. Naomi added a matching white straw hat to beat the sun and show off her fashion sense, and of course sunglasses were a must.
Elle, on the other hand, decided to sport some standout jewelry. Though it's a little hard to make out in the picture, the supermodel is working both layered necklaces and bracelets along with an oversized gold watch. As for shoes? No point when the sand's going to be underneath your feet!
2. Jean Shorts
When the temperatures start to rise, jean shorts become a wardrobe staple for me, and with so many style, shades, and fits available, everyone can rock a pair. They always make for an effortless beach look, as you can pair them with a tank/ tee, or simply a bikini top if you're on the beach. Both ideas are demonstrated below by the gorgeous Adriana Lima and by Miranda Kerr, Candice Swanepoel, and Alessandra Ambrosio.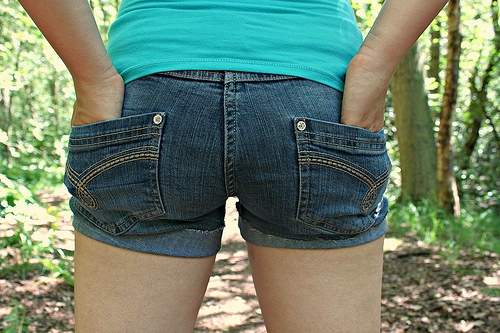 Credits: 1, 2 | Products: Shirt, Bikini Top, Shorts, Scarf, Sunglasses
Adriana's look is definitely more of a "look" than what the girls on the right are rocking, but the swimsuits the three angels are wearing are definitely cute. I particularly love Candace's white bandeau top, as the jeweled design in the middle adds some interest and sparkle to an otherwise basic swimsuit.
To complete the look like Adriana does, though, add a fun or graphic cotton tee and a lightweight scarf. The scarf not only adds an intriguing visual element but also can come in handy on the beach if the wind starts to make it a bit chilly. Mandatory sunglasses finish up this cool and casual ensemble.
3. Patterns and Prints
The beach always puts everyone in a good mood, so what better way to express that positive energy than through your look? Even if you're a girl who usually opts for all black or neutrals (guilty), use your beach attire as a fun escape from your everyday style. Loud prints and bright colors are always in style under the sun.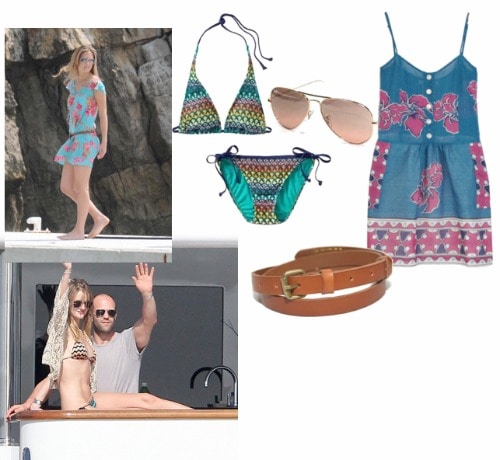 Credits: 1, 2 | Products: Bikini, Sunglasses, Dress, Belt
Prints and patterns can really be worn anywhere, whether on your swimsuit or your cover up. Bar Refaeli dons an adorable floral cover up in the picture above that can serve as great style inspiration. The print dress, with a light brown belt wrapped around it, lets everyone know summer is here.
As for printed swimsuit looks, check out Rosie Huntington-Whiteley. Though her suit looks to be Missoni, you can pick up a similar patterned suit for a much lower price that's sure to look equally chic and fun.
Thoughts?
What's your beach/poolside style like? Do you put together an outfit or just throw on anything over your suit? Know of any other beach icons worth drawing inspiration from? Let me know!