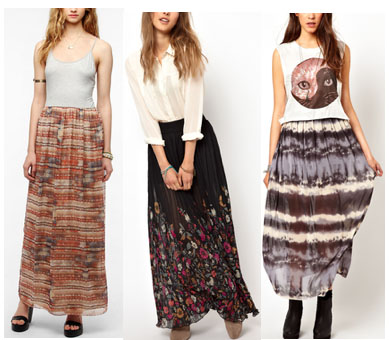 Skirts: Urban Outfitters, ASOS, ASOS
Do you struggle with transforming your outfits from day to night? Don't worry, CF is here to help turn that daily annoyance into a fun challenge. Class to Night Out focuses on one piece per week, and aims to help you take your look from study sessions in the library to dancing the night away.
Maxi skirts are perfect for summer — like you didn't already know that! But neon colors and bright floral prints are getting a little old. What's the point of having a skirt you can really only wear two or three months out of the year?
Thankfully, tons of edgy, sophisticated prints are popping up on maxi skirts everywhere, and these abstract hues and patterns are unique enough to be worn well into the fall. (It's coming sooner than you'd think!) Below, check out two looks I've styled around an edgy, abstract floral maxi skirt — one for day, one for night.
Abstract Maxi Skirt: Class
Skirt, Tee, Belt, Sandals, Bag, Cuff, Earrings
For a breezy, feminine look with a slight edge, pair your skirt with a classic grey t-shirt, adding a skinny pink belt at the waist. This creates a super comfy outfit that looks really chic. Add fun accessories, like thick-strapped gladiator sandals and a bright yellow satchel for some summery flair. Next, add sparkle with a chain-look cuff and snake-shaped earrings.
Abstract Maxi Skirt: Night Out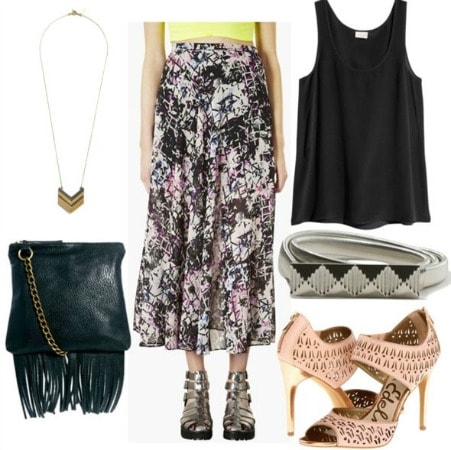 Skirt, Tank, Belt, Pumps, Bag, Necklace
Create a fierce night out ensemble by pairing your skirt with a simple, slightly oversized black tank, cinching it at the waist with a trendy silver belt. Oversized tops are amazing for nights out — not only are they totally comfy, they look super sophisticated when styled properly. Add wild pieces like a fringed black cross-body bag, edgy pink cut-out pumps, and an arrow charm necklace to complete the look.
Your thoughts?
Do you love the maxi trend? How would you style this skirt? Be sure to let me know what you think of the outfits in the comments, and what other pieces you'd like to see featured on Class to Night Out!