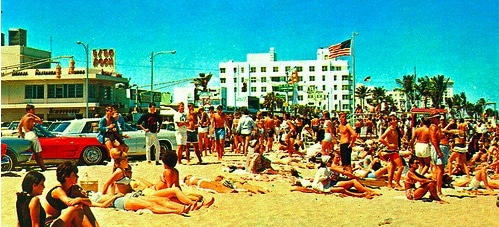 It's amazing how quickly time has passed! It feels like only yesterday we were reporting on New Year's Eve outfits and voila! March is already here. This time of year is when colleges around the country are gearing up for one of the most anticipated events of the year: Spring Break!
Now, the most popular destinations for spring break are those that involve sun, beach, and warmth. After all, this is a vacation, and a lot of us are in dire need of a break from the cold.
Lately, many of us have been focusing on layering and finding cute winter coats, so we need to brush up on appropriate travel/beachwear! And don't worry: all of these looks cost less than $100 total, so you'll have all the leftover change you need to buy drinks, souvenirs, and whatever else you may need while on vacation.
Exhibit A: Travel Attire
When traveling on the road/to the airport/to board a cruise, you should wear something comfortable and practical.
I chose this particular outfit for a number of reasons. First, I think skinny jeans are extremely versatile and if you get hot you can always roll them into capris. In addition, I always go for a nice, loose tank or top when traveling because I've had issues with other tops before (like the time I wore the most static-prone silk top ever and it kept sticking to my body during my flight- no fun). Also, it's spring! Embrace a colorful cardigan! And don't forget cute accessories that are easy to remove for security checks.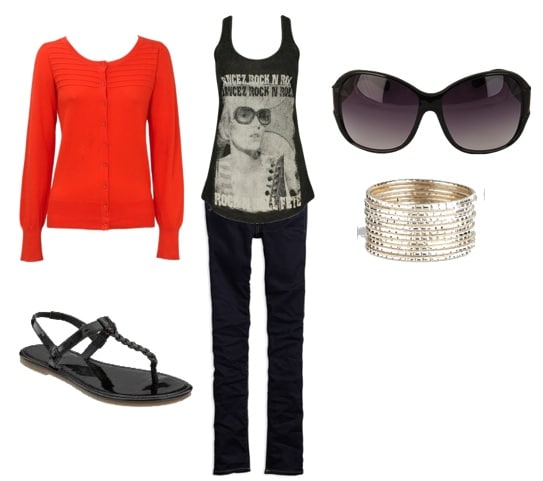 Products: Jeans (on sale!)- American Eagle, Sunglasses- Forever 21, Rock 'n Roll Tank- Forever 21, Cardigan- Oasis, Bangle- Charlotte Russe, Sandals- Old Navy
Exhibit B: Poolside/Beachside
So you've settled into your fab beach house, or have found your chic cabin on your cruise…now what? Time to hit the pool and/or beach, of course! Now, there's a lot to be done at the beach besides swimming. Often times you will find outdoor bars, a vendor will catch your eye, etc. so it's important to be prepared to transition! Here's an outfit that is versatile for sun tanning, grabbing lunch, or moseying along the beach!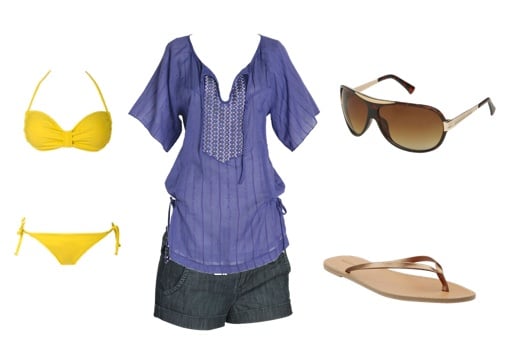 Products: Bathing Suit- Alloy, Tunic- Delia*s, Shorts- Forever 21, Sunglasses- Wet Seal, Sandals- Old Navy
Exhibit C: Day-to-Night Transitions
Well, we all TRY to pack light, but sometimes it's really hard to do so when you aren't quite sure what's in store for your trip. The solution is to know how to transition your day outfits to night-time with minimal effort. Here's a day outfit (under $100), as well as a night time transition look (which is still under $100 as well).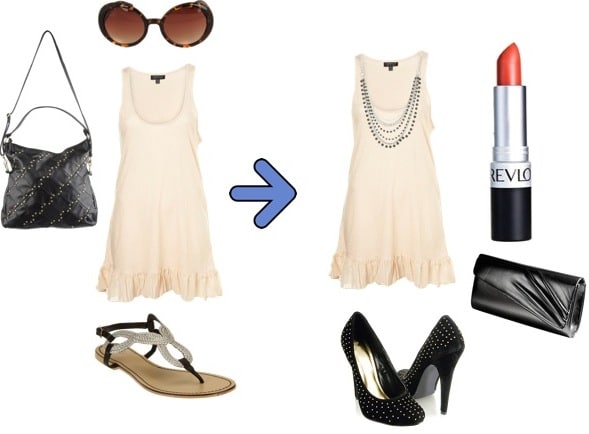 Products: DAY OUTFIT: Sunglasses- Forever 21, Tote- Forever 21, Sandals- Urban Outfitters, Dress- Top Shop … NIGHT OUTFIT: Lipstick- Revlon (at Ulta), Clutch- Very (UK), Pumps- Forever 21
For more Spring Break fashion and packing tips, see 5 Spring Break Outfit Ideas and Your Essential Spring Break Packing List. Also, stay tuned for next week's "part II" edition where I will discuss more spring break attire… with all outfits under $100!
A Penny for Your Thoughts…
Where are you going for Spring Break? What are you packing strategies? Let us know with a comment!