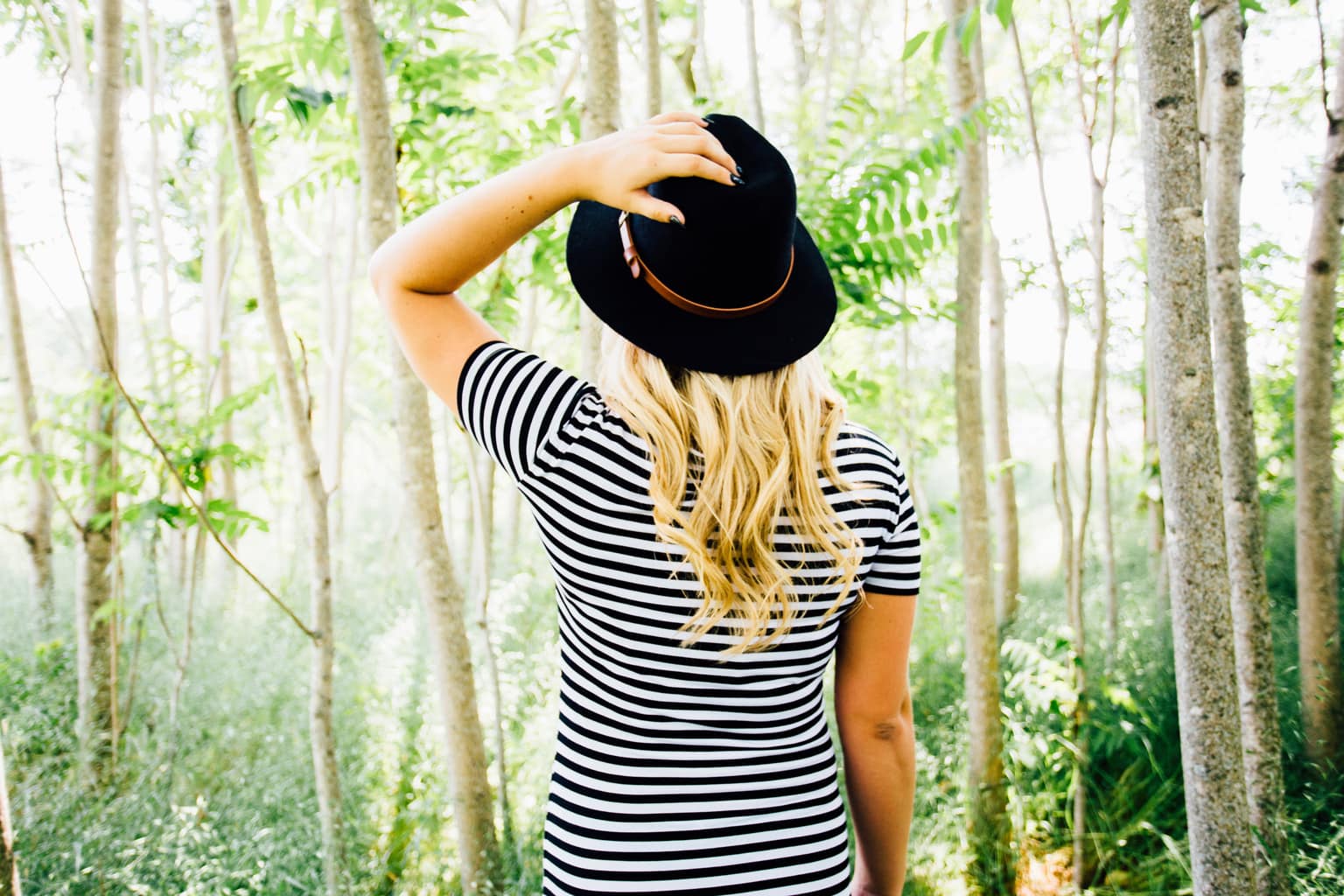 A striped shirt is a classic piece that you probably already own. Today, I'm going to show you how you not one, but two ways to use it to take your comfy Monday outfit to the next level. And if you're craving some chocolate for breakfast but the mid-winter bloat's got you in a bit of a slump, I got your back. I'll also share how to get textbook reading done quickly and efficiently.
Outfit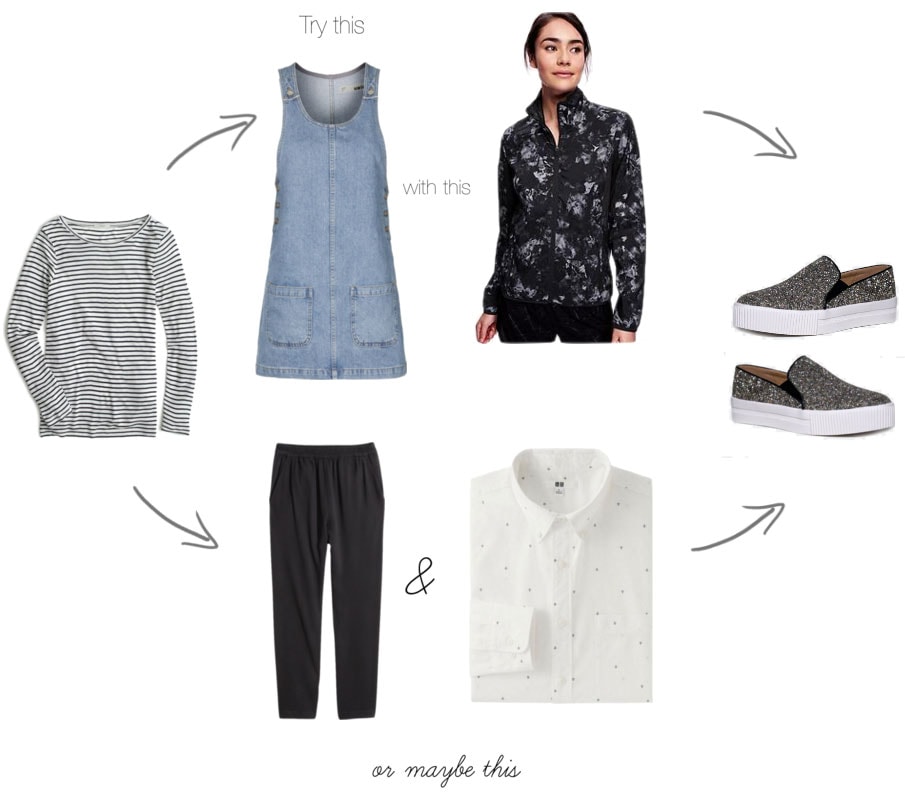 Products: Striped Shirt, Denim Dress, Jacket, Sweatpants, Polka-Dotted Shirt, Shoes
The athleisure trend is more popular than ever but the looks I'm going to show you don't require you to do much more than dig a little through your closet to find similar pieces. And if you're looking to just get your feet wet with the athleisure trend, read on!
The first look pairs the striped shirt with a denim dress. When you think "dress", you might think high maintenance. When I see a dress, I think "no pants"…and who doesn't want to go around pants-less, amirite? Finish it off with an athletic jacket or maybe even a school sweatshirt. It'll athleisure-ify your outfit and keep you warm if there's a bit of a draft.
For this second look, we're going into print-mixing territory. Not only is print-mixing a good way to get out of a style rut, but when you have 20 minutes to pull yourself together, it's nice to be able to throw on whatever you want without having to worry about matching (not to mention, this look was huge during NYFW).
So we're going off the deep end and pairing stripes with polka-dots. Throw on a loosely fitted button-up over your stripes. If you're not a big fan of mixing prints, try this denim shirt instead. It'll look just as cool and keep you just as cozy. Remember you can reverse the layers, so if you want your stripes to stand out, just throw the button-up underneath. And for those of you that insist on nothing but sweats for Mondays, here are the ultimate sweats: loosely fitted and not a button in sight.
Finish both looks with a pair of slip-ons. Yes, they're back and they're here to stay. I picked these glittery ones because glitter was big on the runway and this seems like a practical and comfortable way to do them. If you prefer to keep the glitter on your crafts, though, try these slip-ons instead.
Breakfast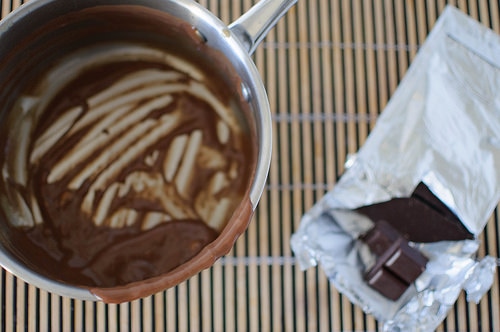 Chocolate for breakfast…and it's healthy? Yes, indeed. Today, I'm going to share a quick recipe for baked chocolatey oatmeal in a mug:
Take a serving of oats and mix together with two egg whites (or one whole egg), 1/2 cup of milk, 1/3 of a banana, and a tablespoon of cocoa powder. You can use honey or stevia or brown sugar to sweeten to taste. If you want something extra chocolatey, throw in a few pieces of a chocolate bar — I'm guilty of this more often than not.
To cook, just microwave everything a microwave-safe mug for around a minute and half, and top it with fresh fruits, or more chocolate!
Organization Tip of the Week: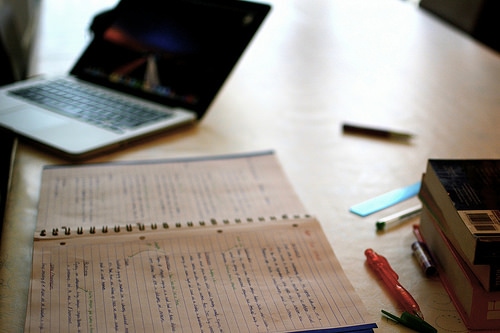 Taking notes from a textbook is honestly the worst part of studying for me…does anyone else agree? There's always hundreds upon hundreds of pages to read, and frankly, textbooks don't always have the most eloquent language.
What I do to combat falling asleep in my books is to read a section at a time. After each section, I'll jot down what I need to know from that section on a 3″ by 3″ sticky note. Why is it important you know what size I use? Because a lot of the times, anything more than that is unnecessary. Unless you're jotting down how to derive an equation or a mechanism, nine square inches should be plenty of space to write down the key points. It limits you in a way that focuses your mind.
Done with a chapter? Go through your sticky notes, arrange them in a way that makes sense to you, and write it down again into the notebook you use for that class or a study guide. It may seem like overkill, but by doing this, you're constantly exposing yourself to the new material.
Questions?
Comments? Strongly worded reactions? That's a wrap for today's Lazy Monday, but let me know if you try any of these tips out! And if there's some article of clothing you want me to turn Monday-friendly or a study tip that you're wondering about, just say the word and I'll get on it.