Well, that's another month done and dusted! I've been back home in Singapore for most of the month, which means I (finally!) had access to all of my clothes again.
Having my entire summer wardrobe back has been super-exciting, but also incredibly overwhelming for someone who's been living with a suitcase-sized closet for the last three months. Here's a look at my favorite outfits from this month– I've been experimenting a lot!
1. Red and White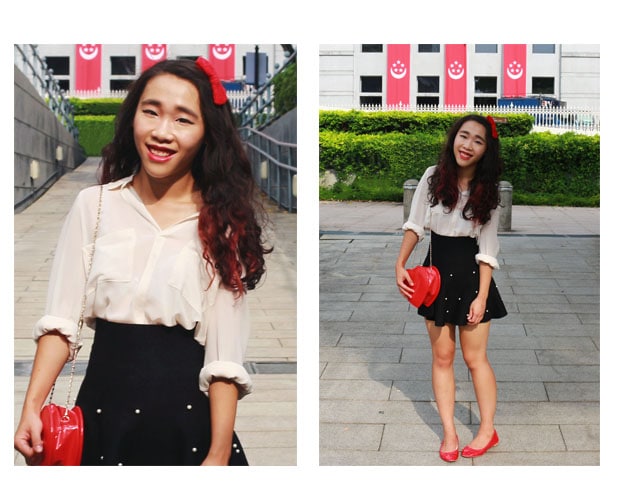 I got back home just in time for Singapore's National Day. Because our national colors are red and white, people wear all the red clothing they own for the celebrations, but I wanted to incorporate my country's colors into something that I would gladly wear any other day of the year.
My favorite element of this outfit is the super-high-waisted skirt– I love the exaggerated silhouette. I don't usually roll up the sleeves of chiffon blouses, but I wanted something that was thinner than cotton and just as polished. If you're having a hard time finding the perfect cotton blouse for internships and interviews, try a chiffon version. They're easier to shop for because they usually have an oversized fit that falls better on the body.
2. Midi It Up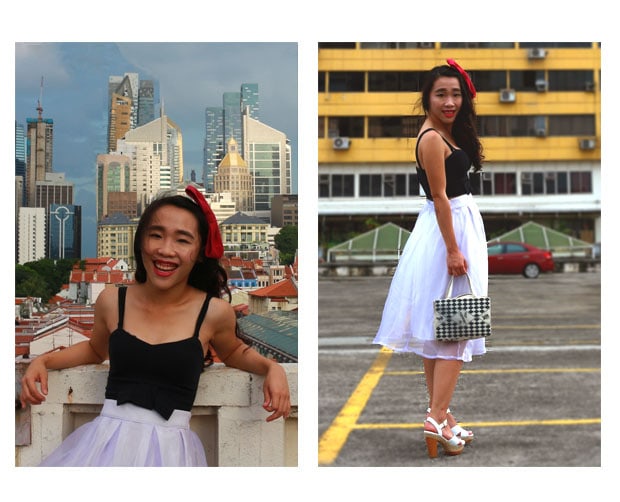 I'm 5'3″, and extremely careful with midi-length skirts. Because of their in-between length and dramatic silhouette, I'm always afraid they might overwhelm my 5'3″ frame. When I found this gorgeous skirt in a Parisian thrift store, though, I knew I had to have it– even if it meant experimenting with styling.
Midi skirts, especially if they end mid-calf, sometimes make my legs look stumpier, so I always pair them with heels. To keep the top half slim-fitting, I went with this black cropped bustier with a bow detail. I've found that the best way to style a poofy midi skirt (for my frame, at least) is to keep everything else streamlined to create the illusion of height.
3. Velvet Revolver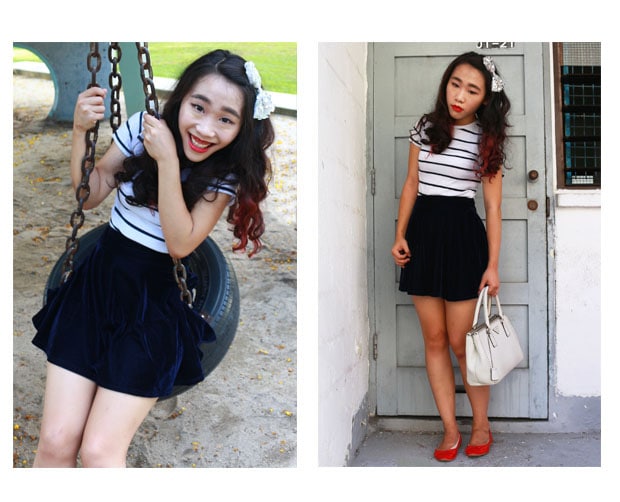 I'd been looking for a striped top for the longest time, and hit up Primark while in Berlin (they're like H&M, and their first American stores are coming to the East Coast this fall!). Since the high collar and ribbed jersey detail of the shirt I eventually picked out is edgier and super-casual, I mixed it with my favorite velvet skirt. If you're not sure how to dress down luxe fabrics like lace, velvet and satin, you can't go wrong with textures like ribbed jersey and denim.
When in doubt, I like to color-block. The rest of the outfit is an exploration of texture, but both pieces are navy. Strategic pops of color are a great way to instantly pull an outfit together without stealing attention from the ensemble's interesting mix of fabrics.
4. Poof!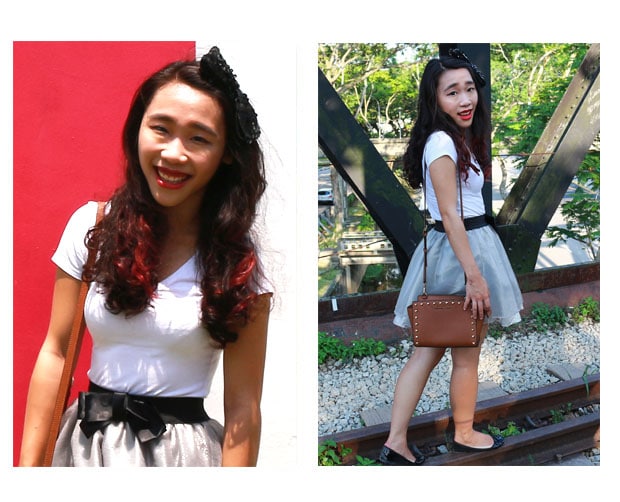 Can you tell I really like poofy skirts? I left everything that wasn't dryer-friendly at home when I packed for my first year of college, so I've been rediscovering my love for tulle this month. Like the black bustier crop top in outfit #2, this skirt has an interesting bow detail at the waist. (If you've been reading my posts, you'll notice I also really like bows.)
If you're looking for a really simple outfit that looks like you put in ton of effort, try pairing a basic t-shirt with a statement skirt. This trick helped me a ton when I traveled last year, since you can wear each piece several different ways. A lot of the principles I used in outfit #2 apply to this ensemble as well– dramatic skirts are all about keeping your top half slim.
That's All, Folks!
With the start of the new school year, this post concludes my series of summer style diaries. I hope you found them fun and somewhat useful!
Because I always keep my readers in mind when producing content, I wanted to ask: would you be interested if I continued my style diary series throughout the semester? I would love to hear what you think!