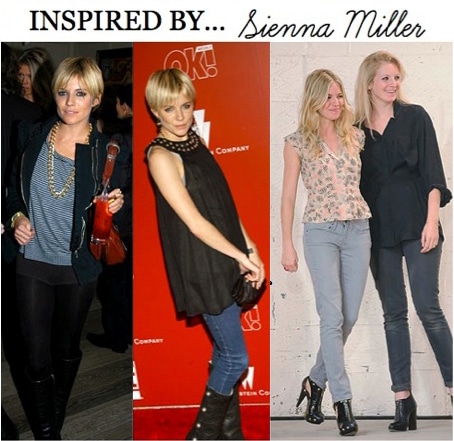 Sienna Miller is a great source of inspiration because she is a New York-born, England-raised transplant. Much of her style is inspired by these two fashion capitals. Sienna has even taken her savvy style and collaborated with her sister to create the line Twenty8Twelve, one of our picks for best celebrity clothing line. Curious to find out how to get Sienna's style for yourself? Read on!
Sienna's Casual Attire
Sienna's daytime outfits reflect on her ability to mix inspirations from NYC and London. Her outfits always have a strong street-style look about them, meaning her outfits look amazing walking down Fifth Avenue, while at lunch with a friend, or even stopping to pose for a photo. Loving London street style? Check out this blog!
Another aspect I like about Sienna's style is that she gets the most out of her wardrobe. See the red Prada bag in the 1st photo below? Sienna has been photographed with that bag countless times! She also is notorious for mixing and matching frequently worn necklaces and turning them into bracelets, headbands, and the like! How inventive, no?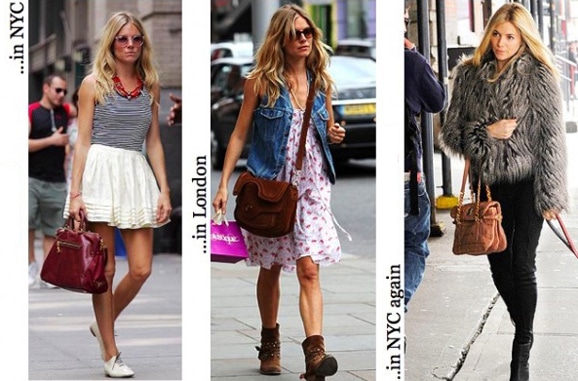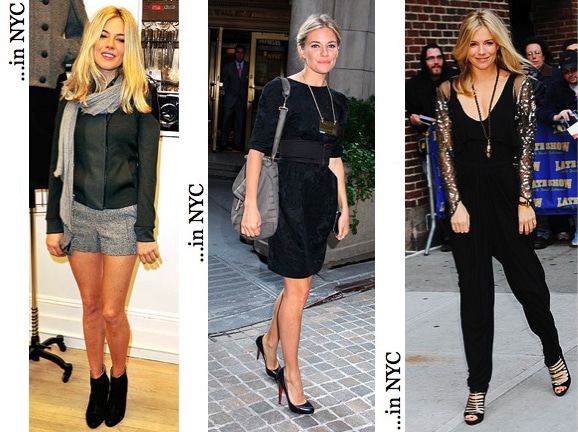 Here are two example outfits that I created based on Sienna's daytime outfits. Let me know what you think about them with a comment below! I really wanted to play on the two sides I see in Sienna; the model-off-duty feel (left side) and the quirky, retro, Brit vibe (on the right).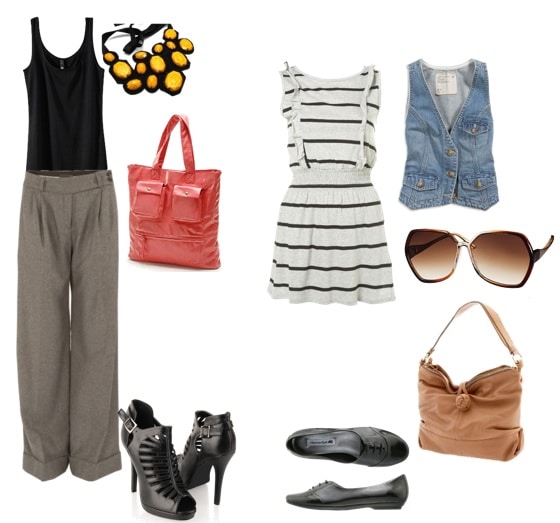 Product Information: Black Tank- H&M, Trousers- All Saints, Bib Necklace- Fantasy Jewelry Box, Heels- Forever 21, Stripe Dress/Tunic- Topshop, Vest- American Eagle, Sunglasses- H&M, Bag- Banana Republic, Oxfords- Payless
Sienna's Evening Attire
For red carpet events, Sienna does not discriminate – she'll rock an array of designers, from Chanel to Marchesa. She will also try just about any length and style: long, short, mini, backless, strapless, long-sleeve; you name it, Sienna's tried it.
One pattern I noticed in Sienna's evening outfit choices is that she's always rocking embellishments or interesting prints. She uses these standout elements to complement a more refined or simple silhouette. The juxtaposition of funky with refined is really interesting and different!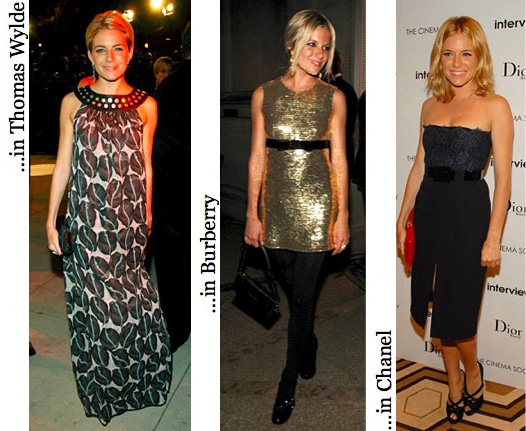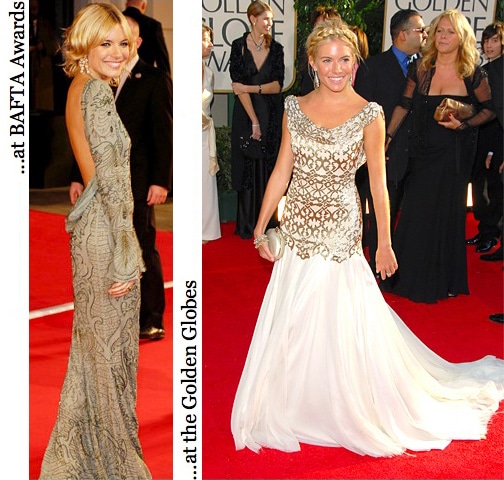 Here are two more looks that will help you recreate Sienna's evening style!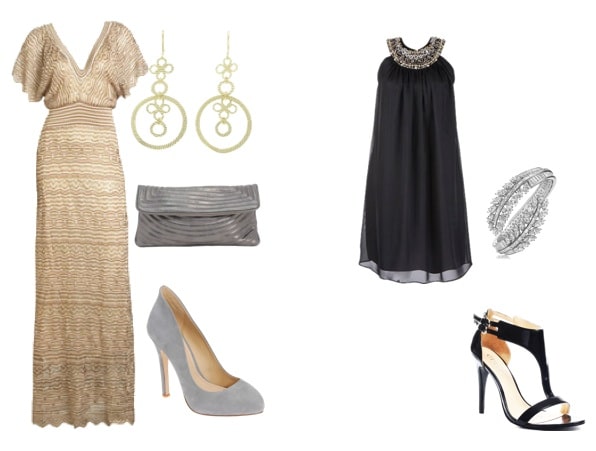 Product Information: Dress- Arden B, Earrings- Zappos, Clutch- asos, Pumps- Aldo, Dress- Oli (UK), Bracelet- Harry Winston, Heels- Guess
All photos of Sienna are from: People Magazine, Style.com
A Penny for Your Thoughts…
What do you think about Sienna's style? Do you like her casual or evening outfits better? ALSO, this concludes the series on 8 Excellent Celebs for Fashion Inspiration. Do you have any suggestions for the next "Inspired by…" series? Leave me a comment!