This is part one of the series on celebrity fashion inspiration, where we break down the style of the most inspiring celebs. If you missed the introductory list, make sure to check it out!
Rachel Bilson's big break came with her role as Summer on the teen drama "The OC." Since then, Rachel has evolved into many different roles as an actress, and has even collaborated with DKNY to create her own clothing line, Edie Rose.
So, what makes Rachel a great celebrity for fashion inspiration? And how can you dress like her? Let's review!
Rachel Bilson's Style
Rachel is a style chameleon and transitions well between trends with ease! However, her general sense of style is somewhere between trendy-meets-retro and feminine with a hint of edgy.
Rachel is petite, so her outfits complement her smaller frame. In fact, Rachel is only 5'2″!
Rachel adores muted and geometric prints including neutral plaids and stripes.
Rachel usually wears shorter dresses that are around knee-length. If you prefer shorter dresses over long or maxi dresses- Rachel could be a great style icon for you!
Rachel's outfits are always multifaceted– she frequently wears separates, layers, and has lots of complementary accessories. Even if she's wearing a dress with a clutch and pumps, Rachel will add a bright colored nail polish to add another element to the ensemble!
Rachel's Daytime Looks
For day, Rachel always seems to carry a great bag and lives in her sunglasses. She also frequently wears flats or boots when she's out shopping or picking up groceries. She's also a fan of mixing different hues – I love how Rachel always has such a great color palette throughout her outfits!
Rachel's Evening Looks
As I mentioned earlier, Rachel seems to wear shorter dresses, and this is especially true for her red carpet and event looks. A key to Rachel's evening look is that she loves to stand out – she never wears plain, simple dress. Even the light blue dress she is wearing in the bottom right corner has an asymmetrical shoulder to make it different!
Bring a little "Rachel" into your closet!
Like what you've read about Rachel's style? If you would like to incorporate some budget-friendly items inspired by Rachel into your wardrobe, here are my recommendations! I can totally see her rocking the following pieces.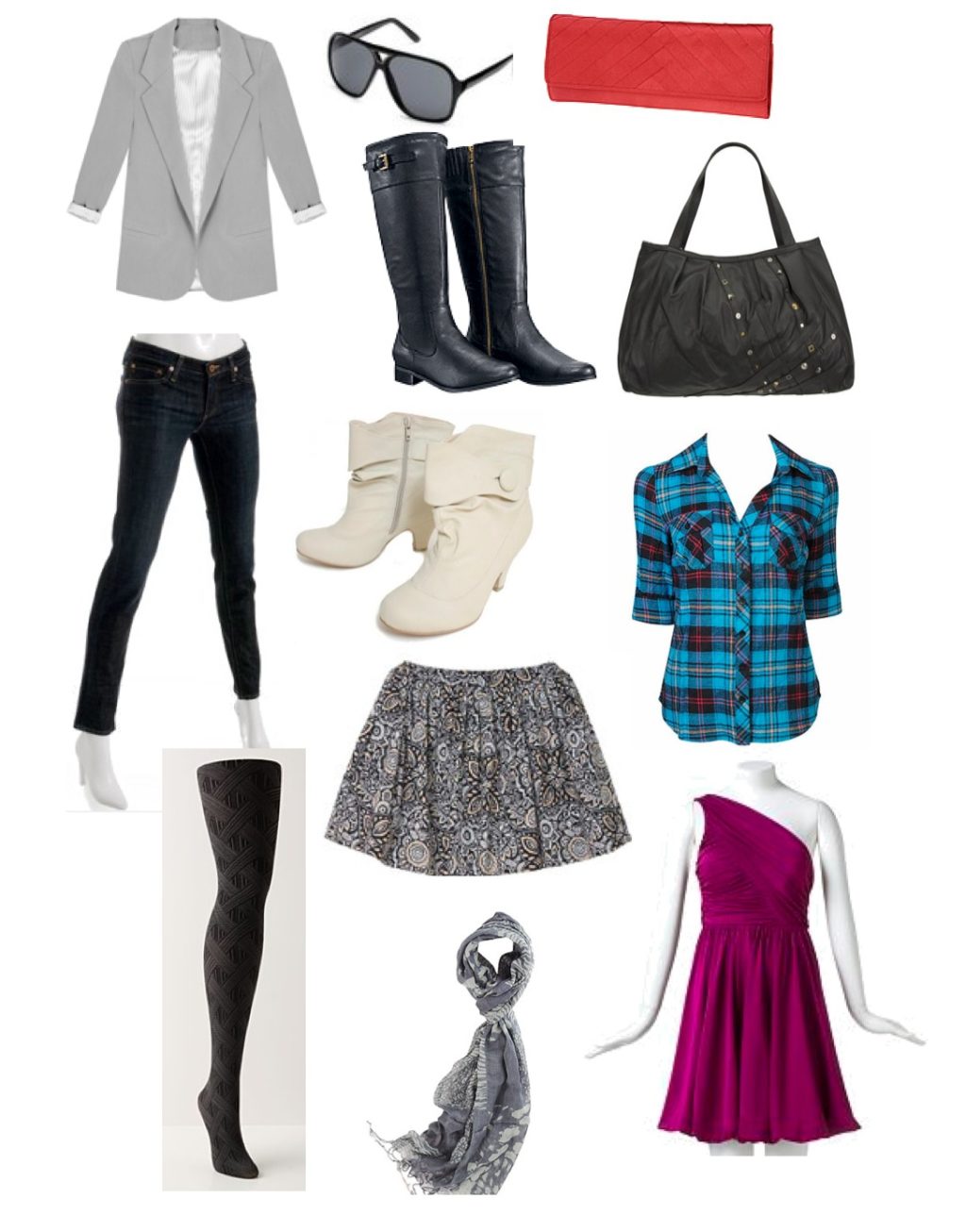 Product Information: Gray Boyfriend Blazer- Fred Flare, AJ Morgan Fez Sunglasses- Endless.com, Stretch Cushion Walk® Riding Boot- Avon, Dark Skinny Jean- AG Adriano Goldschmied, Cadle Clutch- Aldo Shoes, Blangin Tough Handbag- Volcom, Plaid Flannel Shirt- Forever 21, Ivory Button Boots- Shop Ruche, Printed Full Skirt- Alloy, Speechless Asymmetrical Dress- Kohl's, Woven Rush Tights- Anthropologie, H81 Gauzy Animal Scarf- Forever 21
Rachel Bilson's Beauty Routine
To learn about Rachel's beauty routine, see our blog post on Rachel Bilson's hair and makeup, which includes the products she uses herself.
For More Info on Rachel Bilson's Fashion Sense:
If you can't get enough of Rachel's sense of style, you'll be happy to know that her stylist, Nicole Chavez (who dresses Rachel for events), has a Twitter account! Also, Nicole was recently interviewed by Fashionista AND did a feature for WhoWhatWear. Check out the articles – they're both fascinating looks at the person behind many of Rachel's best outfits!
Feeling inspired? Tell us!
Now that you've seen a breakdown of Rachel's style, what do you think? Could you incorporate some of the elements of her style into your own wardrobe? Tell us why or why not!